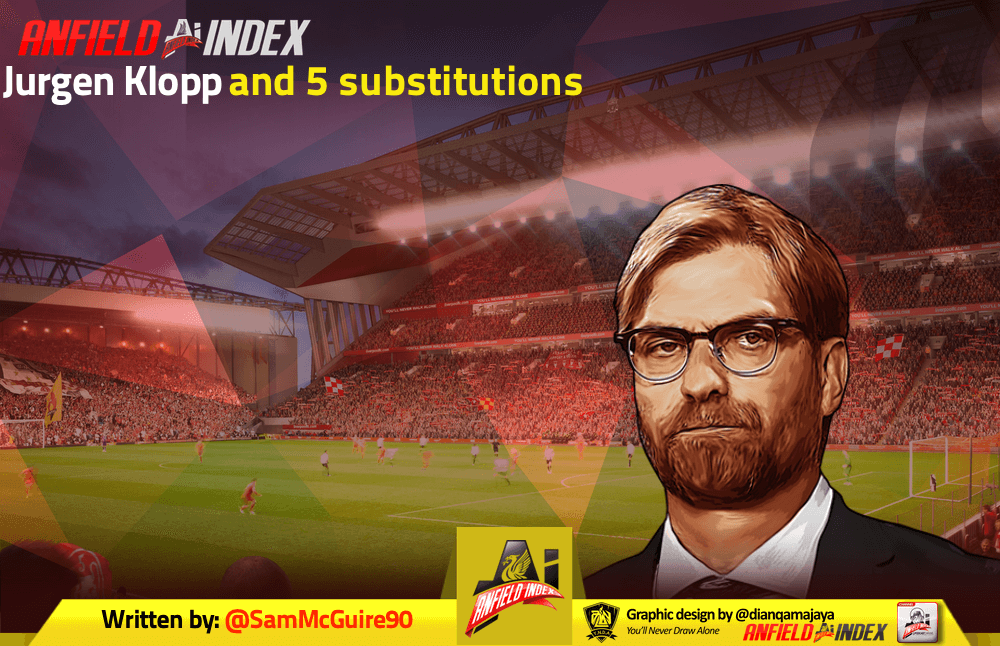 Jurgen Klopp and Five Substitutions

You know when you're ordering a takeaway and you add on some last-minute spare ribs or something? They're a nice little option, but it isn't the end of the world if you don't eat them. However, if someone said you can't order them as you don't eat them all, you'd be annoyed, I reckon. Well, I would anyway. 
Anyway, that is how I think Jurgen Klopp views the five substitute situation. Just because he wants the option doesn't mean he has to use all five in every single match. 
I covered this in the Anfield Index newsletter a few weeks back now, but the point I made back then was that some subs actually require multiple changes. I think the example I used was Liverpool are 2-0 up with 30 minutes to play and Trent Alexander-Arnold could do with a rest. Klopp might want to bring on Neco Williams but he doesn't feel as though a right side made up of Curtis Jones, Diogo Jota and Williams is the most secure. In an ideal world, he'd bring on James Milner to replace Jones and to shore up the right side. 
That is all theoretical, of course, as Jones is quality and he'd do a job covering for any marauding right-back. That was the best Klopp-like example I could think up. Such a change would leave Liverpool with just one substitute for the remainder of the match and managers tend to keep that one for any late injuries. 
With the option to make five changes, that wouldn't be an issue and Alexander-Arnold would get more opportunities to rest and Williams would get more minutes. Again, I'd like to reiterate that this is all hypothetical. You get the picture, though. 
There will be people who say that this example is too specific and that scenario rarely exists. Fair point, but it isn't exclusive to that situation. If you need a goal, five subs gives you the opportunity to bring on three attackers. This isn't just weighted towards the better teams. It allows managers to, well, manage the game. 
Klopp's thoughts on scheduling and the substitute situation in the Premier League have annoyed some people, even those who are Liverpool fans. His decision to not use all five subs in the win over Ajax has been a topic of debate. 
One particular issue seems to be that Andrew Robertson played 90 minutes, half of which with a taped-up ankle, while Kostas Tsimikas was on the bench. 
On the surface, it doesn't look great. Klopp prioritised the result over the welfare of his left-back. That isn't necessarily true, though. The medical team would've assessed Robertson at half-time and been in constant communication with him throughout the second half. For all we know, Klopp was told that the Scotland captain could see the game out but that he'd need to sit out a few games afterwards and as a collective, they decided that they had a better chance of seeing the game out with him on the pitch. 
Fans won't know a fraction of what goes on or what is discussed, but it's naive to think Klopp would risk a player for the sake of a win. He often talks about being guided by the Sports Science team and he even has a degree in Sports Science. The Reds always have quite the injury list so he isn't going to want to add to it if he can help it. 
You also have to understand that footballers play with knocks all of the time, it's just rare for fans to witness an ankle being taped up on the pitch. The entire starting XI gets next Wednesday off now after beating Ajax and that is something of a luxury this season. 
Let Klopp order spare ribs and watch the majority of them go cold.