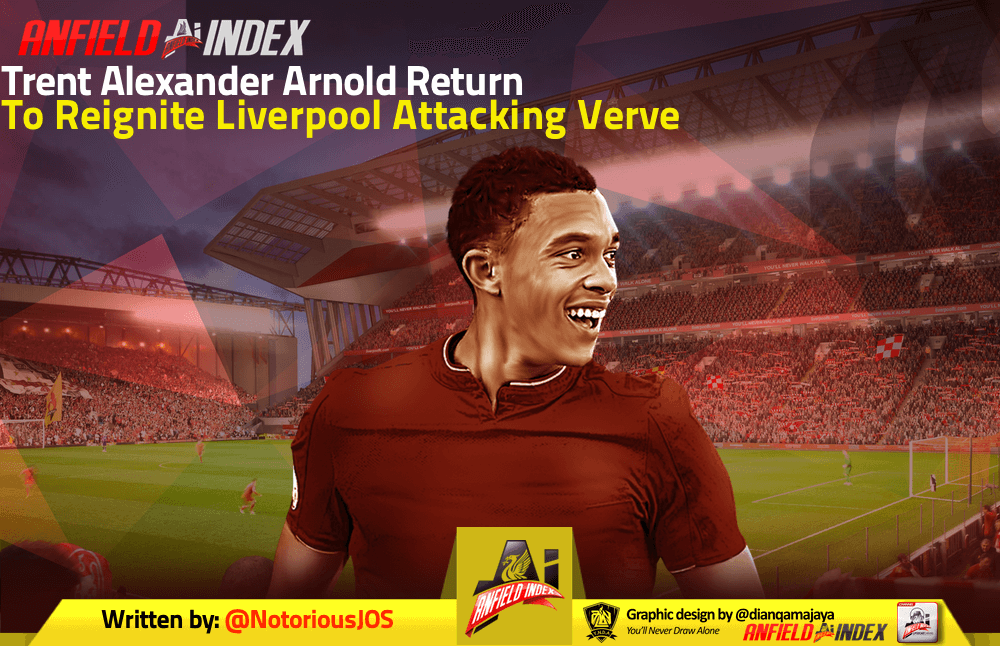 Trent Alexander Arnold Return To Reignite Liverpool Attacking Verve
Trent Alexander Arnold and Naby Keita this week returned to full team training after missing a number of recent games with injury issues.
Manager Jurgen Klopp confirmed in his pre-game press conference that the Liverpool pair will both be in contention for the Reds' Premier League home clash against Wolves on Sunday evening at Anfield.
Both players return represents a huge boost for an injury-depleted squad, and — in the case of Alexander Arnold — bring back an attacking incision to the Reds' game.

The academy graduate has missed almost a month of action since hobbling off in the 1-1 draw away to Manchester City in early November. In his absence, the defending champions have generally coped well; winning two, and losing and drawing a game apiece in a four-match sequence.
But the attacking flair and efficiency that defined Liverpool's start to the campaign has tailed off during Alexander Arnold's spell on the sidelines, which the below tweet from Twenty3Sport shows.
A welcomed boost for #LFC. The loss of Trent Alexander-Arnold had a huge impact on their attacking numbers. https://t.co/R8kXOQ930m pic.twitter.com/PRYD03kAar

— Twenty3 (@Twenty3sport) December 4, 2020
With the number 66 in situ, the Reds average significantly more goals per 90 — with over two — and manufacture more quality chances, as seen in the better expected goals figure they post when Alexander Arnold features against when he doesn't.
The team, thanks to the superior quality of passes and the better territorial possession that gives them, also attempts more passes and shots when their English international full-back plays.
Although he exclusively operates as a right-back, the 22-year-old Liverpudlian plays the role unlike any player since Dani Alves' pomp at the all-conquering Barcelona team of the early 2010s.
The term playmaker in football is usually reserved for deep-lying midfielders — think Xabi Alonso or Andrea Pirlo — or number tens, such as Mesut Ozil or Juan Roman Riquelme, although the day of the languid attacking midfielder are long gone.
Despite not playing in either of these positions, Alexander Arnold — for all intents and purposes — is Liverpool's primary playmaker. With a brilliant passing game — with his trademark cross-field passes, often landing perfectly on the boot of left-back Andy Robertson, a recurring feature of his game — and vision to match, the young Scouser is the Reds' conduit of progressive play, even if his on-field position doesn't match the areas where playmakers traditionally play.
As if that wasn't enough, Alexander Arnold is proficient at taking set-pieces; so much so that he has registered 27 Premier League assists — many of which have come via corners or free kicks — in 101 appearances in the league.
There was a narrative that the former youth team midfielder was a poor defender, but those claims don't sync with the evidence. Alexander Arnold is a more than solid one versus one defender and has kept some of the most dangerous wingers in the game — most notably ex-Manchester City flier Leroy — shackled over the course of his Liverpool career.
Neco Williams, who looked increasingly confident after assisting Curtis Jones' Champions League winner versus Ajax midweek, is a player with big potential. The 19-year-old Wales international has the tools to be a fine player, but it is absolutely no criticism of him to say that the return of Trent Alexander Arnold is brilliant news for Liverpool ahead of an energy-sapping run of claustrophobically scheduled games.
With their playmaking full-back returned, the Reds' assault on the League and European Cup has gone up another, attacking gear.