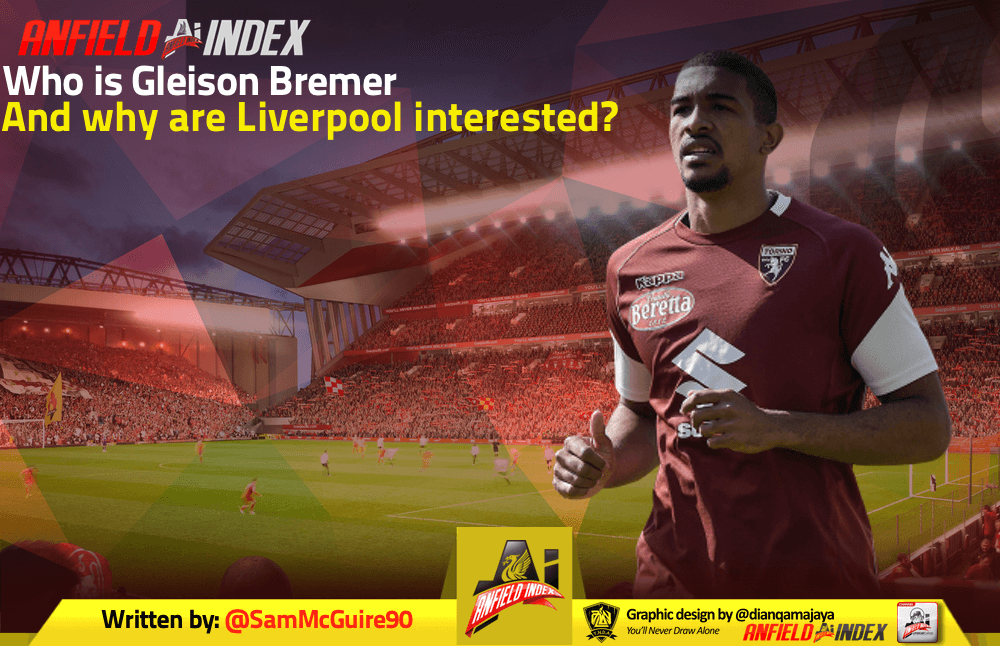 Who is Gleison Bremer and why are Liverpool interested?
Liverpool might resist the temptation to go shopping in January. A centre-back tops the wishlist for most supporters with neither Joe Gomez or Virgil van Dijk expected to be seen again this season. But the club don't always do what you expect. For example, they didn't make a move for another defender after failing to land Van Dijk during the summer of 2017. Instead, they waited for the winter window and then stumped up £75million to land their number one target. 
Michael Edwards and the recruitment team won't be forced into doing something they aren't 100% sure on. However, links to centre-backs have been appearing in the media over recent weeks and there are suggestions that Liverpool will sign one, if the deal is right for them. 
Reports in Germany claim the Reds are interested in both Ibrahima Konate and Dayot Upamecano. There have also been links to Gleison Bremer. Now, I'm not entirely sure whether or not these links existed prior to The Athletic's article. It was a piece written by James Pearce and Tom Worville and the pair highlighted him as someone the Premier League champions might be interested in. The 23-year-old is now regularly being mooted as a Liverpool transfer target. 

I've written pieces looking at centre-backs I feel tick the boxes for a Jurgen Klopp side and, to be perfectly honest, Bremer never profiled that well. Granted, his stats this season are much better with him winning 66% of his aerial duels and 65% of his defensive duels. As we all know, though, Liverpool look at large sets of data before deciding to make any move. When I piece together my articles, I often look at data from 2018/19 onwards. When doing that for Bremer, his aerial duel success rate drop considerably to 55%. That right there is why I didn't really think he'd be a target. 
Having aerially dominant centre-backs is why Liverpool have been so successful over recent seasons. A high defensive line doesn't exist if your centre-backs get beaten in the air. You can't pin opponents in their own half if their out ball is always a long punt forward and runners picking up the second ball. 
Furthermore, Bremer's impressive numbers this season coincide with him attempting fewer aerial duels. He could be picking and choosing which battles he fancies. If this is the case, that shows intelligence. An alternative explanation might be that Torino are protecting him and that his centre-back partner is the dominant one. Either way, it is definitely something to think about when looking at his numbers this season. 
His recovery pace is definitely one trait that will appeal to Liverpool. He's explosive over ten yards. This is perhaps why he's so aggressive with his positioning. Bremer will gamble knowing he's got the speed to get back if he gets it wrong. He shouldn't be reliant on it, but if you've got it then you might as well make the most of it. 
He's aggressive in general, too. He'll look to get physical with opponents in a similar way to Dejan Lovren did. Some supporters like that, others don't. Klopp seemed to think Lovren suited certain opposition so I can't see him being against Bremer in that regard. 
The last thing to look at his Bremer's use of the ball. Using KeyFrame software, I'm able to dissect a passage of play that really shows what the Brazilian can do.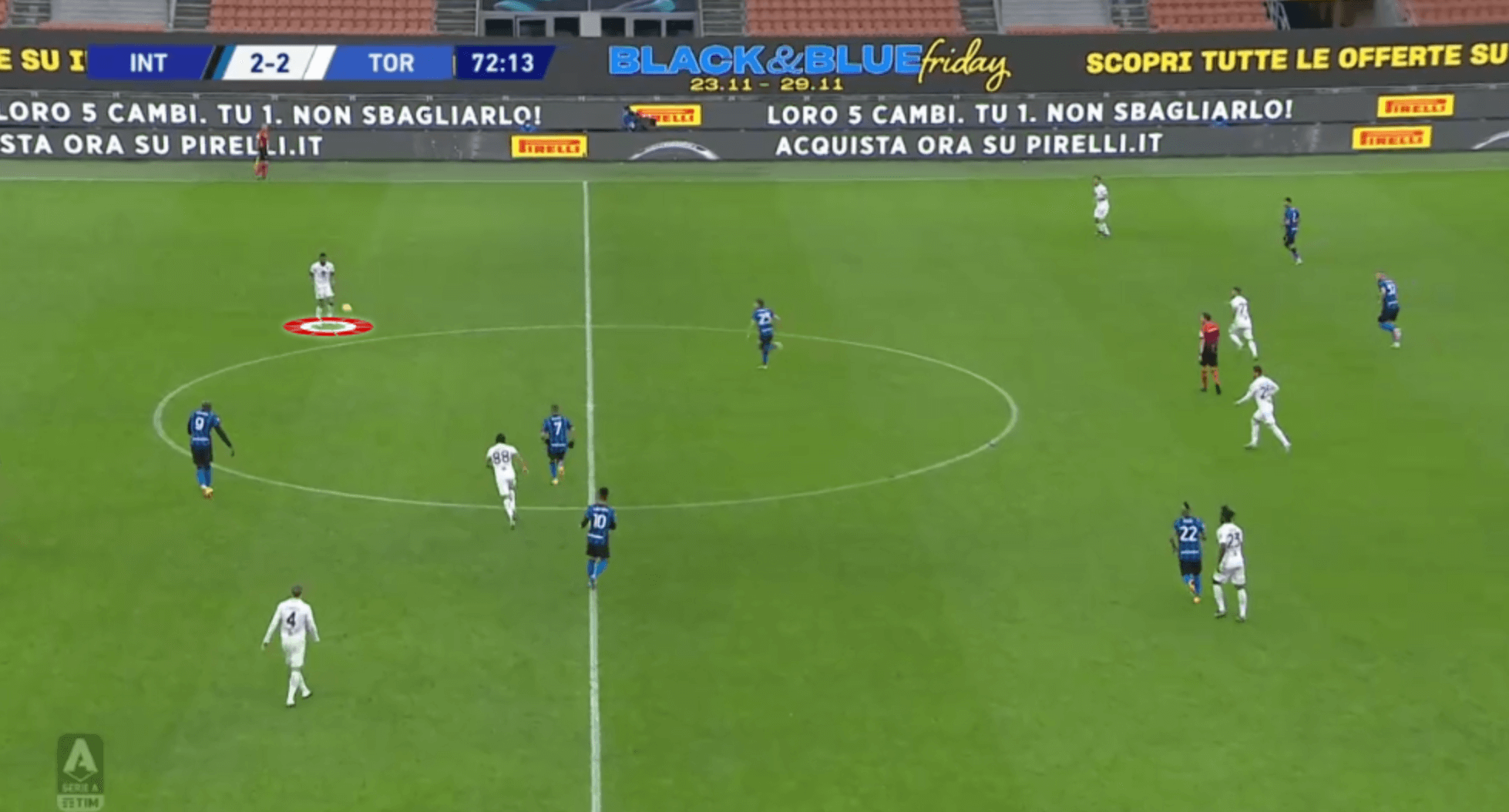 In the still above, you see the versatile defender picking up possession. In this particular match, he played on the left side but he's spent the majority of this season on the right. He's immediately pressed by Inter players.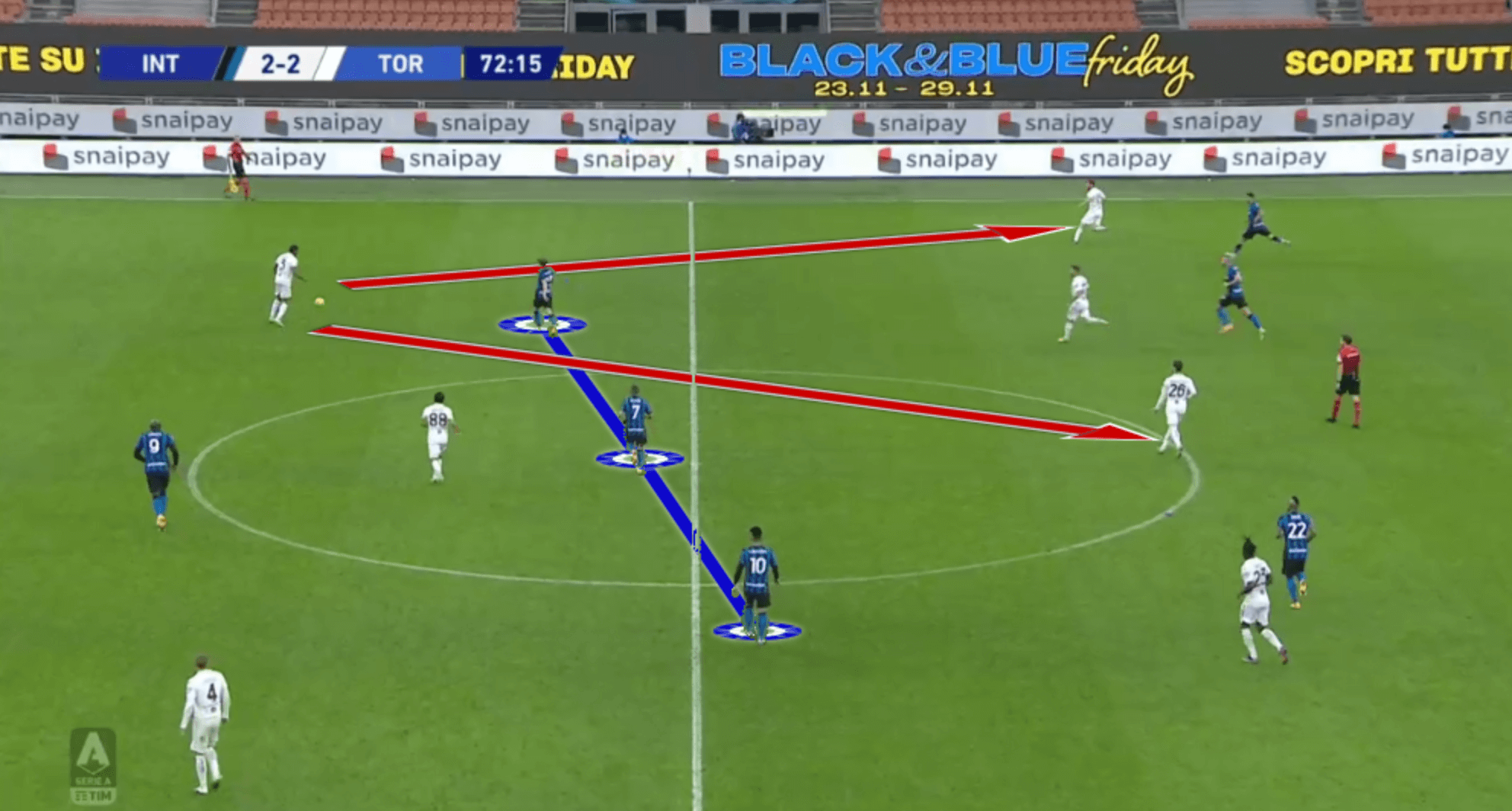 They don't really do a great job blocking off the passing lanes, but a pass to the left-back might be one of the triggers they've worked on so leaving that option open is part of their plan. However, we see that he has two relatively easy passes on and either one would take out the line of three players highlighted.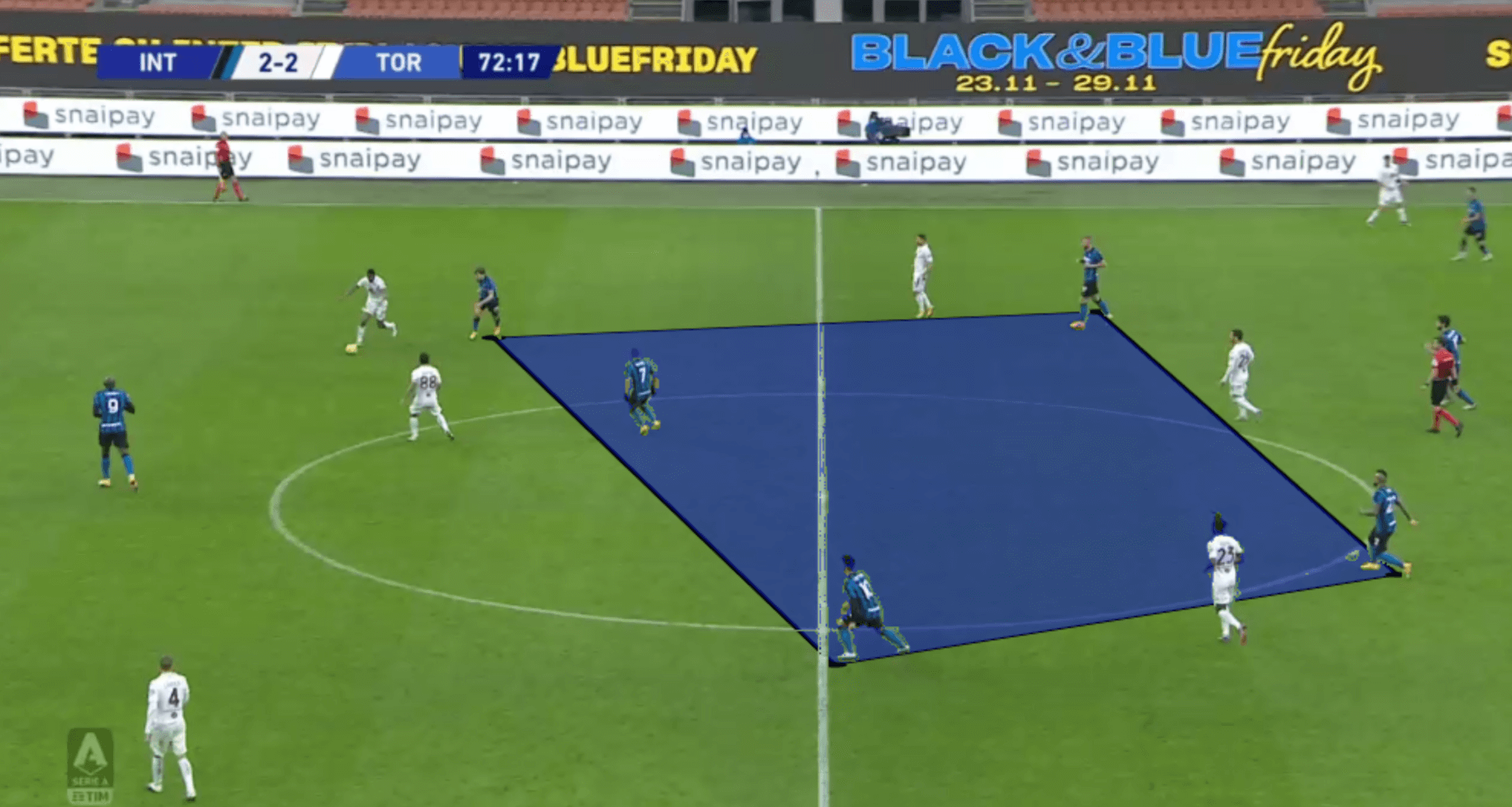 Bremer ignores these options and cuts back onto his stronger right foot. We see in this image that Inter have looked to overload that side of the pitch and have five players have taken up really narrow positions. Despite being pressured, the centre-back manages to float a pass out to the right-hand flank.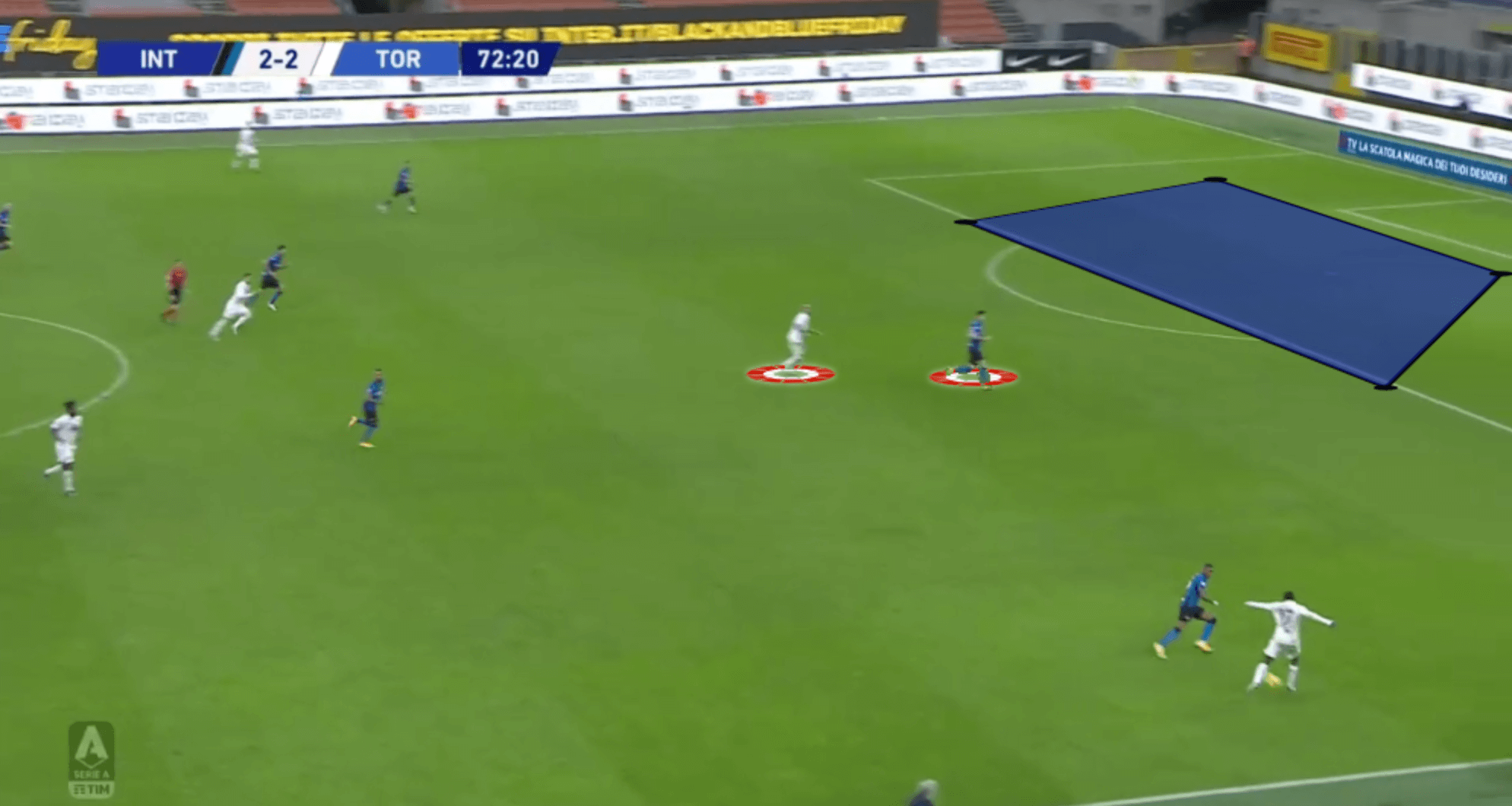 In a matter of seconds, Inter go from smothering Torino to scrambling back. The man on te right takes a poor first touch and the chance is wasted, but in the central part of the pitch, it's one-vs-one. A bit more composure and the visitors have a decent opening to win the game. 
Bremer's physicality and ability to play out from the back might be what piques Liverpool's interest. The price will be a big factor in this one, though, given his performances and numbers haven't been exceptional for a large period of time.