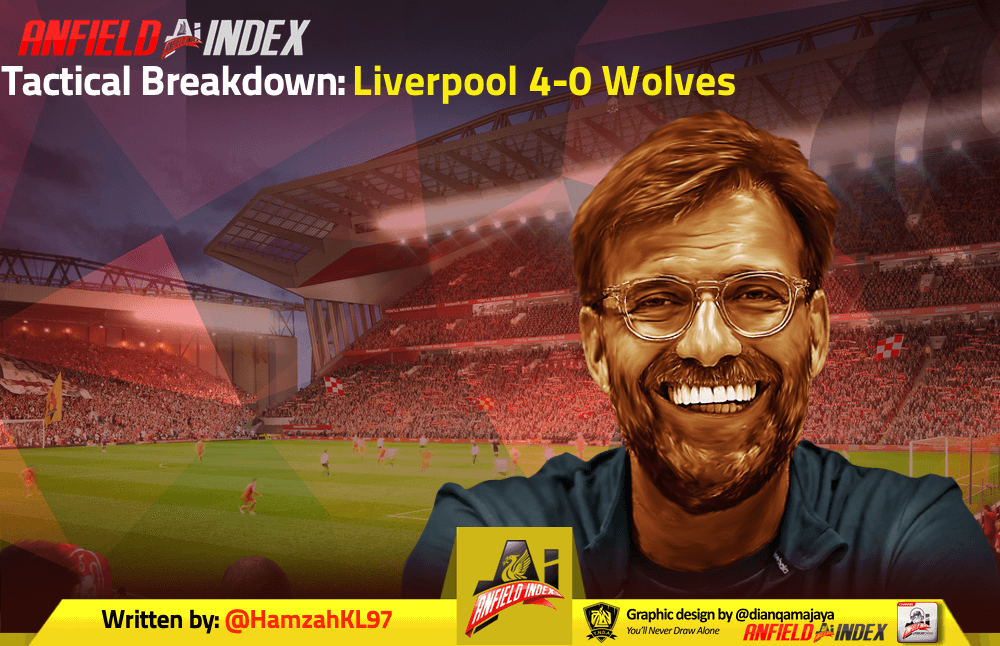 Tactical Breakdown: Liverpool 4-0 Wolves
It's December, and that means I can get my Nuno Espirito Santa joke out once more. But the greatest present at Anfield on Sunday night was the presence of fans in the stadium. The Premier League champions, shorn of home support since March, finally had the adulation they deserved. Despite only 2000 fans being allowed back into Anfield, this was more than enough of a crowd to spur Jürgen Klopp's men into producing a display worthy of a crowd, and worthy of champions.
Liverpool, as expected, utilised their typical 4-3-3 structure. Kelleher was accompanied with a back four comprised of Williams, Matip, Fabinho and Robertson; ahead of them was Henderson as the no.6, and Wijnaldum and Jones, who featured as the no.8s, but rotated over the course of the match. Diogo Jota was rested, with Firmino deployed as the false 9: a development that will no doubt aid his confidence, given his recent upturn in form. Salah and Mané, as ever, were positioned on either wing.
Wolves also used a 4-3-3, Marcal, Boly, Coady and Semedo formed the back line, ahead of them lay Neves, Moutinho and Dendoncker, with a front three of Adama, Podence and Neto.

Wolves looked to use their wingers to cover their fullbacks and support them when out of possession. the midfield three also provided a central block, leading to a 4-4-1-1 off-ball shape. In this shape Podence would lead the line, supported by Neves who would step out of the midfield in an attempt to cover passes into Henderson, and force Liverpool away from the centre of the pitch when building up from deep.
This seemed to work, with Liverpool progressing the ball vertically through their wide players, however, Klopp's side were also comfortable in doing so. Whilst Henderson also would drop into short passing positions for the fullbacks before releasing vertical passes forward, as he hoped to break the Wolves defensive line.
Wolves, like many teams we've seen play against the Reds this season, used a double pivot as the base of their midfield, perhaps to provide extra defensive protection as a consequence of playing with one fewer centre back than usual, but also as a safety net if Liverpool were to press. However, they did not press particularly much across the match, with some early activity fizzling out, but it's important to consider that opposition managers may often be so wary of their pressing capabilities that they create systems to prevent pressing situations, even when they don't press.
The 1 vs 1 Wolves used in an attempt to isolate Henderson was something we've seen teams such as Atalanta and Ajax use, with varying levels of success. Matip's progressive and vertical style proved a great counter to this tactic though, with his dribbling ability utilised to expose space, which was then supplemented his great forward passing skill. In doing so, he would not only open up passing lanes to the midfielders and forwards, he would drag one of Podence or Neves out of position, thereby creating space for Henderson once more.
Liverpool's opening goal was testament to the importance of applying pressure to their no.6, be it Fabinho, Henderson, Wijnaldum or Thiago, as all of those players have the ability to break lines when afforded time and space. Henderson, on the halfway line spotted Salah's diagonal run from the right side, into the centre, an area which Firmino moved out of. His pass was intercepted by Coady, but his control allowed Salah to regain possession and score clinically.
Once Liverpool had taken the lead, just like in the Ajax game, the gamestate favoured the home side. Liverpool could now dictate the flow of the game, and reduce the amount of risk they took in possession. The risk now lay with Wolves, who needed to move up the field if they wished to equalise. Klopp's men complied, as they dropped off, and Wolves began to enjoy more possession. The home team's midfield shape and block meant if the visitors wished to score, they would need to attempt risky line breaking passes to access their forwards. The consequence of this was that it meant there would be more chances to turn the ball over and for the Reds to counter attack into space. For the remainder of the first half though, the scoreline stayed at 1-0.
The second half was a far tougher period for Wolves. Adama was moved over to their left side, in an attempt to isolate and expose the already-booked Neco Williams. Wijnaldum moved over into the right half space area for Liverpool to provide support, as did Henderson from time to time. As the half progressed, Wolves began to grow impatient and made poor decisions which were exposed ruthlessly. When Santo's team overcommitted and were then were caught in transition, Henderson played a fantastic forward pass into Wijnaldum who broke up the field with phenomenal energy given his constant exertions over the season so far. His superb finish marked a period in which Wolves were overwhelmed and their mistakes were punished by a side full of vim and eager to impress the home crowd.
Liverpool's third, a Matip header, was a perfectly executed set piece, with both Salah and Henderson directly involved, almost emblematic of their brilliant work throughout the game. The fourth was a product of an Alexander-Arnold cross, but one facilitated by sustained passing across the pitch, but also the intelligence of Curtis Jones to drop deep in order to allow Alexander-Arnold to move up the pitch, before passing to him.
The champions seem to be hitting their stride now, with Wolves added to to a list of footballing casualties that includes both Atalanta and Leicester in recent weeks. With each player that returns to fitness, Liverpool's strength grows, but the most impressive aspect of this game was not just the pieces of individual brilliance across the pitch, irrespective of age or experience, but the capacity of the side to put in a strong performance with discipline and style, when a less impressive performance would have been perfectly understandable, given the strains on the squad presently.
Wolves also must bear some responsibility for the scoreline, their tactical discipline and shape in the first half was respectable, but over the course of the second half they were blown away, and contributed to their own downfall. Nonetheless, it's another strong performance from the champions, against a side that can often challenge the very best in the Premier League.
Liverpool, more than anything, will need to be clinical in their coming games. The performances are seemingly there now, it's just a question of getting the results to reflect them. Fulham and then league leaders Spurs await. More of the same should see Liverpool reclaim top spot.