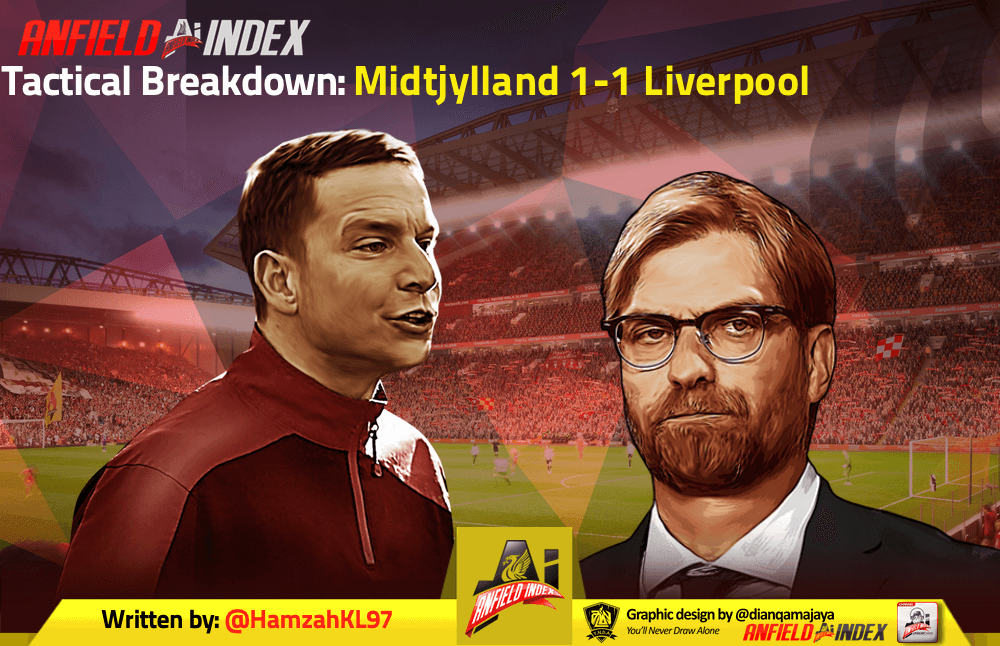 Tactical Breakdown: Midtjylland 1-1 Liverpool

With Liverpool's qualification from the group stage of the Champions League settled prior to MatchDay 6, most fans were looking forward to a game with no significant consequences, in which they could put their feet up and enjoy the reigning Premier League champions' second team play against Danish champions, FC Midtjylland.
Liverpool set out in their usual 4-3-3. Kelleher retained the gloves, with Alisson still injured. Ahead of him was a back four of Alexander-Arnold, Fabinho, Williams and Tsmikas. The midfield was comprised of Clarkson, Keïta and Minamino, whilst Salah, Origi and Jota led the forward line.
As always, such a significant number of changes is always likely to affect how a team plays. It's much harder for players to combine, preempt movement and synergise with players that they do not ordinarily play with. Additionally, the player profiles of individuals like Origi, whose playing style does not quite complement the other forwards in the squad, or the physical profile of players like Clarkson, who is not as physically imposing as Fabinho, for example, mean that the Reds may not be able to function as they ordinarily do.
That being said, the first minute appeared to make a mockery of the points above. Salah scored in record time to notch not only Liverpool's fastest goal in the Champions League, but also to take the accolade of Liverpool's highest goalscorer in the Champions League, a record that formerly lay with Steven Gerrard.
Salah's goal was the second opportunity to break in behind in the space of a minute. Midtjylland was looking to press up the field, and especially apply pressure to the Reds' midfielders. The intensity of this press was clear to see, but attached with that tactic was a significant amount of risk. If the home side's midfielders pressed up against the Liverpool midfielders they would have two potential issues.
The space between themselves and the defensive line would grow, and if Liverpool were to get the ball into the forwards, either through a direct pass (or more concerning) a pass from deep, into the space behind, these opportunities would likely lead to footraces with Jota and Salah, and more often than not big chances.
The midfielder breaking the press themselves. This issue has the potential to be extremely problematic too. If the Midtjylland midfielders press up on a pass into the Liverpool midfielders but are dribbled past, they suddenly leave their defence exposed in transition, with a numerical advantage for Liverpool too.
For the opening phases of the match, this seemed to ring true, as Liverpool was able to feed passes in behind, stretch the field and break the Danish champions' press. Furthermore, the midfield was looking to impress with their press. Keïta and Clarkson pushed up tight, looking to win turnovers and showed great intensity. But as good as they were, Minamino was pressing on an entirely different level altogether. His pressing was relentless, across the entire midfield, constantly looking to force turnovers, or in absence of those, at least push Midtjylland back.
Midtjylland, when building up from deep pushed their fullbacks on, and had both centre-backs and a no.6 in buildup, who was often supported by a deeper centre midfielder dropping deep to form a double pivot. This caused them issues early on, with Liverpool able to press and expose space. Their cause was aided by Salah's early goal which allowed the English champions to sit back and pounce on the counterattack.
This strong start saw the Reds take seven shots in the first half, as they worked around the Danish side's man-marking system. In some ways, it's apt to draw comparisons with the Atalanta games. In order to beat a man-to-man pressing system, ball speed needs to be fast, the pitch needs to be spaced out and the side being pressed needs to move fluidly and quickly to draw the pressing players out of position, create overloads and exploit the vacated space. Over the course of the first half, the Premier League champions did this to a good level, but in the second half, these important movements and actions which are necessary to play against a man-to-man press were not executed properly. Having led in basic indicative metrics such as possession, pass success rate and shot volume over the first half, the second half was a period of play in which all of those figures favoured Midtjylland, heavily.
Salah and Jota, Liverpool's two of Liverpool's greatest assets when it comes to swinging the flow of a game, were isolated and without support. As passing discipline and movement fell away, so too did the opportunities to pass into Salah and Jota, with Midtjylland advancing up the pitch, gaining territory, and the away side unable to break effectively when they did win back possession.
Midyjlland's direct, physical and forthright style put Liverpool's defence under a lot of pressure, and without the guidance of Fabinho, and the diminutive physical presence of the midfield, the Danish champions was able to create shooting opportunities from set pieces and long balls from deep. Midtjylland's penalty came from one such situation, with a long pass from deep exploiting the lack of familiarity between Liverpool's defenders, with Tsmikas caught on his outside.
As the second half went on, the home side grew in confidence, spurred on by their equaliser. Liverpool still made a number of errors when in possession which stifled their ability to develop rhythm and flow in order to reassert control of the game. Despite this, the visitors did make a significant chance of their own which, seemingly harshly, happened to be ruled out by the Video Assistant Referee.
As I've said in recent weeks, it's a strange process analysing Liverpool tactically when the side is shorn of so many of its key players and playing matches at a spectacularly hectic rate. Similarly, it's hard to meaningfully scrutinise the team when there are a number of youth and squad players playing in a match that has little competitive significance given the Reds had already secured qualification. With all that in consideration though, there were a number of good signs in the first half, showing depth, quality, good decision making, and great pressing intensity. The second half was undoubtedly poor, but it's hardly fair to expect a back four with only one starting player to play perfectly against a Champions League side, especially one so physical. 13 points in the group stage is nothing to turn one's nose up at though, and all things considered, it's a great achievement. As long as Klopp's team can stay in the competition long enough for their key players to get back to fitness, there's a great chance that this campaign will end in success, and the struggles of a cold night at the MCH Arena will soon be a distant memory.