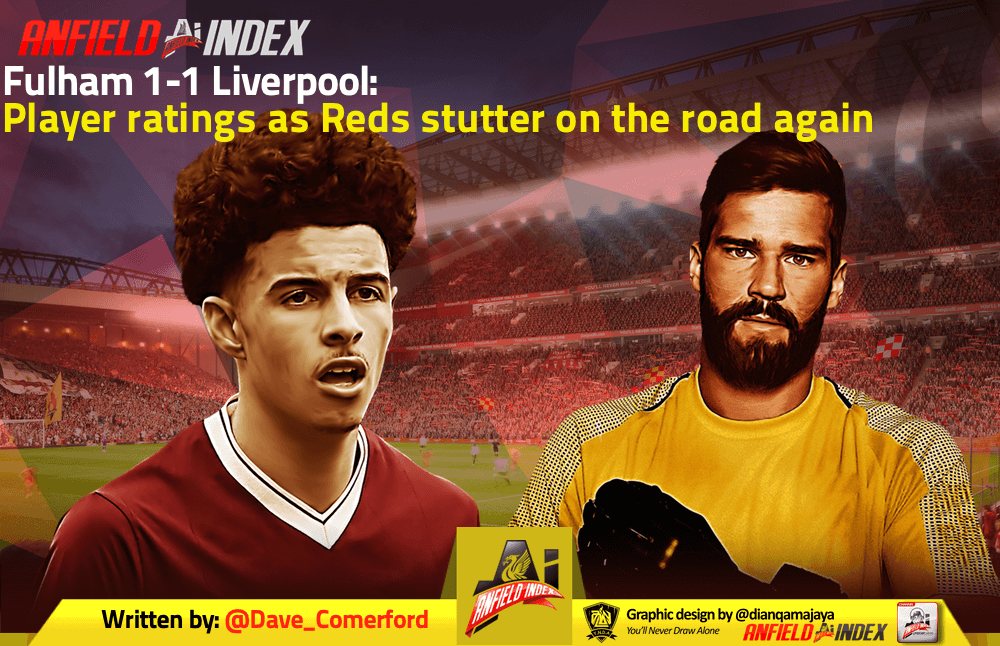 Fulham 1-1 Liverpool: Player ratings as Reds stutter on the road again

Tottenham Hotspur's stumble at Crystal Palace means Liverpool stay joint-top ahead of Wednesday's Anfield clash, but they can't expect to stay at the summit for long unless they rediscover their consistency.
They have won only one game away from home this season and have developed a remarkable habit of following-up world-class performances with unrecognisable displays.
After Arsenal there was Aston Villa, after Leicester… Brighton, and after Wolves… Fulham.
It somehow took 40 minutes for the Reds to pose any sort of threat, and even in the second half they rarely picked a way through the Fulham ranks.
Here is how they rated.
Alisson Becker – 8/10
Made a number of strong saves to keep Liverpool alive in the game. Had no chance when Reid ripped that shot into the net.
Trent Alexander-Arnold – 6/10
One of his less convincing defensive outings. Fulham found a lot of joy attacking his flank.
Teed-up chances for Salah and Mane in the first half and looked capable of unlocking the hosts from dead-ball scenarios before he was substitued.
A pre-planned move, but that plan surely assumed Liverpool were ahead. You can't take your most creative player off in that scenario.
Joel Matip – 6/10
First goal conceded as Fabinho's partner. Not as imperious as usual. But please just be okay.
Fabinho – 6/10
Timed the challenge on Cavaleiro *just* about right. Turned into Ronaldinho at one point in the second half as he brought the ball forward.
Andrew Robertson – 5/10
A five may be harsh, but there's no doubt Robertson's player-of-the-season level dropped here. His crossing didn't carry its customary menace and he had to be bailed out by Alisson when he presented Cavaleiro with a glorious chance in the opening moments of the second half.
Jordan Henderson – 6/10
Missed the best chance Liverpool created all day and sent a few harmless long balls Fulham's way (not the only culprit in that respect).
Defensively, he didn't really put a foot wrong. Except when he tried to use his left. But he did reasonably well back there.
Georginio Wijnaldum – 6/10
I often find myself with very little written down beneath Wijnaldum's name. He usually excels at resisting the opposition press, but he was swamped a little too easily here.
Curtis Jones – 8/10
Liverpool's best player for me, without doubt. Our improvement was mostly down to him. He moved the ball with speed and intent in the final third.
So close to scoring an unforgettable winning goal after charging from his own half to the edge of the Fulham box. We were all ready to go ballistic.
Mohamed Salah – 6/10
Quickly grew frustrated. Was fortunate with the penalty but that's the reward of power. Can't believe Klopp substituted him for Divock Origi.
Roberto Firmino – 6/10
Seemed to lose possession every time he touched it in the first half. He was better in the second and slipped Henderson through for that glorious chance.
The two-month loss of Jota's goal threat is a concern, though.
Sadio Mane – 5/10
It's not happening at the moment. The longest drought of his Liverpool career will come to an explosive end, I'm sure, but he's patently aware of it.
Found joy taking on Reid and Aina in the second half but it was so congested in the middle.
SUBSTITUTES
Takumi Minamino – 5/10
It was telling for me that he looked backwards on both occasions when the ball broke for him on the edge of the box. His eyes should be lighting up, but he's not backing himself.
Neco Williams – 6/10
Decent enough. Defended well but couldn't make a difference when he got forward.
Divock Origi – N/A
I'm afraid Origi isn't going to score the winning goal simply because he's Origi.