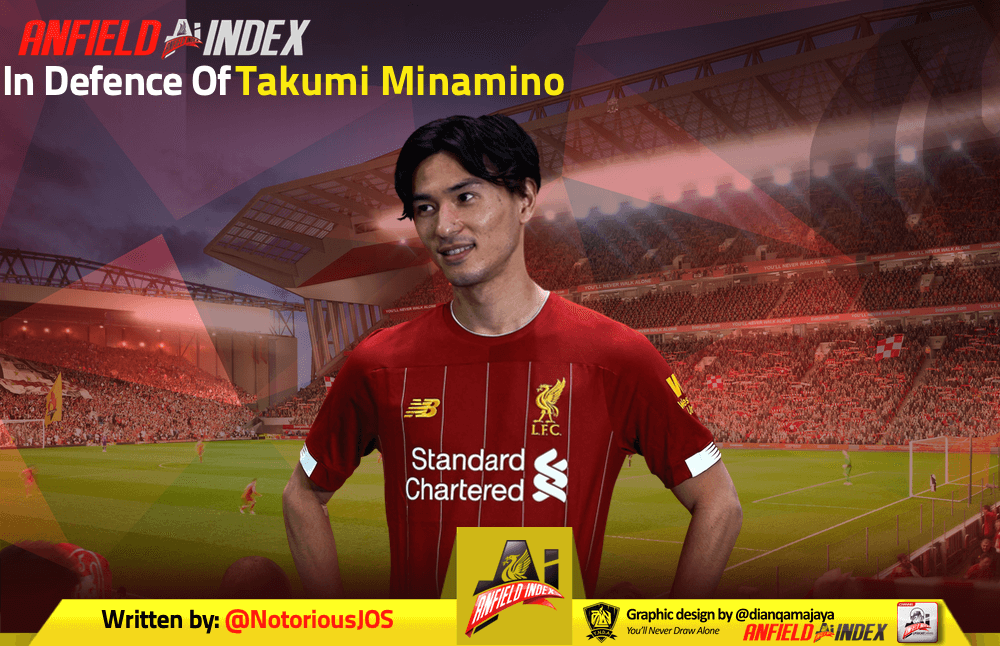 In Defence Of Takumi Minamino

Takumi Minamino's quality and suitability to the team has been questioned by a section of Liverpool fans online recently.
After failing to impose himself on a number of games, some have even gone to the length of calling the Japanese international's signing a flop.  While there is a kernel of truth to these complaints, they — as is often the case on social media, especially Football Twitter with its mostly teenage population — spectacularly miss the context.
Yes, the attacking midfielder hasn't acquitted himself as well in Red as many would have hoped after his move from Red Bull Salzburg last January; but that responsibility doesn't fall solely at his feet and there are several factors to take into consideration if you want to fairly judge the 26-year-old's time at Anfield to date.
Firstly, let's address the elephant in the room: the global pandemic. Moving country and league mid-season is never easy — particularly when you aren't fluent in the language of the nation you now call home — but that acclimatization is doubly difficult when you spend most of your opening months at your new club locked at home and away from your team-mates and the training ground.
In normal times, Minamino could have spent his time honing his craft — and learning the intricacies of Jurgen Klopp's tactical demands — at Melwood, but, as it was, he instead was confined to his house and to Zoom calls. Hardly the ideal introduction to English football.
Secondly, the fixture pandamonium caused by COVID has meant the break between seasons — and, by extension, pre-season — was shortened and there was less time, especially with Liverpool's hectic schedule, to blood new players into the team's tactical principles. On this score, Minamino has been unlucky.
When the Japan international has featured this season, it has either been in cup competitions or in roles he is learning on the hoof. The former Salzburg player has barely featured in a team that you would describe as Liverpool's best with his appearances mostly coming in makeshift selections where the team's rhythm and familiarity are obviously hampered. It would be entirely difficult for a player to come in and immediately sync with players that he is on a different wavelength to and it has shown.
Away to Midtjylland in the Champions League, Minamino played in centre midfield  — a role he played away to Brighton in the Premier League and for the second half of last weekends draw at Fulham — and should have registered a goal and assist. The 26-year-old had a late goal incorrectly chalked off and would have had an assist, but Diogo Jota uncharacteristically fluffed an easy chance.
Had both of those moments amounted to the goal and assist they ought to have, then the narrative totally changes and Minamino is suddenly seen in a different light and his performances are appraised in a much more positive manner. Football is fickle and the margins between success and failure are razor-thin and luck is a major factor. So far, in Liverpool red, the Japanese attacker has had no luck.
Perhaps Minamino doesn't make the grade at Anfield and he moves to pastures new in the near future. In that case, the chances are that Liverpool will make more than the £7,500,000 they paid to Salzburg to prise away the Japenese attacker last January. Given that likelihood, you couldn't reasonably describe the move as a "flop" and the club would come out of the transfer up money.
To suggest that a player, who is competing with some of the finest players in world football, who cannot find himself a niche in a highly successful team has failed is a ridiculous comment and devoid of any kind of logic. Not being able to muscle your way past Roberto Firmino into the Liverpool team doesn't make you a bad player, it just highlights the level of quality the English champions' squad is buttressed with.