 Minamino's movement can make Liverpool even more of a threat
Takumi Minamino is a divisive subject amongst Liverpool fans. Though having said that, it's probably easier to name those who don't divide opinion at Anfield. The Reds are reigning champions, yet if you listened to most on social media you'd be mistaken for thinking they were a mid-table side that needed wholesale changes. 
Minamino is the latest player to take centre stage. The £7million fee paid for him is often mentioned in debates as if that is representative of his quality. However, that was just his buyout clause that was set when he signed for the club. I get why people might feel as though the 25-year-old can't have been that good to have a relatively low release clause, what with Real Madrid lashing €500million clauses in their deals, but £7.25million to Red Bull Salzburg is a decent amount. 
There's very rarely a direct correlation between buyout clauses and quality. It's generally impossible to organise if you think about it properly. In Germany, for example, €30million is significant whereas in England that gets you a squad player. 

That is a long-winded way of me saying we can't really use his price-tag as a stick to beat him with. 
Minamino has also had a difficult adjustment period if you think about it. He signed in January, Covid brought the season to a halt in February and then Liverpool won the league and lost focus with seven matches left to play after the Premier League returned. 
This season has seen the Reds suffer injuries at an alarming rate and the versatile attacker has been deployed in a new role as a centre-midfielder. His 45-minute cameo against Fulham was the third time he's been deployed in the role and it was his best showing. What I liked most was what he did without the ball. 
People have accused him of being too safe in possession, but most Liverpool midfielders are. Jurgen Klopp's side look to wear the opposition down and you can't do that if you're forever giving the ball away. 
Despite this, Minamino's graft and desire played a big part in the champions carving out their best chance of the game in open play. He twice picked up a loose ball on the edge of the area and played it into Roberto Firmino's path. The Brazilian poked it through to Jordan Henderson and the skipper was in on goal. He forced Alphonse Areola into a smart save but that chance should've resulted in the Reds equalising. The captain could've even played it back across goal to Minamino. 
It wasn't the first time one of his runs was ignored. It wasn't the last time, either. Using KeyFrame Sports software, the Japan international's movement can be tracked. I think the example below really shows what Minamino can bring from a deeper role.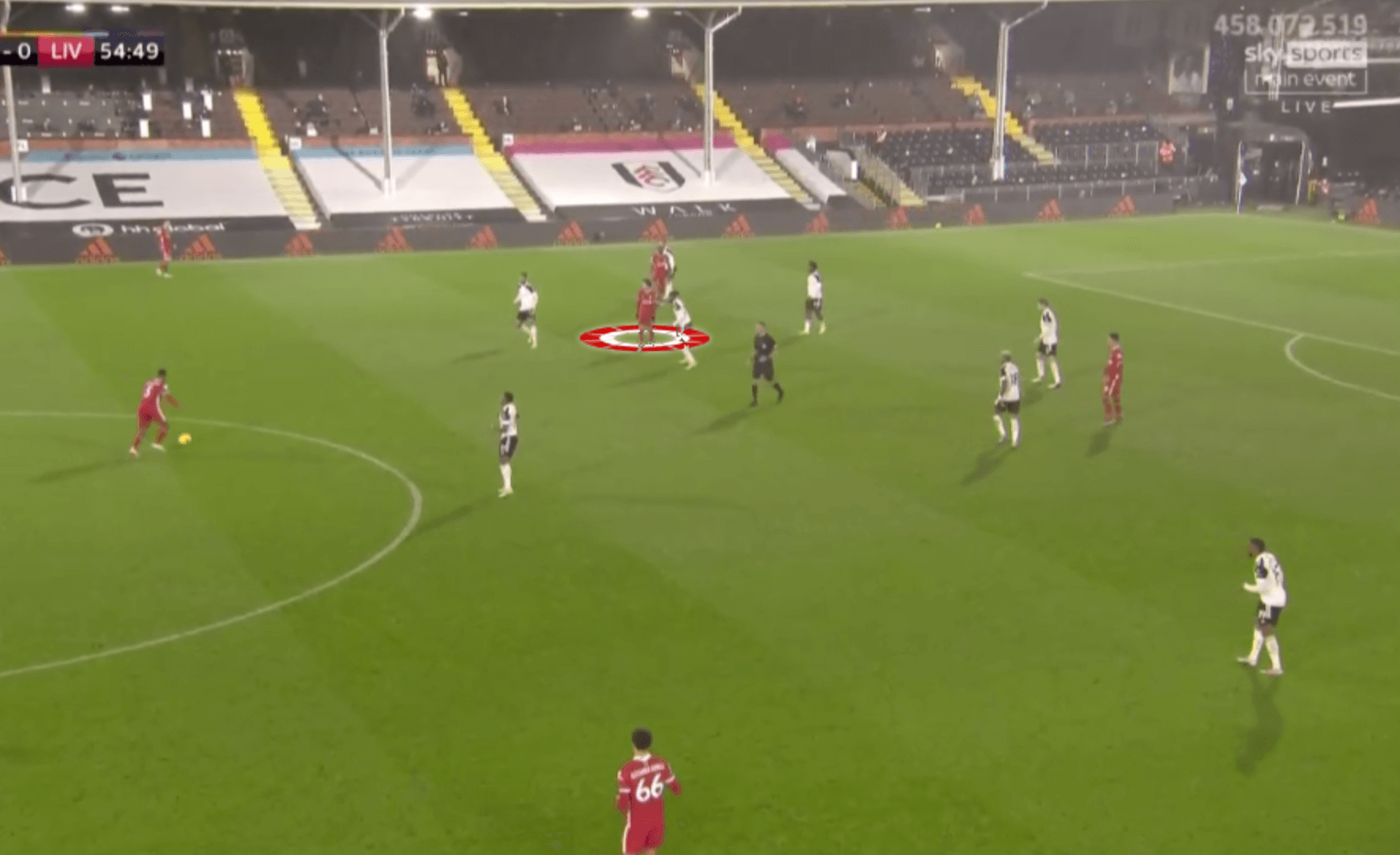 The Liverpool No.18 is circled with Gini Wijnaldum in possession. The obvious pass and the one Fulham want him to make, is to Andrew Robertson on the left.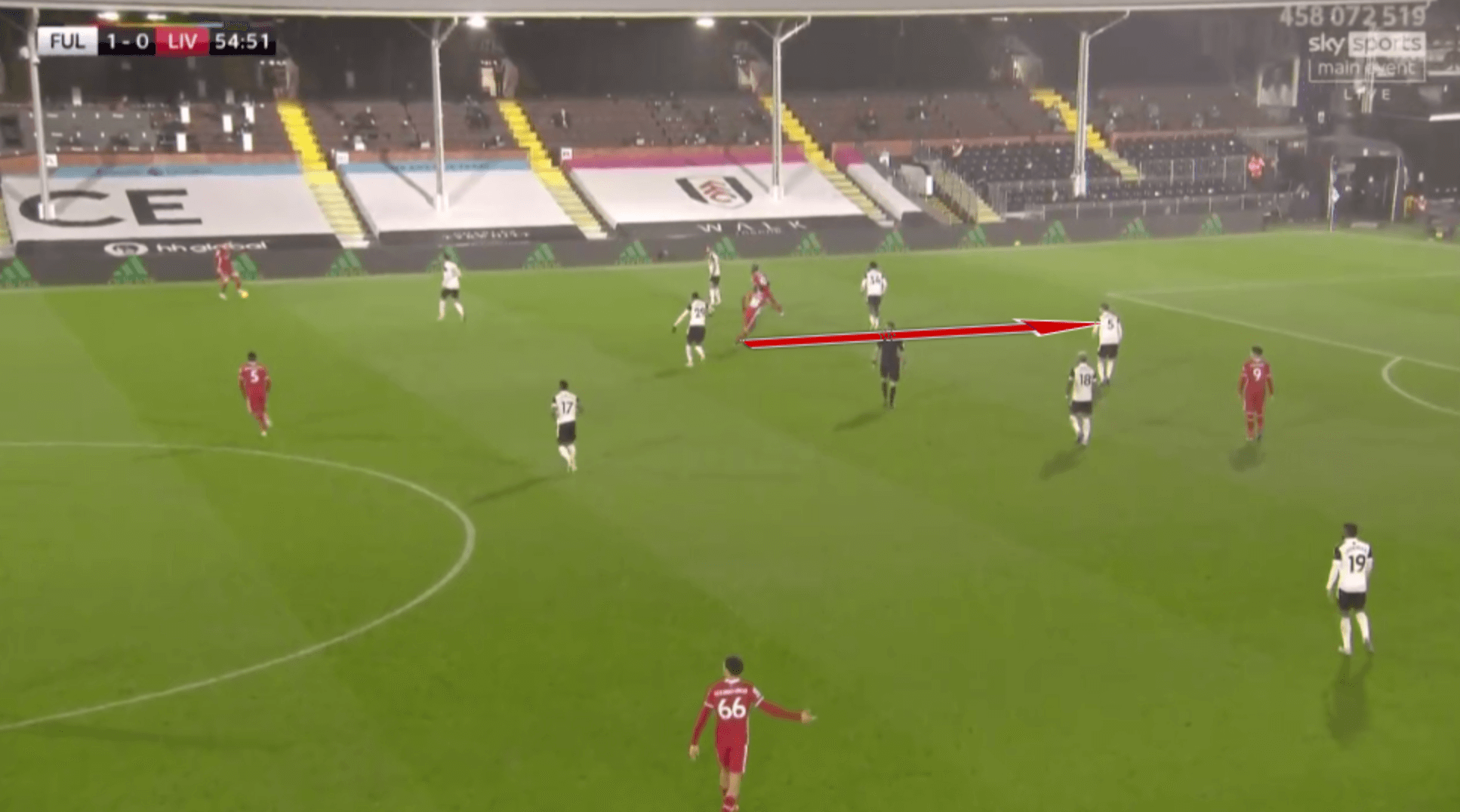 Now, the Scotland captain has very little on. Wijnaldum scurries over to offer up a passing option and Sadio Mane looks to dart towards his left-back to 1) create an angle for a pass 2) create space for Minamino to attack. It's a rehearsed move.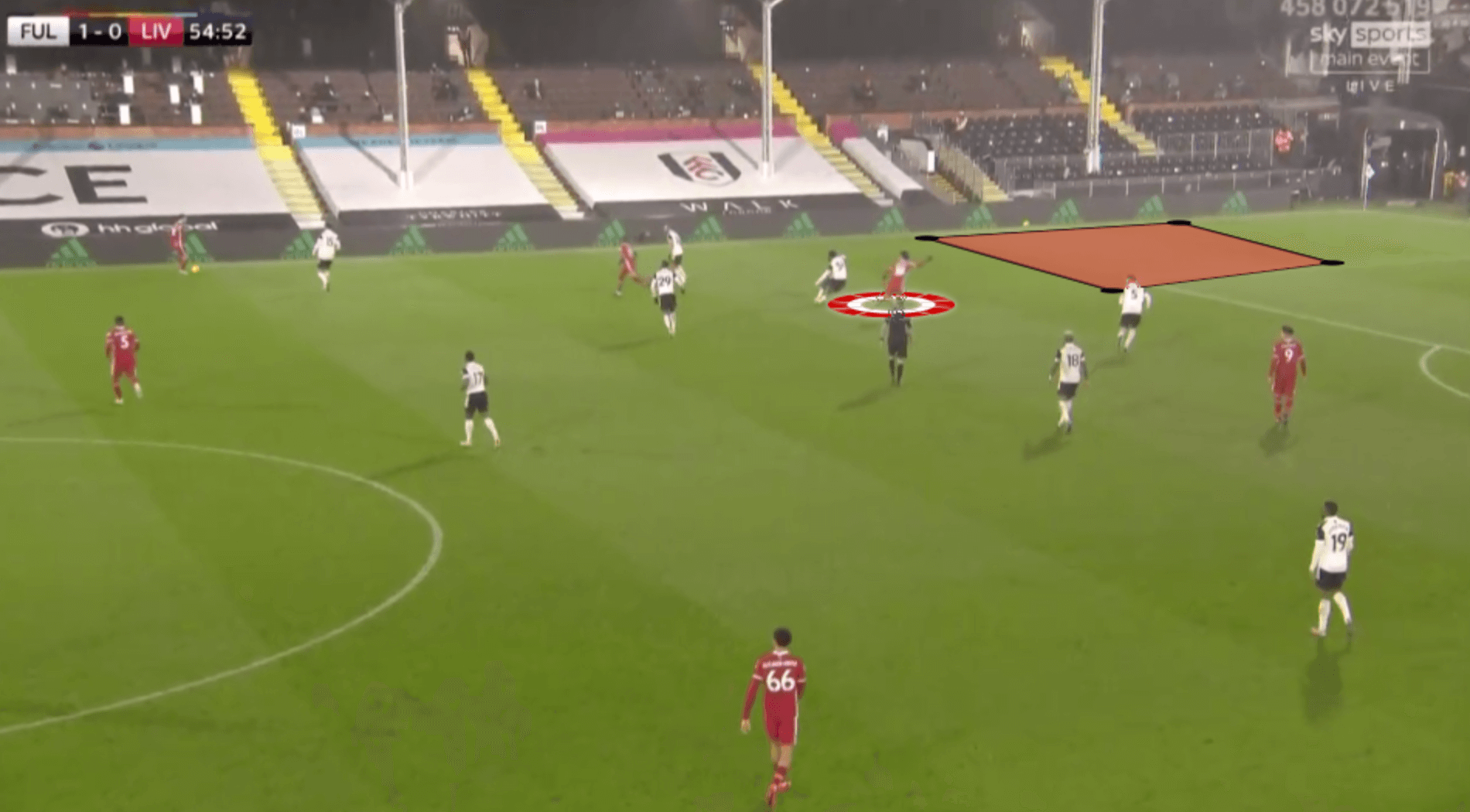 Robertson, however, resists the urge to clip the ball into the space highlighted. Instead, he passes backwards to Wijnaldum and Fulham are able to keep their shape. The Dutchman is eventually fronted up by André-Frank Zambo Anguissa and the ball ends up at the feet of Jordan Henderson. 
Liverpool's play is built on patience, but sometimes a risk is worth taking. A pass to Minamino here drags Joachim Andersen, Fulham's middle centre-back, into a wide area. You then don't know what might happen if the ball is put into the penalty box. Even if it is cleared, the hosts would've been out of sorts and not set for the second ball. It's during these transitional situations that Liverpool are at their most dangerous. 
It isn't exceptional, but it's different to what we're used to seeing from Liverpool midfielders. Against those teams that sit back, his movement could be invaluable, especially in games when Trent Alexander-Arnold and Robertson aren't allowed to be at their best. 
He did that on a few occasions during the match. If he keeps on doing it, it'll eventually come to something. Having that from a central midfielder is a nice option. The more often he's used there, the more familiar the team will be with his movement and the more chance he'll have of receiving the ball in those areas. Don't write him off just yet.