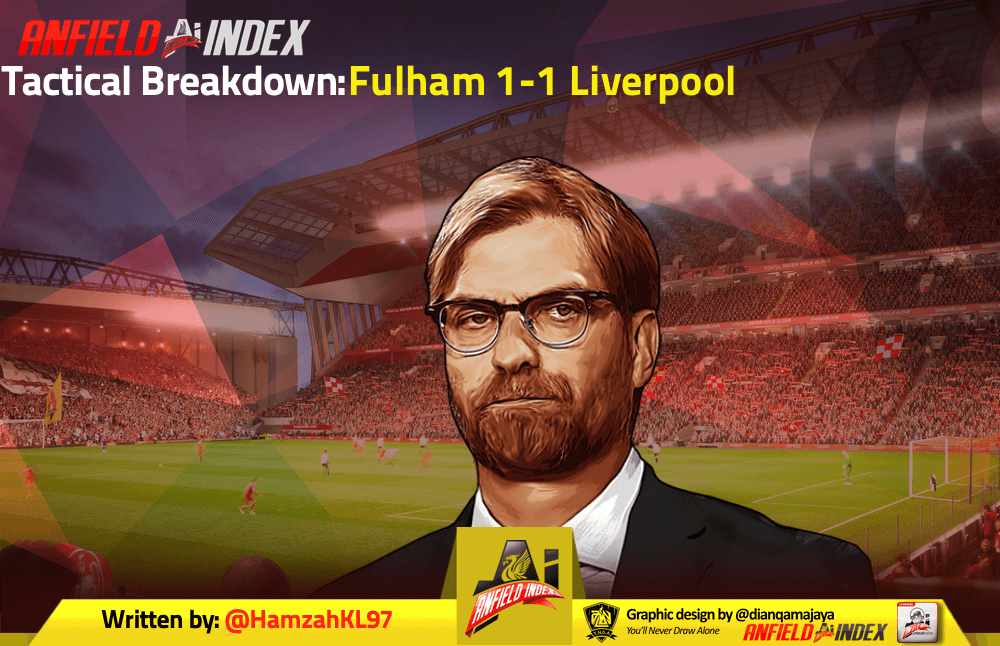 Tactical Breakdown: Fulham 1-1 Liverpool
"Before looking at tactics I think it's important to preface any tactical discussion within the unique circumstances players, managers and clubs find themselves in, especially Liverpool FC.

Jürgen Klopp's team is currently in the midst of a season in which their pre-season was disrupted, their transfer plans unexpectedly affected and in which games are being played at a faster rate than I can write them up. The nature of this campaign has resulted in a number of decisions being made that change how they play in a tactical sense. It appears the players have been instructed to press less often, perhaps to ease the physiological load pressing places upon them. Similarly, a number of injuries to key players, combined with the necessity to rotate players more frequently have meant that the team's tactics either cannot be implemented as usual (in order to make up for the qualitative deficit of losing key players), or they are adjusted to mitigate these shortcomings. Additionally, when certain players who usually do not start are asked to perform a starting role, be it Alexander-Arnold at right back, Van Dijk at centre back or Alisson in goal, the replacement players are more often than not expected to fill in for the best player in the world, in their respective position, in a role that was tailored to their unique skillsets. In light of these issues, it's necessary to think of how to judge the team and its players fairly, and to consider that perhaps the tactical successes or failures in the game should not be weighted as much as usual." – Tactical Breakdown: Brighton 1-1 Liverpool
There is a difference between an explanation and an excuse. I am aware I may be treading close to "excuse" territory, however, I firmly believe that the tactical aspects of a football match are closely linked to the physical and mental conditions of players.
A hard-fought draw away to Midtjylland in Matchday 6 of the Champions League prefaced the champions visiting a Craven Cottage finally buoyed with the support of its home fans. These facets to the game should not form the centre of any tactical analysis, but should at least be considered when trying to place the result and performance in some sort of perspective.
Scott Parker's Fulham utilised a 3-5-2/5-3-2 system, using the wingbacks to support the flat midfield three, and thereby form a compact central block. This meant Liverpool had the option of trying to break through the middle, or to use the wide areas when progressing the ball forward. A number of attempts from deep positions, both by Matip and Fabinho, and then later by Henderson, tried to break through the middle of the pitch, but were largely unsuccessful, and so the Reds tried to use their wide areas for buildup instead. Fulham also focussed on utilising long and direct passes in an attempt to disrupt the Reds' play, and stretch them. Fulham also used the physical presence of Reuben Loftus-Cheek in midfield to this end, whilst they focussed on winning second balls from aerial situations, allowing them to break in transition, in an effective manner.

Liverpool used their normal 4-3-3, with a front three of Mané, Firmino and Salah supported by a trio of Jones, Wijnaldum and Henderson behind them. The back five welcomed back Alisson and Alexander-Arnold back to their ranks, playing alongside Matip, Fabinho and Robertson.
Fulham used their front two in a manner we've seen other sides, such as Wolves and Atalanta do. Both players attempted to block passes into the no.6 when they pressed up, but even when they were not pressing, they were adding an extra body in the centre of the pitch to discourage Liverpool from passing centrally, i.e. in dangerous areas.
Fulham understood the space was out wide and did not look to always contest those areas. When they did, they would often wait for a bad touch, or a midfielder or fullback to be pinned on the touchline, before stepping out to press, either to win the ball back or force Klopp's team backwards.
This was part of a much wider problem for Liverpool, in which they were pushed backwards far too easily over the first 30 minutes of the game. Henderson and Wijnaldum, after a bright start by Fulham, appeared wary of their counterattacking threat, and consequently, both dropped too deep and too close to one another. Jones was then isolated, whilst Alexander-Arnold and Robertson were neither advanced enough to take advantage of the deep midfielders, nor were they deep enough to protect the team in transition.
Across the opening third of the match, the visitors was regularly caught in transition, with their players not appropriately positioned to minimise the threat of these opportunities. Liverpool also struggled to do the same to Fulham, with the side squandering counterattacks with poor decision-making and slow ball speed, which often allowed Fulham to settle back into their shape.
The lack of ball progression from Liverpool meant Salah, in particular, was isolated. Without his input in attacks, the Reds appeared lost, and the team looked like it was crying out for one of three injured midfielders, Keïta, Thiago or Oxlade-Chamberlain, to add verticality and reassert some forward direction to the champion's play. What made this even more difficult was the positioning and passing of the side just did not allow them to build into the Fulham half and final third, where they could set up and establish a position from which they could exert sustained pressure.
Fulham were good value for their first goal, with Alisson responsible for keeping the scoreline tight enough for Liverpool to still have a chance of coming back. Over the final fifteen minutes of the first-half though, Liverpool grew into the game and began to finally work the ball in the final third, utilising the space out wide with Robertson and Alexander-Arnold positioned further up the pitch, so they could positively affect the game, and allow Salah and Mané to move inside.
This movement of the fullbacks up the field is particularly important, as when they are in possession, they draw out one of the players in the defensive line. As they do so, the back five becomes a back four, and suddenly more space opens up for the Liverpool forwards – leading to opportunities like Salah's sharp turning two touch and shot in the last few minutes of the first half.
The second half saw a continuation of Liverpool's positive changes towards the end of the first half. Fulham still looked to isolate the ball player when they moved into the area between the middle and final third, whilst they retained their compact central shape, still forcing Klopp's team to build up in the wide areas.
A number of Liverpool's chances came from set pieces which is normal, but also speaks to how they can struggle to create chances against a block without certain players, but also when key players are a bit jaded. As true as that is though, as the game wore on, the intensity and quality was clear to see, with good chances cropping up for Mané and Henderson. Nonetheless, through a penalty, Salah was able to establish parity between the sides, and raised the question of a possible winning goal. However, tiredness appeared to affect decision-making, with a few suboptimal decisions just costing the champions in a few moments in the last ten minutes, as the side pushed for a winner.
The effect of Diogo Jota's injury was particularly obvious in Klopp's changes. Prior to Liverpool's goal, Salah was about to be withdrawn in order to preserve his fitness, but notably, they could not shift into a fully effective 4-2-3-1 without Jota, as Klopp would likely have wished to do. Oxlade-Chamberlain's long road to building up match fitness also meant it would have been inappropriate to deploy him as a 10 in such an intensive game. Consequently, Origi was brought on, but struggled.
This was a game Liverpool was expected to win, but the side looked tired and unacceptably poor for 30 minutes. The team put in a more than respectable performance for the latter two thirds of the game though, and created enough opportunities to have even secured the three points. Given the demands on the players, a below par performance is to be expected, and to be frank, there are most likely more to follow. What's important is the players that Liverpool have remain fit, and the side stays within touching distance of the top of the table. If they can just hang in, and begin to incorporate Jota, Thiago, Keïta etc., back into the side over the next month or two, there's still a lot to play for. But there's no point expecting fantastic football, this season of attrition is only going to get harder.