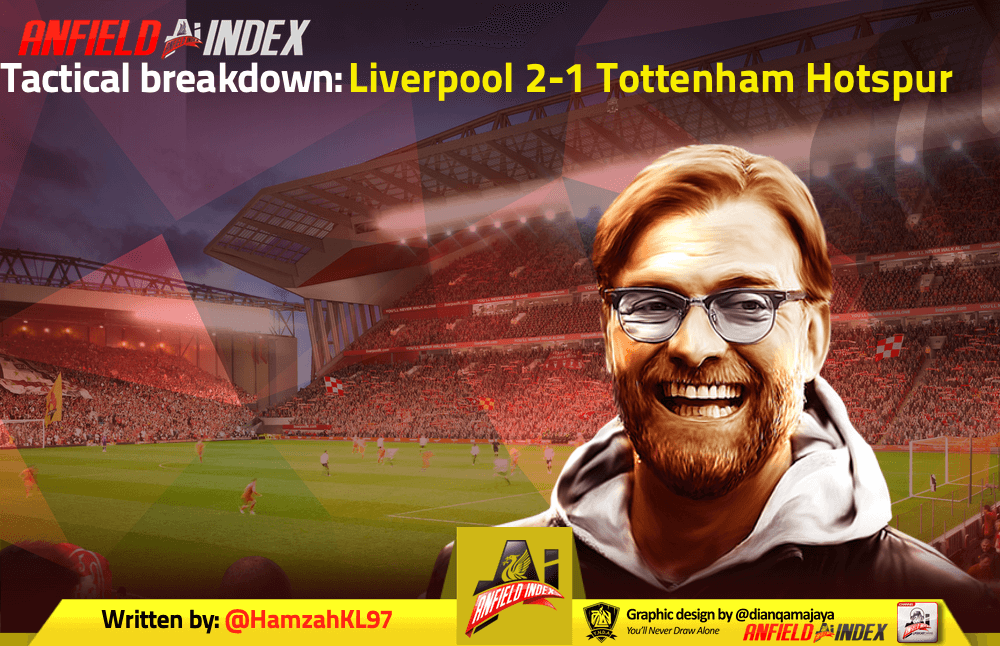 Tactical breakdown: Liverpool 2-1 Tottenham Hotspur
This extraordinary season continues to surprise us all. On Thursday night, Spurs travelled to Anfield, atop the Premier League. Notwithstanding the champions' 65 match unbeaten run in the league at home, Anfield has been a particularly unwelcoming place for the visitors in recent years. Especially for their manager, José Mourinho, a man who has attracted the ire of the locals on a number of occasions. All the better that two thousand were able to make it for this fixture.
Mourinho has previously noted the value of Liverpool's Kop end. In an analysis of Liverpool's 4-0 victory against Barcelona, he stated,
"…And the atmosphere is very difficult to cope with especially when Liverpool attacks that end of the ground, the Kop end – their end. That's the goal where they love to finish matches and the goal they love to attack in the second half".
In an attempt to disrupt this advantage, as he did with his Chelsea side in 2013, Mourinho instructed his captain to ask to defend the Kop end in the first half.
Mourinho's side set up in a 4-4-2. This particular setup was interesting for two reasons.
The shape allowed Son the freedom to run in the channels, as Kane dropped back. The movement combination in which a striker drops deep, and hopes to drag a centreback with them, thereby creating space and a one on one, is fairly common, but also very effective, especially when a player as quick, direct and efficient as Son is the partner running from deep. This system also allows Kane to isolate one particular centreback, if he contests the aerial duel with Fabinho, the hope is to win the ball, and allow Son to run at the Premier League debutant, Rhys Williams.
The 4-4-2 was also interesting because it was the same system Manchester City used in the second half at the Etihad, which nullified Liverpool very well, through minimising passing options into the forwards, with an effective mid-high block. Mourinho did not seem to draw heavily on this example though, preferring to drop deep, and defend the penalty area.
Spurs' 4-4-2 drew upon another familiar tactic we have seen from top six clubs when playing against Liverpool: man-to-man pressure on the fullbacks. In the first half Bergwijn and Sissoko were tasked with man-marking Alexander-Arnold and Robertson, with the responsibilities of defending the halfspaces assigned to Lo Celso and Hojberg. In possession, Hojberg would sit a little deeper than Lo Celso, who looked to contribute offensively primarily in moments of transition – although these opportunities were few and far between.
Jürgen Klopp's Liverpool, as usual, utilised their 4-3-3. Mané, Firmino and Salah led the forward line. Wijnaldum and Jones featured as the no.8s ahead of Henderson, whilst the back four lined up with Robertson, Fabinho, Williams and Alexander-Arnold ahead of Alisson.
In a departure from the majority of performances this season, the Reds looked to press high and press intensively. The primary press was important, but the most important press was Liverpool's counterpress (the tactical press after losing possession to protect the side in offensive-defensive transition, or to win the ball as the opposition are in defensive-offensive transition). This was one of the most important aspects of their play, as it snuffed out the vast majority of Spurs' attempts to counter-attack.
The Spurs system was designed to break into space on the counter attack and generate high quality chances. For the majority of the first half, they could not do so because of the effectiveness of the counterpress. When combined with the conventional high press, Spurs and the ball were positioned deep in the defensive third, unable to break, with Liverpool both controlling space and the direction of play.
Mourinho may argue that this was by design, and to a degree it was, however there is a difference between defending deep and controlling the game, and sitting deep, unable to affect the direction of play. Quite fairly, some may point to the xG values for the game, and the difference in big chances. Spurs, by most models had a greater xG, and created four big chances to Liverpool's none. Contrariwise, the Reds dominated the non-shot xG models, and whilst their highest value chance was a 12 per cent opportunity for Mohamed Salah on the right side of the area, Spurs faced five shots with an xG of above 0.1. This in itself does not seem particularly worrisome, but combined with 27 successful passes into the penalty area (from 44 attempts), the 52 touches in the area, and 19 touches in the "hot zone" (the area outside of the six yard box, which is responsible for cutbacks) – according to Anfield Index's Simon Brundish – Spurs' gameplan appears to be less successful than one may ordinarily assume. Furthermore, allowing Salah and Mané to have a number of shots inside the box, from central areas is brave, especially when considering they both have extremely impressive finishing capabilities, and regularly outperform their xG values.
When out of possession, Spurs used a compact back four, focussed on forming a central block, and forcing Liverpool's play out wide, into areas where Sissoko and Bergwijn could press the Reds' fullbacks, and hope to overturn possession and spring counterattacks, or at least to push the home team backwards. Spurs were unable to push the champions backwards though, primarily due to the excellent work of the midfield. Henderson, as the no.6 was extremely progressive, regularly passing forward with good ball speed. Henderson made 102 successful passes across the match, of those 50 were forward, and 30 were in the final third. The constant forward passing and high ball velocity meant the visitors were unable to have periods of respite in the game. Henderson also dropped deep to provide extra support to the centrebacks, contributing to their counterpress on second balls from longballs or aerial duels. Where Spurs did have success though was in defending crosses, with Alderweireld and Dier largely unfazed and comfortable with aerial balls, thereby reducing Liverpool's threat from them.
The no.8s, Wijnaldum and Jones, were excellent in facilitating the fullbacks' ability to advance. They both dropped deep when required into the left and right channels, to offer protection on the counterattack, but they also played an extremely important role in Liverpool's attempts to break down the Spurs block and create chances. Wijnaldum made 78 passes in the match, misplacing only one over the 90 minutes and with 43 of those in the final third. Of Wijnaldum's passes, 36 were forward, more than the 12 sideways and 29 backwards passes. Jones put in another impressive performance, also making 43 final third passes. This constant vertical pressure, combined with direct line breaking dribbles, built a sustained pressure through which Liverpool were able to set up their in-possession structure in the final third, and probe, thrust, and generate chances.
Liverpool's left side was a point of partciular success in the first half, with Robertson pushing up, and Mané moving freely across the front line, and into deep positions to create overloads. The champions regularly looked to pass into the left side, but did so through building up on the right side, drawing the Spurs compact block over to the right, before firing a quick switch over to the left side, where there was space. In doing so, the visitor's backline had to shift across, which would create gaps between players. Despite this challenge, Spurs, to their credit, did not give away any big chances, and maintained great discipline and shape across the match.
Liverpool's sustained pressure was rewarded when Salah's shot, inside the box, was deflected beyond Lloris, into the goal. In the buildup to this goal, Liverpool worked their play from the left side, and as Firmuno dropped into a central zone, Jones expolited this with a direct run forward into that space. Direct vertical movement, combined with intelligent movement across the backline is precisely what a side needs to do when breaking down a low block, and the craft in the move was enormously impressive.
Despite taking the lead, it was Spurs who would make the next impression on the game. With Liverpool overcommitted at the point which Lloris claimed the ball, a quick throw into Lo Celso offered the opportunity to break at the Reds, in transition. A brilliant line breaking dribble by Lo Celso was followed up by an equally brilliant pass into Son, who finished unerringly.
The advent of the second half saw Mourinho's side take a more proactive and direct approach. Sissoko moved inside, swapping with Lo Celso. Spurs looked to move up and press Liverpool, and attempted to break more often. Again, the majority of these chances were snuffed out, but Bergwijn was able to seize upon an error by Rhys Williams to break in behind, only for him to shoot wide, under pressure from Alexander-Arnold. The home side continued to apply pressure, and seemed to regain control, only for Spurs to waste two more big chances in the space of a minute. The first opportunity came as Kane drew out Williams, creating a vacant space beside Fabinho. Kane's flicked header allowed Son to isolate Fabinho, with his headed throughball played on the inside of Alexander-Arnold, which allowed Bergwijn to run through on goal. Alisson, to his credit, stayed deep until Bergwijn positioned himself to shoot, at which point he rushed down to close the angle. This was essentially the move Spurs usually use with Kane dropping deep and Son running in behind, but this time with an extra runner from deep, which is harder to track. Spurs' fourth and final big chance of the game followed immediately afterwards, with Kane wasting an enormous chance, which could well have knocked Liverpool out of their stride.
Across the pitch were immense individual performances that contributed to the quality of the game. Rhys Williams was extraordinarily impressive, with his ability to press, intercept and make quick risk calculations crucial when quashing potential danger. Similarly, Fabinho excelled once again at centre back, but whilst Salah managed to best Davies on a number of occasions on the right side, one of the greatest individual contests in the match was on the opposite wing, between Mané and Aurier, with the former coming out on top for the majority of the match, with a brilliant focussed, physical and disciplined performance.
Aurier's clearance immediately preceded Liverpool's corner in extra time, which Firmino scored from, an 11 per cent chance, valued at far less than the 43 per cent chance spurned by Kane half an hour previous. In some respects, Spurs' reliance on hyper-clinicality and efficient finishing when playing their rivals can lead to results like this, but in fairness to Mourinho, it would have been naïve to try and play through the Reds, especially given the intensive pressing performance which was produced despite the champions holding 76 per cent possession across the match.
Despite Liverpool being in control for the vast majority of the match, I cannot help but think about the four big chances Spurs had. To lose a game when creating four big chances and restricting the opposition to none is usually extraordinarily bad luck, but given the manner in which the game played out, the home side certainly can argue their win was deserved, although José Mourinho seemed to dispute this.
Were Spurs the better side? They were certainly the more productive side when it came to creating big chances, but does that translate to being the better side? We could consider the gameplans of each respective manager. Mourinho no doubt wished to create big chances on the counter attack or from set pieces and restrict Liverpool to taking long shots. As it so happened, Spurs did create big chances on the counterattack, as they exploited Liverpool's errors. Defensively though, Spurs were unable to control space as effectively as they would have hoped, with Liverpool able to engage in the penalty area. Klopp's plan was to control the ball, control space, restrict Spurs' opportunities through effective counterpressing, and create goalscoring opportunties through open play or set pieces. The xG itself may not be particularly complimentary, but other indicative statistics such as non-shot xG, shot volume and activity in the penalty area/final third do suggest otherwise. Liverpool were able to break into spaces that Mourinho would definitely have wanted to keep the Reds away from – one or two good finishes could well have opened up a significant lead in the same way Spurs' big chances could have done the same. In this respect, Mourinho's claim does not quite hold water. And if we consider this game from a repeatability perspective, it's more than likely Liverpool's sustained pressure, consistent chance and shot creation is likelier to yield a goal that Spurs waiting for an error to seize upon.
When a side looks to surrender space and possession, they usually have to take their chances, as it's a high-risk game. Especially as the team on the ball might just get lucky, be it with a deflection, or a set piece against a fatigued defence.
This was undoubtedly one of Liverpool's best performances this season. After weary displays against Fulham and Midtyjlland, this was extremely welcome. Most importantly though, it established a three point lead at the top of the table. With Thiago, Keïta, Shaqiri, Oxlade-Chamberlain and Matip all set to return this week, Liverpool are only getting stronger, and that is onimous for the rest of the league.