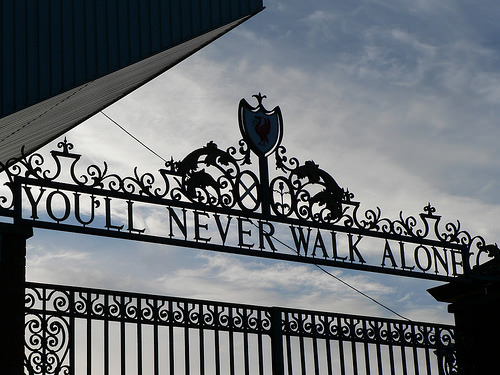 Do Liverpool need to buy anyone this January?
As we approach the January transfer window Liverpool will be looking to bring in a few new faces to the club and whether those players are stars or up and comers we will find out. As you look at the team closely you are able to find those areas in which we are in need and I will be going through that specifically.
To start with we look at our goalkeeper big Pepe,the 3 time golden glove winner, has started all 16 games and has keep an equal high (with arsenals shot-stopper Szczesny) 6 clean sheets. A good effort from a great keeper who I and most of the anfield faithful hope to see standing high in front of Liverpool's goals for the rest of his contract until 2015 and hopefully longer. So obviously no improvement is needed there.
We then go on to look at our underrated but high achieving defense.  An impressive stat tell us that Liverpool is the only team this year to concede more than 1 goal only once, and that was with 9 men! Liverpool have  also conceded the least amount of goals so far (13).

Our right back, Glen Johnson has been putting in some great performances since returning from injury. He has provided a good attacking threat (as seen in his goal against Chelsea) and has been solid at the back. He has a 85% pass completion record this season, 71% tackles won and 20 interceptions from his 8 games.
Now on to our new center back partnership in Agger and Skrtel. The pair have been solid and have even earn't praise from manager Dalglish, who said the duo enhanced there reputation as top class center backs( they have c0nceded a league low of just 0.83 goals per game, and claimed 5 clean sheets in the past 8 games) and  have shown the team can be successful without veteran Jamie Carragher, who has now been reserved to a spot on the bench.
Jose Enrique, Liverpool's Spanish left back, has proven to be a fantastic signing since moving from Newcastle.  He has started all Liverpool's 16 premier league matches and has some impressive stats for his first season at the club: 77% pass accuracy, creating 23 chances (including 2 assists), winning 83% of all his tackles and winning over 50% of his possession duels.  So at the moment Liverpool have the best defense in the league and thats without the reds player of the year in the 06/07 season Jamie Carragher and Sebastian Coates, the 2011 Copa America best young player.
Now to our midfield, from what I've seen Liverpool play best with this formation (excluding the injured Lucas and including the recovering Captain Fantastic).
Liverpool's midfield line is fine with Gerrard and Adam in  the centre, Downing linking up with Enrique on the left and Maxi on the right coming in to attack.  Then we face the real problem, our attackers(who have the lowest conversion  rate this year along with Wigan- 9%).
Liverpool need another world class striker who consistently puts the ball in the back of the net. This is even more the case now that Suarez has received a devastating and surprising 8 match-ban from Fergie's Association (although it is uncertain of when or if this will be enforced if there is an appeal). But even when Suarez is on the field Bellamy can move into left wing with Downing taking Maxi's spot on the right, leaving Suarez and Liverpool's new clinical finisher up front to put the ball in the back of the net. So who could that player be? Well here are a few players who fit the role:
– Fernando Llorente; the 26 year old Spanish striker who plays for Athletico Bilbao who be a great buy for around 20 million euros. He has scored 7 goals in his 19 appearances for Spain and 70 for his club. He has scored 7 goals in his 13 appearances so far this year and scored 18 last year for La Liga.
– Edinson Cavani; age 24 (perfect for FSG). He'll cost a bomb but 12 goals & 2 assists in 20 games for Napoli this year is an outstanding contribution and we already know that he'll click with Suarez. The perfect foil, the perfect strike force for club and country. Will cost a packet and could Liverpool lure him with the Suarez factor? It remains to be seen but one we'd like to see happen.
-Demba Ba; yes it does seem we have a thing for stealing Newcastle's players but come the end of January Liverpool may have a spot in the top 4 (something Newcastle doesn't) and a Carling Cup final awaiting in February. An enticing package for the 26 year old who has yet to win any trophy in his career. Although his performances this year have been trophy winning as he has netted an impressive 11 goals in 15 appearances in the league.
-André-Pierre Gignac; Marseilles powerful and dangerous striker who scored 4 goals for France last year as well as 12 goals and 3 assist for his club who is willing to let him go after a recent form drop.
Nicolas Anelka; remember him? The Chelsea striker has fallen way down the pecking order at Chelsea thanks to Roman Abramovichs deep pockets and has handed in a transfer request. The Frenchman would certainly be a cheap buy for a player who finished top scorer for Chelsea in all competeions with 16 goals to his name. 
So there it is Liverpools January transfer window guide, there is no doubt Kenny will be looking to bring a new striker into the mix and with Steven Gerrard coming back into the team Liverpool look set to really challenge for a spot in that top 4, and if Liverpool can manage to gain a spot amongst Europe's elite in the Champions League next year then who knows what names we might be talking about bringing to the club next summer.