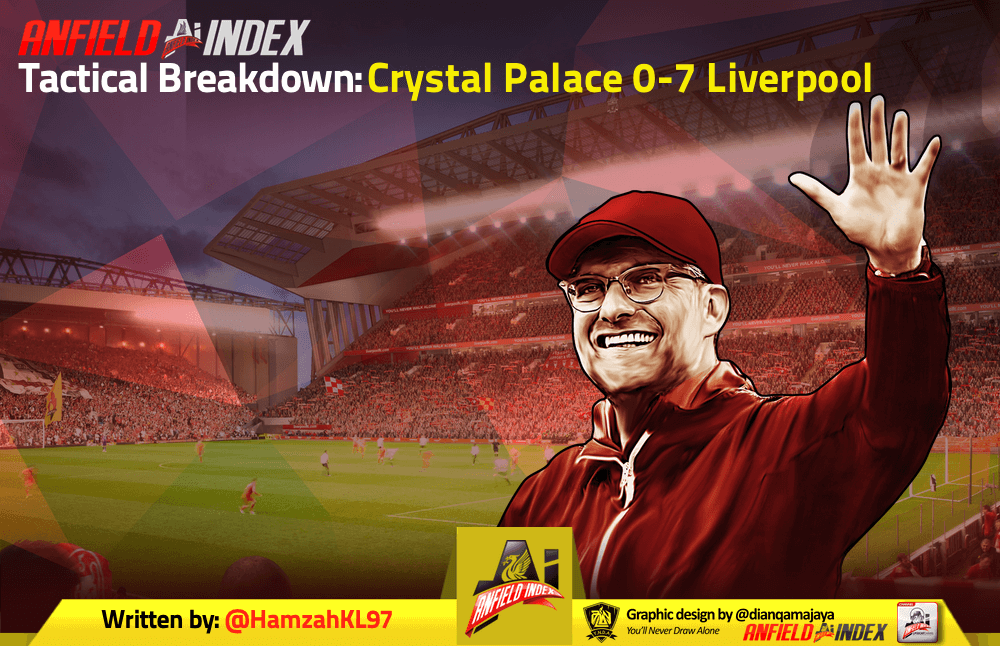 Tactical Breakdown: Crystal Palace 0-7 Liverpool
After a seemingly huge victory against José Mourinho's Spurs side on Wednesday night, Liverpool travelled to quiet Selhurst Park on a cold Saturday morning, warmed by the comforting knowledge that a win would establish a six-point lead over Spurs, even if only for a few hours.
The quick turnaround between fixtures saw Jürgen Klopp make a number of changes to his team. Joel Matip returned to the starting XI in place of Rhys Williams, whilst Naby Keïta came in for Curtis Jones, and Takumi Minamino replaced Mohamed Salah.
Despite Minamino playing as a no.8 in his three previous games, in this fixture, he was deployed as a winger, with the most advanced midfielder of the three being the ever-impressive Naby Keïta.

Roy Hodgson's Crystal Palace set up in a 4-4-2 system, a native system to them, but one which shared some defensive similarities with a few teams that have used 4-4-2 against Liverpool in recent weeks.
The scoreline flatters to deceive in a game that was, early on, quite closely contested. Liverpool's bright start in which saw Minamino score after Firmino and Mané pushed up against the Palace backline in order to create a pocket of space between the home side's defensive and midfield lines set the game up perfectly for the Reds, however, the proceeding 25 minutes really did not show a team that was dominant in the way the final scoreline suggests.
Over the first thirty minutes, whilst Liverpool had the majority of possession, Crystal Palace were effective at progressing the ball forward, and creating promising opportunities, albeit ones that ultimately fizzled out. Over that period Palace completed 22 of 36 passes into the final third, whereas the visitors only completed a few more (26 from 37 attempts). Of passes into the penalty area (usually an indicative representation of a side's ability to exert control over the ball and space), Palace completed three from an attempted seven, and the Reds completed two from an attempted five. Similarly, whilst Klopp's team had three chances created, and Palace only one, both sides were equal in terms of "Big Chances", with one apiece.
In this period Crystal Palace had more success with their long passing than they would have in the second-half. They were able to use their long passes to access space in behind, which Schlupp, Zaha, Ayew and Eze would all look to attack. Palace largely avoided the centre of the pitch, instead looking to pass out wide, and they also attempted to build on their left side.
Liverpool, in the same period, had a lot of activity in the centre of the pitch, and a significant amount in the left side fourth fifth of the pitch, but not a great deal of penetrative forward passing.
Crystal Palace's chances were managed though, and despite a "sloppiness" early on, mentioned by Jordan Henderson in his post-match presser, a few moments of good individual defending and errors by Crystal Palace kept the scorelines level. Liverpool's ineffectiveness in this period can be attributed to a number of things, perhaps tiredness, some sub-optimal decision-making with regard to losing possession before the Reds were in a tactical position that was ready to deal with losing possession suddenly, or even a lack of forward-thinking vertical passing, that would force Palace back, and sustain pressure. However, we must also note the resilient, strong and effective performance Palace put in after conceding.
When discussing the game, Klopp noted that "The opponent had proper opportunities, not chances but opportunities", and I believe this captures the essence of the flow of the game in the period following Liverpool's opener.
This graphic from Piotr Wawrzynów demonstrates the same point too, with Crystal Palace clearly enjoying a period of control and potential threat from approximately minute twelve, to just beyond minute thirty.
https://t.co/owmqTiEB9E pic.twitter.com/xVZTAOWdyQ

— Piotr Wawrzynów (@pwawrzynow) December 19, 2020
The Reds' passing in this period was also a little loose. A number of forward passes were attempted from deep, but when they were attempted, sometimes they were too long and led to possession changing hands. At the moment possession turned over to Palace, they found themselves with opportunities to break, as Liverpool's defensive structure in the final third was not set up, as the initial long passes were played too early in the possession phase.
This directness from deep is often useful, but usually requires the entire team to be pushed up, in order to counterpress if the ball goes loose, and also have each player ready to protect space if possession is lost – this was not quite the case in this period.
Beyond the opening thirty minutes though, Liverpool grew into the game. Naby Keïta was particularly important as he added verticality and forward pressure. He, Firmino and Minamino pressed ferociously, and both Henderson and Wijnaldum dropped, allowing both fullbacks to progress up the pitch, pin their opposite wingers back, and reduce the ability for Palace to break, and also established a final third structure which was ready to regain the ball if possession was lost, but also to apply constant pressure with the ball in dangerous areas. With this and the direct forward passing of Henderson from deep, the champions began to look in control once more. A brilliant turn and finish from Sadio Mané was a suckerpunch for Palace, and from then on, Klopp's men controlled the game with ease.
The third goal was an excellent break in transition, with the ball moving from a deep central area, out wide to Robertson, who carried the ball forward. A lateral move away from goal by Sadio Mané opened up the centre of the box to Roberto Firmino, who finished coolly, as Robertson returned possession to him.
Future potential counterattacks from Palace were snuffed out, with any breaks stopped with good individual one-on-one defending. In the second-half, the visitors gave a display in clinical shooting, scoring four goals from their five shots on target. Over the second-half, Liverpool created three big chances, scoring two of them. It was an extraordinary display of finishing, with Guaita unfortunate to have to face it. Palace surrendered possession and space, and Klopp's mentality monsters obliged. Palace's spirited effort in the first-half amounted to nothing, as Spurs learned only a few days prior, chances count for little if they are not converted. As Klopp stated in his post-match presser, "Today they all wore their finishing boots… unfortunately it will not happen a lot". And that's pretty much it. The Reds' finishing was sensational, and the scoreline definitely sent out a message. However, (amazingly) this probably was not even one of Liverpool's finest five team performances of the season. But for the nineteen other Premier League sides, there could be little more disheartening things to know than that Liverpool can score seven goals away from home, with next to no rest, without even touching their best.