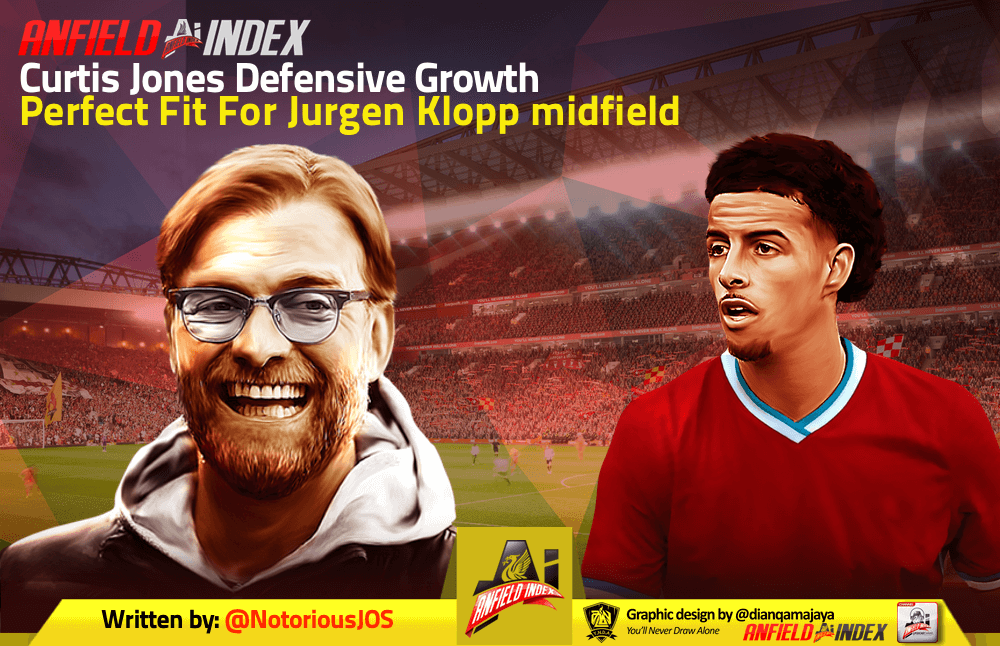 Curtis Jones Defensive Growth Perfect Fit For Jurgen Klopp midfield
The emergence of Curtis Jones has been one of the biggest positives from Liverpool's season thus far.
With a raft of injuries, the Reds have had to adapt and Jones has been one of the biggest benefactors of this otherwise unfortunate situation.
With nine Premier League appearances under his belt, the 19-year-old has already played more than he did last season — when he marked his debut campaign with six games in Red in the league — and this is a handy barometer of his growth.

It is very likely that without the injury to Thiago and those to Virgil van Dijk and Joe Gomez — setbacks which also weakened the midfield playing pool numbers because of Fabinho's switch to centre half — that the England youth international wouldn't have been given so many responsibilities or assumed so much responsibility.
But as it is, Jones has gone from a talented prospect to a bonafide first-team option in a matter of weeks. He has cut his teeth in the first team at a remarkably quick pace and can now be relied upon to carry out the taxing responsibilities placed on his midfielders by Jurgen Klopp.
Off the ball, the young Scouser has improved exponentially in a short burst of time. In the Champions League tie away to Ajax in October, Jones was substituted at half time chiefly because of his off the ball coverage and positional awareness left his team exposed in the centre of the park.
Since then, though, the academy graduate has applied himself defensively to a standard reflecting a seasoned pro, steeped in the demands of playing in midfield for a Klopp, as best evidenced in his performance recently against Tottenham Hotspur at Anfield.
In the crunch top of the table clash at Anfield, Jones — on and off the ball — was superb and helped guide the Reds to a win which, come the end of the season, could prove crucial in the destination of the Premier League title.
The Reds' number 17 four interceptions, nine-ball recoveries, and used his 6'1″ frame to good use by winning four from five of his aerial battles. Jones also — and this can't be measured in statistics — showed positional nous and dropped into the defensive midfield area when Jordan Henderson or Georginio Wijnaldum, his engine room partners, drifted forward. Such maturity and tactical comprehension is rare in young players, not least Jones, who — at 19 — is still a teenager.
Jones' on-ball and technical qualities are clear. He is outrageously naturally talented with the ball at his feet and capable of dribbling, receiving the ball in tight areas on the half-turn, passing, and shooting — who will ever forget his goal in the Merseyside derby last season — to a high level. Those are the fun parts of his game and they are attributes valued by any coach, not least Klopp.
But to play in the Reds' midfield is oftentimes a thankless task as the roles are so broad, given the players are asked to perform in defensive, transitional, and attacking phases. With Trent Alexander Arnold and Andrew Robertson — the Anfield club's full-backs — so dangerous going forward, Klopp has structured his midfield in such a way that the Scouser and the Scot can venture on up the pitch safe in the knowledge that one of the midfielders, usually Wijnaldum and or Henderson, can cover them and not expose the team on the counter-attack.
Jones versing himself in the "boring", selfless and "unsexy" elements of playing in midfield is an exciting prospect for Liverpool fans. If he can consistently couple this newfound tactical comprehension and defensive discipline with his innate technical qualities, the English champions will have a hell of a midfielder — more than a prospect — on their hands.