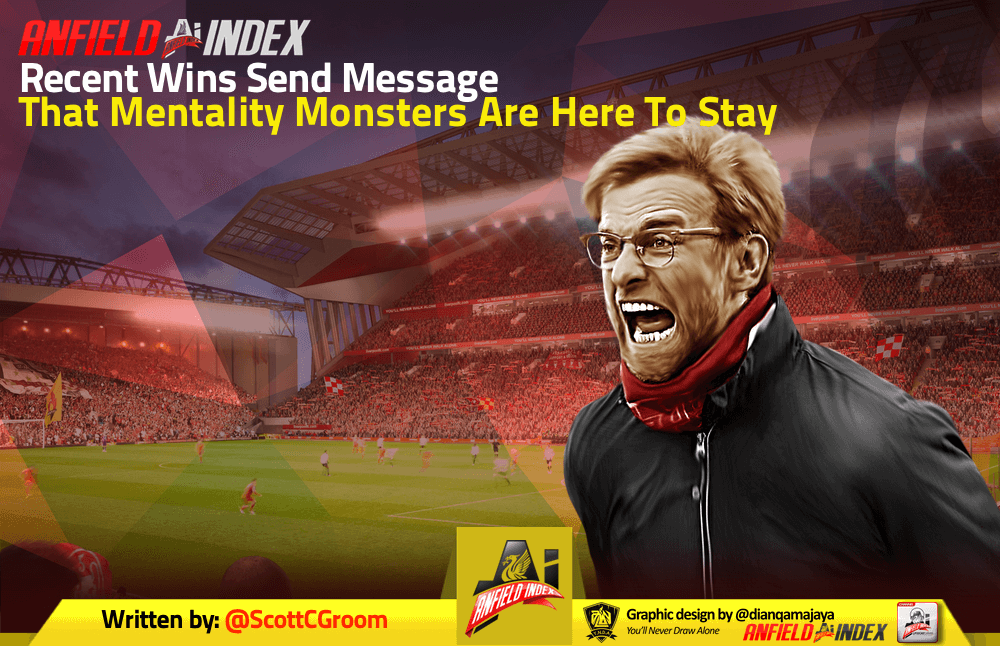 Recent Wins Send Message That Mentality Monsters Are Here To Stay

This season was always going to be a tricky one, not just for Liverpool, but for every side in the Premier League.
The lack of pre-season along with the intensity and frequency in which fixtures have come during this Covid-19 hit campaign have been a test for most, Klopp's side included.
I've often thought in recent weeks as Liverpool have ground out results against the likes of Fulham, Brighton and Sheffield United that substance very much will come before style in the majority of cases.
But in the last few weeks, performances against Wolves, Spurs and then most recently Crystal Palace have sent a defiant message from the champions to anyone looking to take their crown from them, that they're still very much the team to beat.
Not only this, but it has also reinforced, for me, the notion that this group of players still very much are mentality monsters – if that was ever in any doubt.
There's not a single side in the league that hasn't found this strange season challenging in one way or another.
For Liverpool, it just so happens that most of those problems have all come along at once: injuries and fixture congestion being the biggest bind for Klopp.
Absentees as significant as van Dijk, Gomez, and Thiago to name but a few, with others such as Trent, Henderson, Alisson and Matip have all endured spells on the sidelines.
This has meant that, understandably, at times, Liverpool's style of play hasn't quite been the trademark silky smooth, sleek brand we've become accustomed to. That didn't stop the red machine from rolling on.
This is something we have become used to seeing, that grit and determination to ge the job done which propelled Liverpool to their first Premier League title last season.
With the raft of injuries, you could've forgiven the reds for letting results slip when their performance levels did too.
But such is their mental strength and resilience, Liverpool soldiered on and did something that was such a problem when Klopp first took charge and won when they weren't at their best.
Not only that, but to come out of this spell and put on some of the performances that came after this shows that that mentality isn't just strong, but perhaps more ingrained in the squad than ever.
The belief and desire are clearly burning deep down to keep the results coming. That fire that burned so strongly to fuel bringing home numbers six and nineteen in Europe and domestically in the last couple of seasons.
It seems to be this that is once again setting Liverpool aside from the rest this season. You look to teams like Manchester City who, by their standards, have endured a sub-par start to the season. This is a season after finishing 18 points behind Liverpool, when their resolve and fighting spirit should be at its most intense.
Then there's teams like Leicester and Spurs, who don't seem to have the mental capability to be able to grind things out when things get tough. Inconsistent results and unexpected defeats leave them wanting.
There just does not seem to be another team in the league with the desire and mental strength that Klopp has instilled in this Liverpool side – and it's a quality that appears to be going nowhere which must be such a daunting prospect for every other side in the division.
Klopp has changed so much about the club at all levels, but this is by far his finest work. Never allowing that negativity to creep in, never knowing when they're beaten, never giving up hope.
That is his masterpiece and the lasting legacy that this side will be remembered for. And if they're remembered for that, they'll certainly be remembered for winning trophies as well.