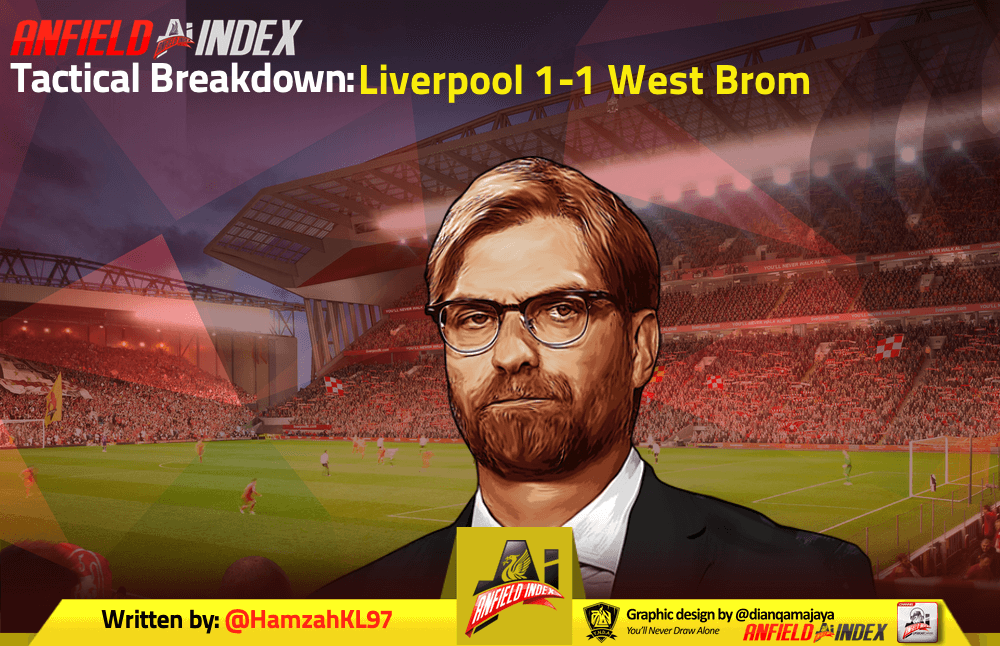 Tactical Breakdown: Liverpool 1-1 West Bromwich Albion

Liverpool's seven-goal clinic in finishing against Crystal Palace was a display not of Liverpool playing at their best, but rather the Reds taking their chances. Against newly appointed West Bromwich Albion manager Sam Allardyce's team, it was clear Liverpool would need to do the same.
As expected, Liverpool lined up in a 4-3-3. Salah, Mané and Firmino were supported by Jones, Wijnaldum and Henderson, with a back five of Alisson, Robertson, Fabinho, Matip and Alexander-Arnold behind them.
Over the first half, this system largely resembled a 3-2-5, with Henderson dropping deep, between the centrebacks, Jones and Wijnaldum ahead of him, whilst both fullbacks and the forward line pushed up, with Firmino and Wijndaldum dropping or moving up to facilitate passes between the lines.
West Brom, for the majority of the first-half, played a 6-4-0 system, with an extremely compact back four who largely sat within the vertical confines of the penalty area, flanked by wingbacks who would move out if the ball was played into the final fifth of the pitch.
For the second half, West Brom changed into a 5-4-1, which would develop into a 4-5-1 when in possession. This single player up front gave them the outlet they needed in the first half to relieve pressure, and offer a counter-attacking threat.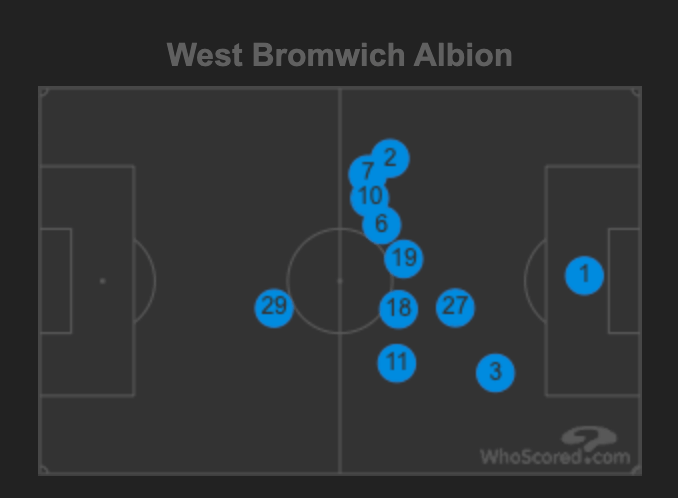 Liverpool were without their two best assets when it comes to breaking down a rigid low block with a really compact centre: Keïta and Thiago. However, there are ways to play through a compact low block without vertical play from deep, and it relies on fast movement and passing between the lines, dragging opposition players out of position and creating one on ones, for example.
Over the first half the visitors struggled to control the game. Liverpool made 15 successful passes into the penalty area, by no means an extraordinary volume, but a volume high enough to demonstrate the West Brom defensive shape was not fully effective. That being said, Liverpool did only create on big chance in the first half – Mané's goal. The 6-4-0 system involved the wingbacks stepping out when the ball moved into the final fifth, and this allowed Liverpool to generate one-on-one opportunities out wide, to break into space, and then draw the back four out of space – they used this tactic to good effect early on.
The reason for West Brom's first-half struggle came from the lack of a forward option. Their two defensive lines meant there was no forward pressure to engage the ball in deep areas, and they struggled to engage beyond 35 yards away from their own goal. This allowed Liverpool to exert control and manipulate space, leading to a number of chances. Even when the Baggies won the ball, the lack of a forward option, combined with the counterpress threat meant they had to clear and so they surrendered possession.
The visitors' set pieces offered opportunites for both sides, for the Baggies to score from, but also for Liverpool to break on too. The Reds, with Matip and Fabinho were largely able to deal with the physical threat of West Brom in the first half.
Liverpool's goal came as a product of that vertical passing that's important to breaking low blocks mentioned earlier. This pass came from Matip, who broke forward into a dribble and then broke the West Brom midfield and defensive line with a brilliant direct pass into Mané, who controlled and finished with even greater skill. From this point, usually, most teams would step up and chase an equaliser, thereby giving the champions opportunities to break, score and finish the game off, but Allardyce's men resisted this urge, instead biding their time, and preventing any other significant chances from being created.
This disciplined and diligent defensive display saw Mo Salah retreat deeper into a position where he hoped he could affect play more, but a few promising moves fizzled out, as the West Brom players swarmed and snuffed out chances when they moved into the area.
Whereas the opening 15 minutes saw Robertson deliver a number of brilliant crosses behind the visitors' defence, before it was set, that were wasted, the second half saw Liverpool get into bad crossing positions and attempt to beat a settled defensive line. Whereas in the first half Liverpool completed 8 of 18 attempted crosses the second half only featured 3 successful crosses, from 17 attempts.
Also, rather damningly, given the opposition's tactics, Liverpool only attempted two switches all match, completing one, and with both attempts in the first half. Simply put, Liverpool's second-half performance was well below the acceptable standard.
West Brom did make some changes, such as moving to a 4-5-1, and being more aggressive and forward-thinking in their play. Now they would chase long passes in behind, looking to gain set pieces, and once Matip was injured, Liverpool's strong aerial presence was no more, and they targeted Rhys Williams, by playing balls in around or beyond him – with one break leading to a Big Chance, which was saved by Alisson
The forward presence from West Brom was not being exploited at all by Liverpool, who should have been able to better expose the space between players. Yet the passing was slow, laboured, and most damningly, unintelligent, with the appropriate movements and short passes followed by switches not taking place at all, meaning the 3-2-5 shape could not be replicated, and thus there was no central penetration. Consequently, the only areas available for the ball was out wide, and Liverpool crossed, and crossed, and crossed, to no effect. Much like Alderwiereld and Dier were comfortable a few weeks ago, the Baggies defensive line was more than happy to face the ball, not be forced to turn around, and just head or clear when asked. It was a remarkable lack of ingenuity and match intelligence from the Reds, especially given their record of dealing with such problems. Admittedly, when faced with low blocks, the champions usually draw upon their set-piece strengths to pull ahead, but in this game, the set pieces were ineffective. Additionally, the off-ball movement in the second half was poor, and when combined with the bad decision making that led to a number of turnovers.
Nonetheless, West Brom defended well, not allowing Liverpool to generate a big chance until Firmino's late header. This was a really strong and disciplined defensive performance by the West Midlands side, and when they did look to move the ball forward, they were cautious with their passes, not allowing Liverpool to have significant pressing opportunities.
Liverpool though must hold themselves responsible for the scoreline. The lack of presence in the second half was a product of poor decision making across the team, and individual errors offered the opportunities that West Brom patiently waited for. As far as the champions are concerned, this performance was not good enough, and whilst Matip went off, and neither Keïta nor Thiago were available, Klopp's men had more than enough on the pitch to beat West Brom if they applied themselves appropriately and with the diligence and focus that West Brom displayed. In the end, the Baggies deserved their point, and given the discrepancy in quality between the squads, one can hardly expect West Brom to play in a different manner, especially given their present situation in the table. Next time, Liverpool must give a game like this the respect it deserves across the full 90.