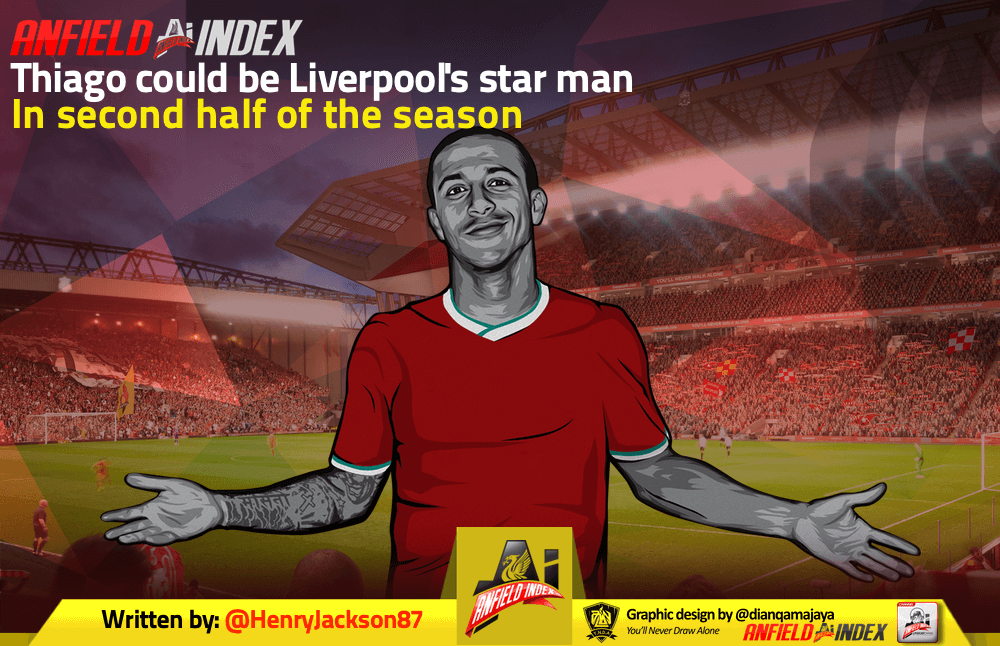 Thiago could be Liverpool's star man in second half of the season

Remember when Liverpool signed Thiago? No, me neither. It was just a lovely dream, wasn't it?
Back in September, the Reds recruited the services of one of the best midfielders of his generation, in what felt like a significant piece of transfer business.
Liverpool have mastered the art of buying top-level players and turning them into world-class ones, from Luis Suarez to Mohamed Salah, but they rarely buy people who are elite at that moment.
In Thiago, however, Jurgen Klopp brought in a bona fide superstar still at the peak of his powers, even though some would like to make you believe 29 years of age is actually 59.
We were all set to see this magnificent footballer make Liverpool even more of a daunting proposition, bringing a level of guile to the midfield that very few on the planet are capable of.
Instead, Reds supporters have only managed to see Thiago in action for 152 measly minutes, spanning just three appearances.
There was his debut away to Chelsea, when he came on at half-time and ran the show – admittedly against 10 men – before a full 90 minutes at Everton, in a Merseyside derby that still makes the blood boil.
It was Richarlison's appalling stoppage time tackle on the Spaniard that has seen him sidelined ever since, with two-and-a-half months passing since the injustice at Goodison Park.
Thiago's return to the side finally took place at Newcastle on Wednesday, where he showed in a brief cameo how pivotal he could be moving forward, completing 91 percent of his passes, six long balls and winning all five aerial duels.
The 29-year-old has almost become a forgotten man, particularly to rival fans, but he has the potential to be one of the most influential players in the league between now and May.
Thiago has shown in those two displays against Chelsea, Everton and Newcastle exactly what he is going to add, not only bringing unbelievable quality, but also tenacity off the ball and underrated leadership.
That aforementioned guile and unpredictability that he has in his armoury is one attribute the likes of Jordan Henderson, Gini Wijnaldum and James Milner lack, as was the case against West Brom and for much of the Newcastle game.
Liverpool were crying out for Thiago to provide something different in the final third, seeing a pass that other teammates don't and unlocking 10-man defences with a piece of individual brilliance.
It is almost impossible to criticise a midfield that has played such a major role in the Reds getting 197 points in their last two seasons, as well as winning the Champions League, but looking one-dimensional can be its only shortcoming on occasions.
Thiago is that sprinkling of stardust that the midfield needs, dictating play, keeping possession and proving to be a dream teammate for the full-backs and the front-three.
He is no prima donna, though, and is instead someone who revels in the unsung work as well as the artistry, which is why he is such a special signing.
On top of that, the workload that Henderson and Wijnaldum have got through already this season – particularly the latter – means they won't play every game and could even show signs of weariness as the months pass.
With Fabinho playing at the back, Curtis Jones still learning, Naby Keita horribly injury-prone and Milner ageing, the importance of Thiago is highlighted even further.
He has been there and done it all before when it comes to winning trophies, winning the Champions League with Bayern Munich back in the summer, not to mention seven Bundesliga titles and two La Liga crowns, among other pieces of silverware.
Thiago's vast experience can be vital in helping Liverpool getting over the finish line in what looks set to be a far tighter title race than last season, staying calm in big moments and bringing a silky extra dimension to the team.
To only be able to watch him three times in as many months is bordering on some sort of footballing torture, so the sight of him back on Reds duty should delight Reds supporters and strike fear into rivals in equal measure.
From the Southampton game onwards, here's hoping we have wall-to-wall Thiago brilliance to drink in on a weekly basis, acting as the catalyst in what will hopefully be a memorable, trophy-laden second half of the season for Liverpool.