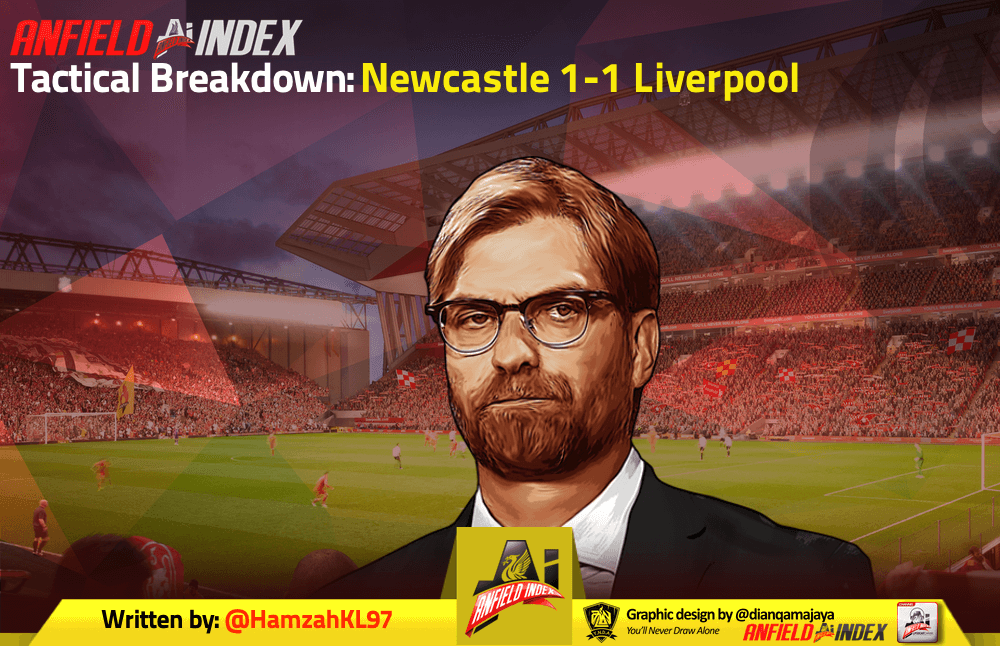 Tactical Breakdown: Newcastle 0-0 Liverpool
After an extremely disappointing match against West Bromwich Albion at home, Jürgen Klopp's Liverpool travelled up to Tyneside, to face Newcastle.
Liverpool, as usual, set up in a 4-3-3
Ahead of Alisson was Alexander-Arnold, Nat Philips, Fabinho and Robertson. The midfield featured Jones, Henderson and Milner, whilst the front three comprised Salah, Firmino and Mané.

Newcastle set up in a 5-2-3. This was a really interesting tactical decision by Steve Bruce. It incorporated a number of tactical elements from Liverpool's recent games. The 5 at the back drew upon West Brom's success in compacting their box and not giving away big chances. The three central defenders would ideally not move out of position, and if they did, the idea was that an extra player would be able to move over and provide cover. The front three was a particularly interesting decision as it facilitated two particular things: 1) the ability for Newcastle to press and 2) the option of an outlet ball – learning from West Brom's particularly troublesome first half, where they were hemmed in with no route to escape the pressure.
The inclusion of Nat Philips was likely to deal with the physical presence of Newcastle and also offer some respite for Williams who may well feature over the coming weeks, but it offered an opening for Newcastle. Not only would the Geordies be able to press him and make him uncomfortable on the ball, but his lack of pace made him an ideal target for long passes into the channel, where Wilson could isolate him in a one-on-one and run beyond him.
This is a tactic we've seen to be effective in recent seasons when Liverpool don't have Van Dijk/Gomez/Matip available, and it's far braver than simply sitting back in a deep position. Indeed, the decision to press was brave too, and in fairness to Steve Bruce, it was well executed for the opening thirty minutes, as Newcastle could well claim to have been the dominant side. In that period, Liverpool were especially poor.
Liverpool's midfield three seemed imbalanced. Milner, who has not played CM for a while, found himself in a deep position alongside Henderson, but these were not the deep positions outside of the centrebacks we expect when they fill in and allow Robertson and Alexander-Arnold to push on. Instead, these deep positions were central and on the same horizontal line on the pitch, which meant the Reds could be pressed more easily, and Jones was consequently more isolated than he should have been. Milner was unable to link play with the forwards, with just one pass each to Firmino and Salah, and six to Mané, with only one of those in the box. Similarly, Jones did not make a single pass into the box for the forwards either, and this left the creative onus with the forwards, who rarely had the ball, due to the disrupted possession structure caused by Newcastle pressing across Liverpool's defensive line.
This close clump of Liverpool midfielders in deep positions meant the team was not spaced appropriately to progress the ball vertically, retain possession and begin to build final third pressure. The passing lanes were not established, and consequently, the visitors looked bad.
Newcastle's compact shape was largely solid, and only really broke up when the ball was in Karl Darlow's hands, and the front three rushed up to push up against Liverpool's back line, looking to win the aerial duel, or at least the second ball in order to break in behind.
As the game ran on though, Liverpool did begin to grow into the game. Long passes seemed to become more effective for the Reds, with Salah able to get onto the ball more. An uptick in direct accurate passing now allowed them to break into space, and move forward through the Newcastle press. This continued into the second half as they were able to progress up the field more efficiently and restrict the opportunity of Newcastle to break. As this happened, Liverpool were able to generate more chances and begin to look a bit more like the reigning champions. Two particularly big chances fell to Salah, the first of which was brilliantly saved, and the second was unfortunately hit wide. Salah's big chance conversion rate this season has been 50 per cent, which is elite, however, the volume of them has not been high enough, and that's a consequence of a lack of supply. Indeed, in this match, Salah received only four passes inside the area all game. If the champions are to score more goals, they need to manufacture more chances for their best-attacking asset.
Of the visitors' chances, ordinarily, we would expect them to score at least one, but it appeared luck was not on their side for this fixture. However, a certain midfield maestro was, and he nearly stole the show with a cameo of brilliant high-quality football. His introduction, alongside that of Wijnaldum saw Liverpool take far more appropriate positions in the middle and final third, preventing Newcastle breaks and sustaining pressure, leading to chance creation. The verticality of Thiago meant Salah now had a more consistent source of creativity to feed off, and it also brought the fullbacks into the game as Newcastle dropped deeper and tighter, thereby opening up the wide areas.
This was undoubtedly a tough result to take, especially after dropping points against West Brom. However, the performance of the side in the second half, and the three big chances created are cause to be positive. Last season this would have been a win, but that's what made last season's performance so special, matches that could have been drawn were always won. This season, maybe not. But with Thiago in the side, and Jota set to return at the end of the month, perhaps Liverpool will have the toolkit to once again turn tough draws into wins, but the side definitely needs to make better use of Mo Salah up top in order to do so! As I've said over the season, we've probably got to place these performances in context of an extraordinarily brutal season. Let's cut the players some slack and go again in 2021, there's plenty to look forward to and be positive about!