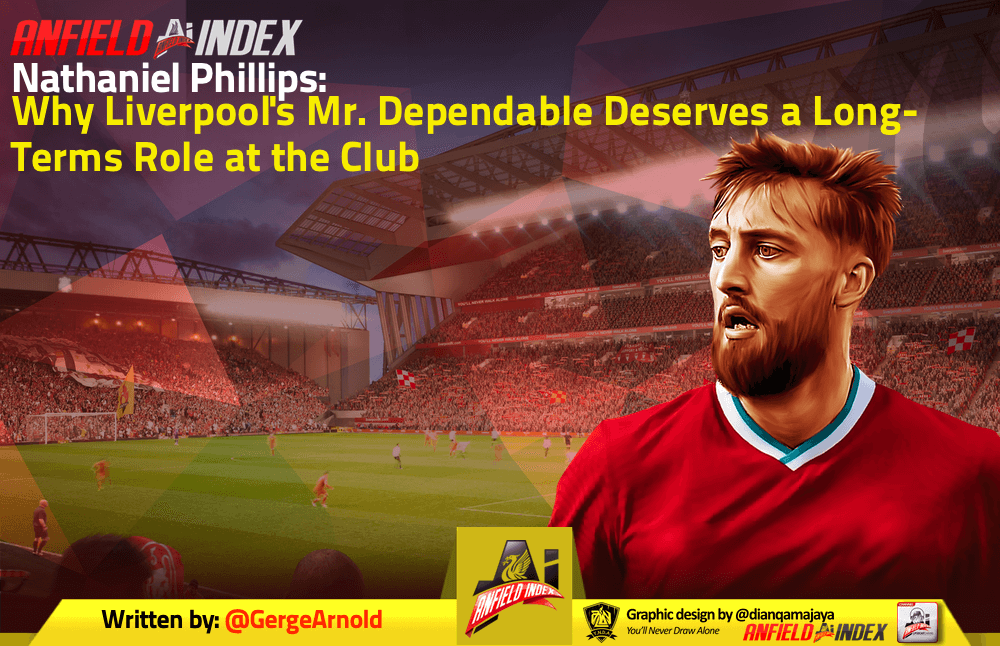 Nathaniel Phillips: Why Liverpool's Mr. Dependable Deserves a Long-Terms Role at the Club
Nathaniel Phillips has all the attributes to become Liverpool's permanent, fourth-choice, centre back.
Phillips, thanks to his scruffy beard and sweaty fringe, looks more like a hungover student than a Liverpool centre half. However, looks can be deceiving. His pragmatic style, limited capability and local connection to the club means that a role, as a long-standing deputy, should be on offer.
The centre back has featured more than he would have expected this season, following the injuries to Virgil Van Dijk and Joe Gomez. Phillips has stepped in where needed, and demonstrated a no-nonsense playing style reminiscent of defenders from a bygone era. He is strong in the air and consistently makes key clearances and tackles.
However, there are clear weaknesses to his game. His lack of technical ability, and ambition, slows down Liverpool's build-up play. For example, against Newcastle he looked for longer passes, all of which drifted wide of their mark.
As a result, Phillips will never boast the requisite quality to start for Jurgen Klopp's Liverpool. On the other hand, he is also unlikely to give a goal away, and can etch out a role as a 'safe pair of hands' within the squad.
Nathaniel Phillip's flaws would add to the squad's stability, if he is given the fourth choice role on a permanent basis. The berth on offer comes with restricted game time. Phillips would be limited to cup outings, and an occasional league appearance. The previous player to occupy fourth choice was Dejan Lovren. The Croat made just ten league appearances last season, many as a substitute. The lack of game time forced Lovren to leave the club.
Lovren was more capable than Phillips, and had starred for his national side on a run to the World Cup final in 2018. He therefore believed that he could get more game time elsewhere, whilst still competing for honours. Phillips does not have this luxury. He would not be able to secure a move to a top club, due to his limited technical ability. Therefore, a backup role represents a marriage of convenience. Liverpool get a reliable option, who is content with the lack of game time. Whereas, Phillips contends for titles that are beyond his natural ceiling.
The final reason that Phillips deserves a place in the squad is due to his homegrown status. His presence strengthens the squad, whilst helping Liverpool meet homegrown quotas in the Premier League. Furthermore, due to his experience in the youth teams at Liverpool, he will become a mentor for younger players. This is priceless for the Reds, as they look to develop the next Trent Alexander Arnold or Curtis Jones. His committed style, and humble personality, mean that he will develop into a traditional role model for the next generation.
Nathaniel Phillips was on the brink of leaving Liverpool in the summer, but the Reds will be grateful that the deals fell through. The centre back has crafted a backup role for himself, following his solid performances. Phillip's unique skillset mean that he will contribute in the long term. Not bad for Liverpool's new Mr.Dependable, who teaches straight out of the Old School