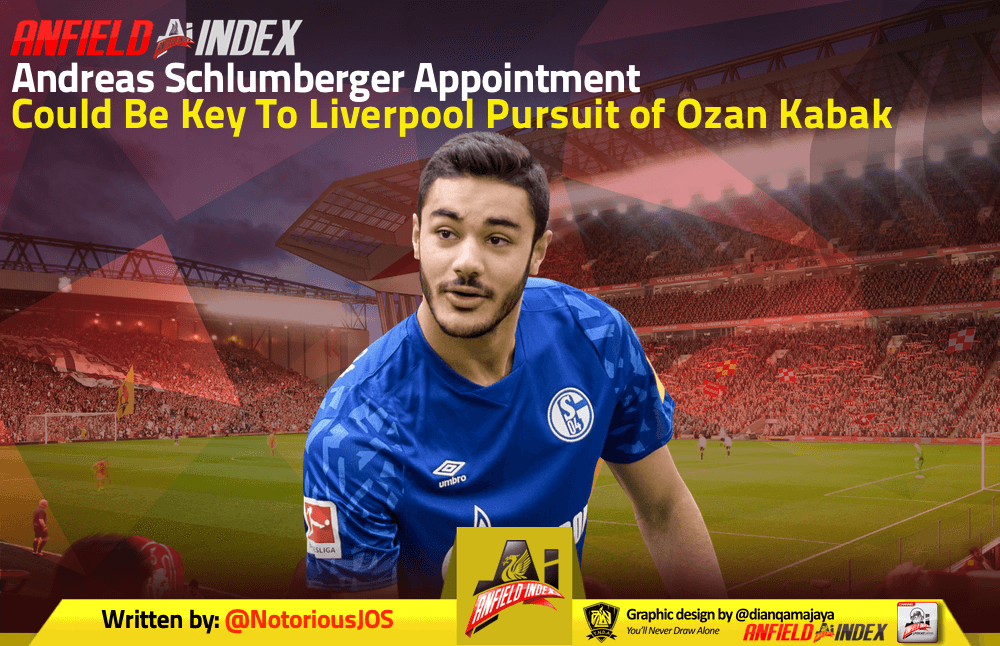 Andreas Schlumberger Appointment Could Be Key To Liverpool Pursuit of Ozan Kabak
Liverpool announced a January signing of sorts last week.
The Reds, with a statement on their website, broke the news that they appointed Andreas Schlumberger as head of the newly created recovery and performance role.
The German, who previously worked with Jurgen Klopp at Borussia Dortmund, will join the English champions from Schalke 04 with immediate effect.
A raft of injuries at the club — with the centre backs especially afflicted by bad injury luck with Virgil van Dijk and Joe Gomez likely to miss most of, if not all, the season with long term layoffs — the 54-year-old is sure to be kept busy in the most physically taxing campaign in recent times.
But Schlumberger's appointment could also prove crucial in the Reds' pursuit of a centre half this month. Linked to several defenders, perhaps the most frequently mentioned player as a potential Liverpool signing is Schalke's Ozan Kabak.
The Die Knappen have endured a miserable season, failing to win a single Bundesliga game at the time of writing and finding themselves rooted to the bottom of the table and surely destined for relegation.
Given their strife, the German club — who also find themselves under the boot of financial pressures — may be amenable to selling their most prized asset, their 20-year-old Turkish centre half.
Signed from Stuttgart for €15 million in the summer of 2019, Kabak is highly regarded as one of the best young defenders in the German game. Aggressive in the tackle and physically strong, the Turkish international has all the component parts of what you would imagine is Jurgen Klopp's ideal centre half.
One area that may prove prohibitive for Kabak, though, is a spitting incident he was involved in September. The youngster was sent off and subsequently banned for five games after spitting at Werder Bremen's Ludwig Augustinsson in a Bundesliga game. It was a vile moment from the Turk and could well jeopardise any future move to Anfield.
Liverpool have been long known to pursue a "no dickhead" signing policy and they carefully select their transfer targets with their off-field personalities and mannerisms assessed in as an in-depth a manner as their statistical, on pitch qualities and tendencies.
On the surface, Kabak would appear to fail this rule of thumb but a momentary lapse — a moment of madness, if you will — may not necessarily be the final in the coffin of any prospective switch to the six times European champions.
That's where Schlumberger comes into the equation. Having worked together at Schalke, the medical professional would be as well placed as anybody to give a character reference for Kabak. Maybe the spit at Augustinsson was genuinely a one-off piece of uncharacteristic rage and the 20-year old — who, it is worth mentioning, is still very young and maturing as a person — is otherwise of good character.
Perhaps, though, as it appears on the surface, Kabak is a loose cannon and could have a destabilising impact on the culture of professionalism and improvement that exists in the Anfield dressing room and his signature should be avoided at all costs.
Either way, Schlumberger will know and if the Turkish international joins Liverpool you can be sure that he is a good character.