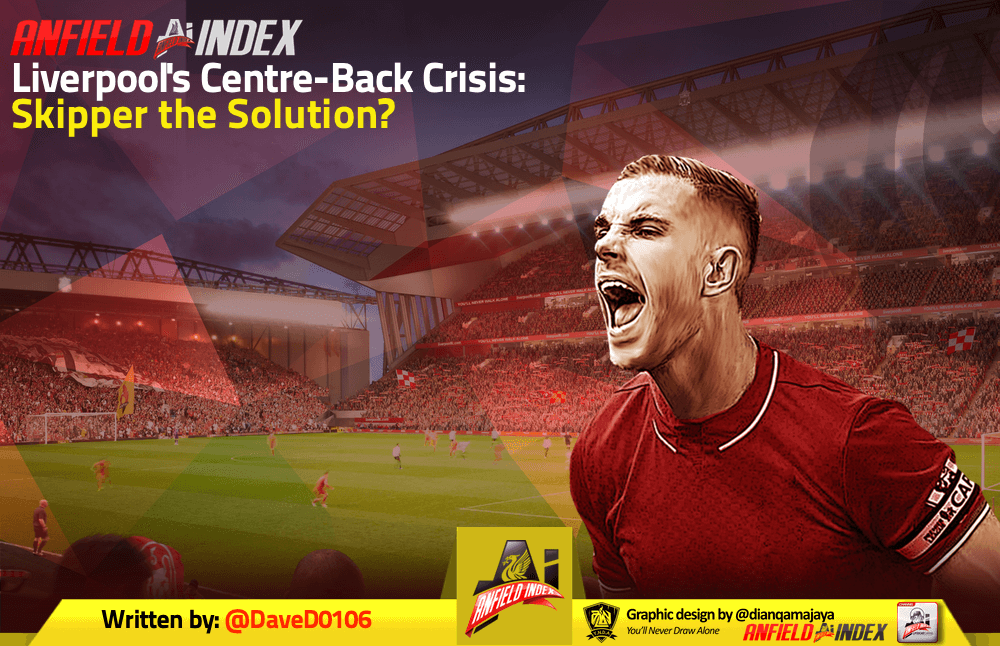 Liverpool's Centre-Back Crisis: Skipper the Solution?
'I don't know exactly how it is at other clubs, but we have to be really cautious and very serious. So I don't know what we can and what we can't do'.
Whether it's smoke and mirrors or Jurgen Klopp keeping his powder dry, the likelihood of a centre-half being pulled out the hat appears lesser than many reds had hoped for. With Sven Botman links being dismissed by James Pearce and little more than rumours to work with, the manager may have to look within to keep the title challenge on track.
Virgil Van Dijk's social media posts may provide a short-term uplift, but suggestions from many parties including Frank De Boer suggest the end of the season is still a hopeful target. Freeing up a position within the squad seems likely linked to departures too and the rumoured admirers of Divock Origi dry up with every appearance that goes by. With Fabinho's successful transition, Klopp could well turn to his most tried and trusted player.
Jordan Henderson isn't brand new to the centre back position, having proved more than accomplished in the World Club Cup Final in Qatar. The skipper also dropped in against Fulham earlier in the season and possess attributes that the youngsters Klopp has called upon simply don't. There are few that outrun Henderson or can match his influence on the pitch. As the stats have told this season, no-one makes more forward passes on average per 90 mins in the Premier League.

Whilst Liverpool's engine room would naturally be impacted, the options are still apparent there. The cameos of Thiago have provided plenty of hope that we can become to control games and defeat any teams employing a low block. The fact the  Spanish maestro could find himself alongside Gini, Ox, Jones, Milner and Keita suggests one area requires far more attention than the other.
This is no criticism or attack on Rhys Williams or Nat Phillips in any way. Each has acquitted themselves well when called upon and more than played their part. Phillips was voted Sky man of the match v West Ham and Williams played his part in negating the Premier League' favourite attacking duo in Kane and Son. They've let no-one down when called upon, despite the huge ask.
Both players though simply weren't part of Klopp's plans at the start of the season and naturally have their limitations. Phillips was all set to move to Swansea whilst Williams looked set to continue his development with the U23's or be loaned out again, similar to his time at Kidderminster.  Whilst Victor Matos' suggestion may have worked out better than expected, it's unfair to expect too much of either party or subsequently be relying on them week in week out.
Recent games against WBA and Newcastle have suggested a nervousness around the defensive area and whilst hard to quantify, there's a belief amongst more than a few fans that a desire to protect youngsters in the backline is having an impact. Liverpool can't be expected to be the front foot team they were currently, but the balance has to be correct and a midfield playing in front of Henderson as opposed to Williams / Phillips would surely feel more comfortable in driving forward.
A signing would lift everyone around Kirby and whilst it's clearly on the managers wish list, financial constraints and other clubs awareness of our plight appears to make it difficult at best. If Klopp is forced to look within, Henderson may just be his best option. A Henderson-Fabinho axis provides experience, the ability to play forward through the thirds and a reading of the game others don't have. Even if it's not the area everyone was hoping for…