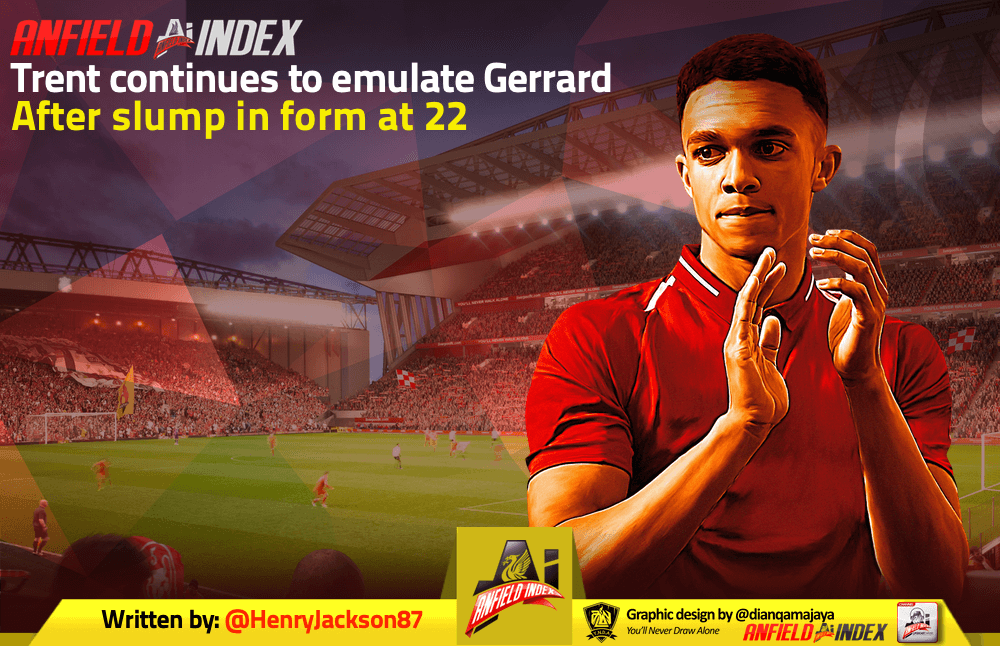 Trent continues to emulate Gerrard after slump in form at 22
The date was November 12th, 2002, and Liverpool needed to win away to FC Basel to get through their Champions League group.
Gerard Houllier's men found themselves 3-0 down before the half-hour mark had even arrived, with one player worse than anyone else on the pitch.
That man's name? Steven Gerrard.

He was wretched in Switzerland, spraying passes out of play and generally performing like someone devoid of all confidence and focus.
A dreadful 45 minutes from Gerrard saw him hooked at half-time by Houllier, who replaced him with Salif Diao – the ultimate insult, in many ways.
Liverpool went on to produce a spirited comeback in his absence, drawing 3-3, but that elusive winner didn't arrive and their European dream was over far too soon.
Gerrard received plenty of criticism at the time, with Houllier saying "we are missing the good Steven Gerrard at the moment", having also substituted him in a Premier League clash with Tottenham the previous month.
It proved to be one of the toughest periods of his Liverpool career – a shocking tackle on Everton's Gary Naysmith that went unpunished was also a grim moment – but we all know how the legendary former skipper's time at Anfield panned out in the end.
He was destined for greatness from minute one, but avoiding speed bumps was always going to be impossible.
Fast forward to the present day and Liverpool's new homegrown hero, Trent Alexander-Arnold, finds himself in an eerily similar situation, at the same age Gerrard was then.
Up until this point, it has largely been plain sailing for the 22-year-old, who has made a meteoric rise from academy starlet to one of the best full-backs in world football.
Alexander-Arnold's extraordinary playmaking quality has played a major part in Liverpool's success under Jurgen Klopp and it would be a huge surprise if he wasn't Jordan Henderson's long-term successor as Reds captain.
Like his hero Gerrard, you can picture how his career will develop before it even happens, assuming serious injury doesn't occur.
This is a sticky period for Alexander-Arnold, though, who found himself bearing the brunt of many Liverpool supporters' frustration on Monday night.
Klopp's champions were insipid, at best, in their 1-0 defeat away to Southampton, and the right-back's error for Danny Ings' goal summed up a dreadful evening for him.
He lost the ball 38 times – a record for a Premier League player this season – he looked susceptible defensively and his crossing was horribly erratic. A wild pass into touch in the opening minute was a sign of things to come.
In the end, Klopp had seen enough, bringing on James Milner instead, while the West Derby-born star sulked in the dugout, looking a forlorn figure.
The truth is that Alexander-Arnold is having a patchy season overall, looking a far cry from the special talent who has marauded down Liverpool's right-hand side for the past three years, producing world-class quality with his final ball.
He has been comfortably outshone by Andy Robertson on the opposite flank, whether it be defensively or in terms of assists, with Alexander-Arnold registering just two in the league all season.
For a player so gifted and relentless in that part of his game – 25 league assists in 2018/19 and 2019/20 combined – that is a worrying statistic that perfectly highlights his drop-off.
Despite this, the most important thing is that there should be no great overreaction, however, with Alexander-Arnold still so young and improving in all facets of his play.
Every footballer in history goes through a bad spell, and just like Gerrard back in 2002, the current Scouse hero in the team will come through it.
Assuming Alexander-Arnold isn't involved in Friday's FA Cup clash with Aston Villa, he could now be afforded a welcome break before the potentially season-defining visit of Man United on January 17th.
He will have time to clear his head, rest his legs and overcome what has been nothing more than a bad spell during a tricky season full of little pre-season, a calf injury, constant fixtures and no fans in stadiums.
Southampton was Alexander-Arnold's Basel moment – one day, we will look back on it as a rare low point in an otherwise stellar Liverpool career.