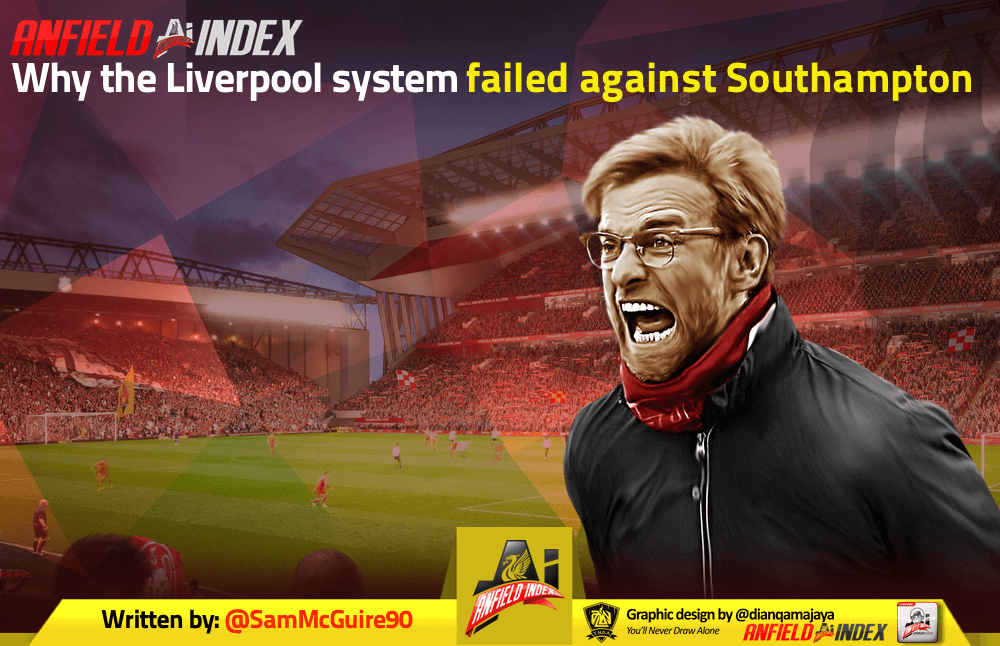 Why the Liverpool system failed against Southampton
Jurgen Klopp switched it up against Southampton. It's very rare to see him spring a surprise like that, but he has done it previously. I'm not entirely sure if this one was forced on him due to injuries and players needing a rest or whether he thought this tactic would work against the Saints. 
We'll never actually know whether it would've worked either. The hosts scored after two minutes and their usual gameplan went out the window. Ralph Hasenhüttl's side are usually really aggressive with their press and games against them in the past have been like basketball matches; end to end. 
However, the early goal allowed them to sit deeper. This season in the Premier League, their passes per defensive action average is between eight and nine. Against Liverpool, it was 21. Now, this isn't the best metric for pressing, but it does show that they weren't their usual selves against the champions. 

The early goal allowed Southampton to sit a little deeper. Clogged up the midfield and forced us into going long. pic.twitter.com/RRFqdEY4G8

— Sam McGuire (@SamMcGuire90) January 5, 2021
This had an impact on Klopp's plan. 
The use of Alex Oxlade-Chamberlain was similar to how he was deployed against Atletico Madrid. He was part of the midfield three but as soon as Liverpool had possession, he'd join the attack to make it a quartet. He was popping up as a right-winger and as a second centre-forward. It was clear that the Reds planned to play four vs four. 
The issue was, though, that Southampton weren't playing their part. They allowed Liverpool to have possession and they looked to shore up the centre of their team, ensuring they were there to pick up any second balls.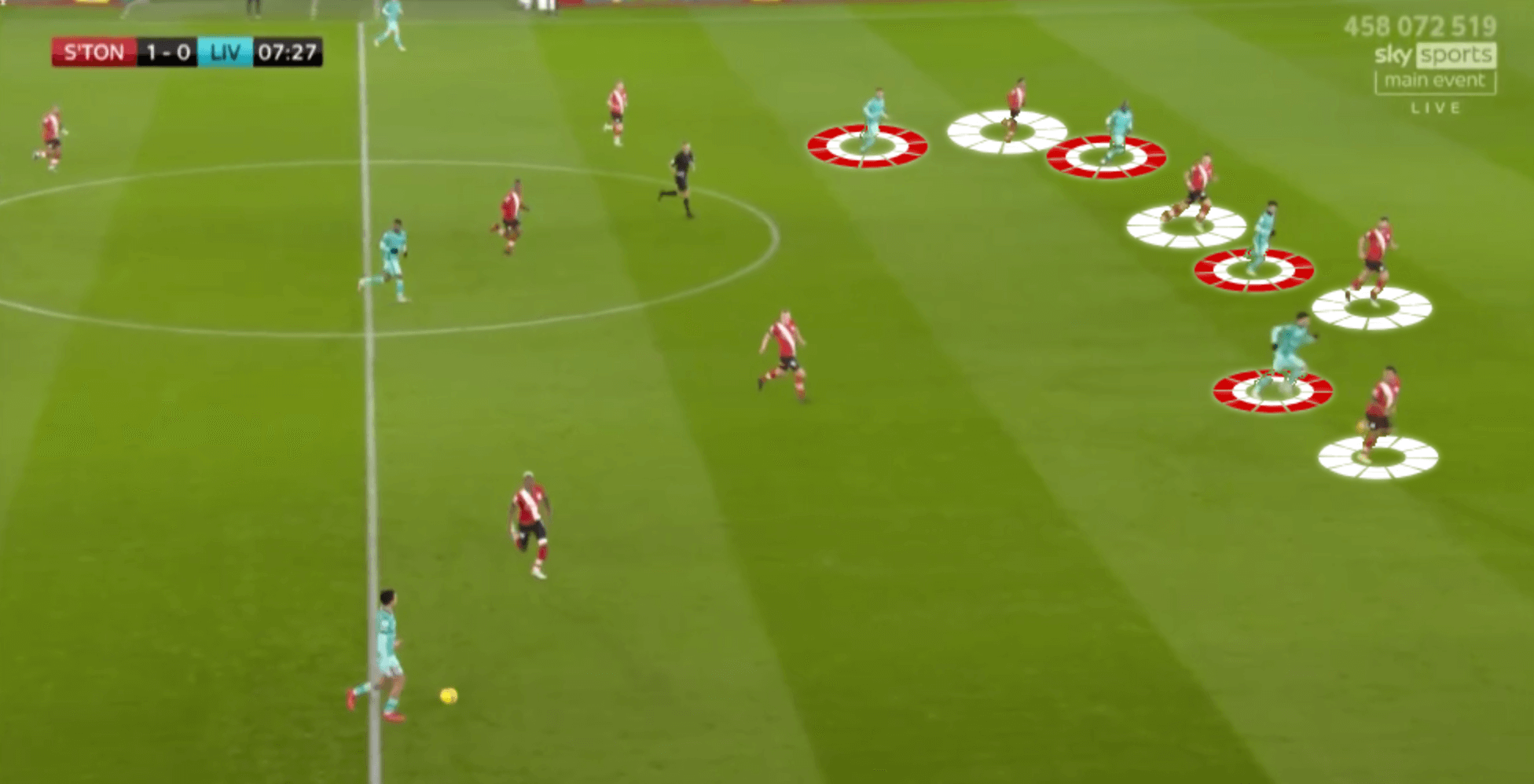 In the still above, Trent Alexander-Arnold is in possession and the front four are all making runs forward. The right-back doesn't feel as though a pass is on so goes backwards.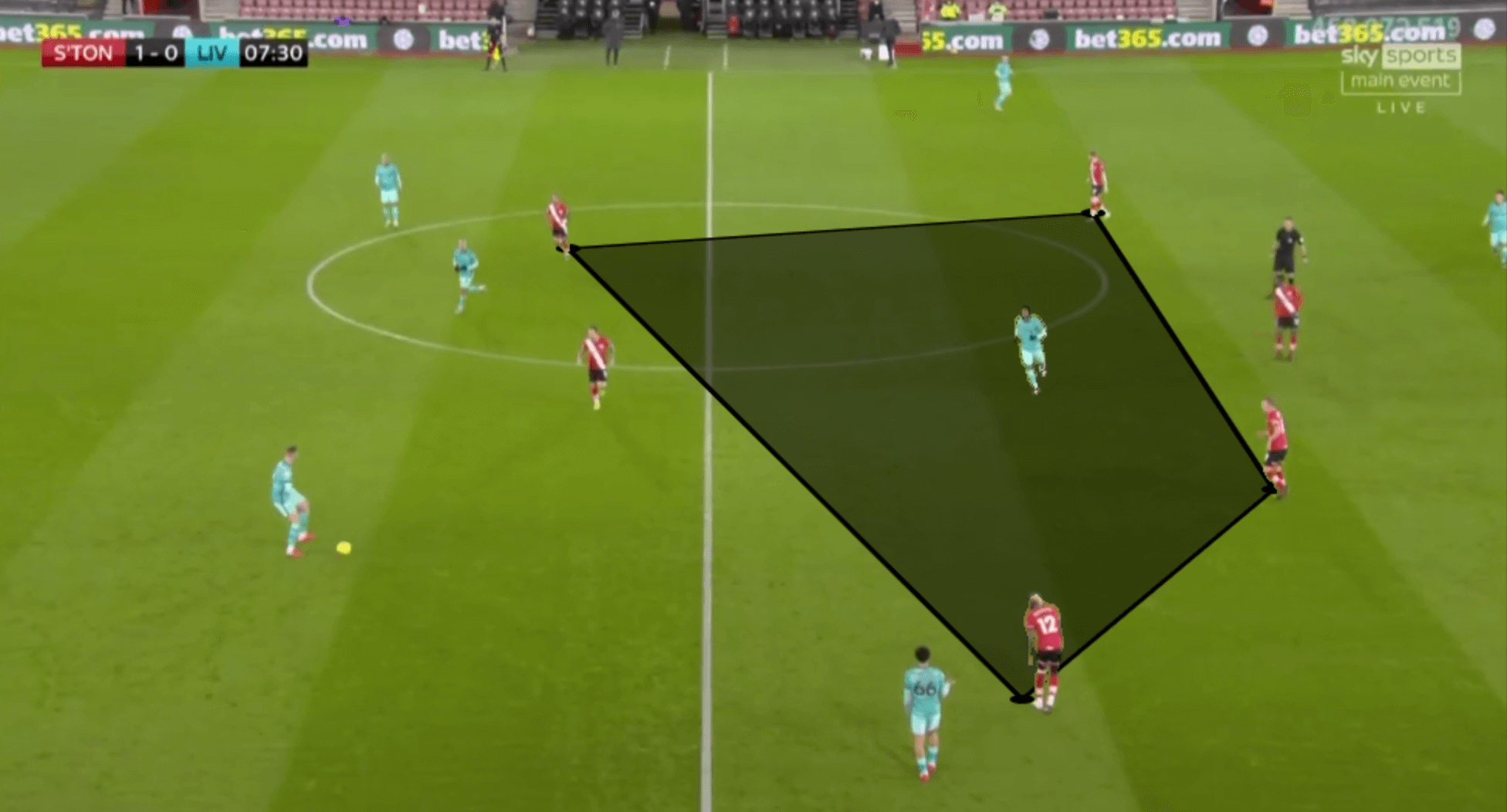 All of a sudden, Liverpool are kind of stunted. Gini Wijnaldum is isolated in midfield and though a pass is on, Southampton are in a position to press him immediately. Thiago has dropped deep to offer up a passing option, but it's all in front of the home side and it's easy for them to manage the situation. They're controlling the space. 
It was a common theme throughout the first half.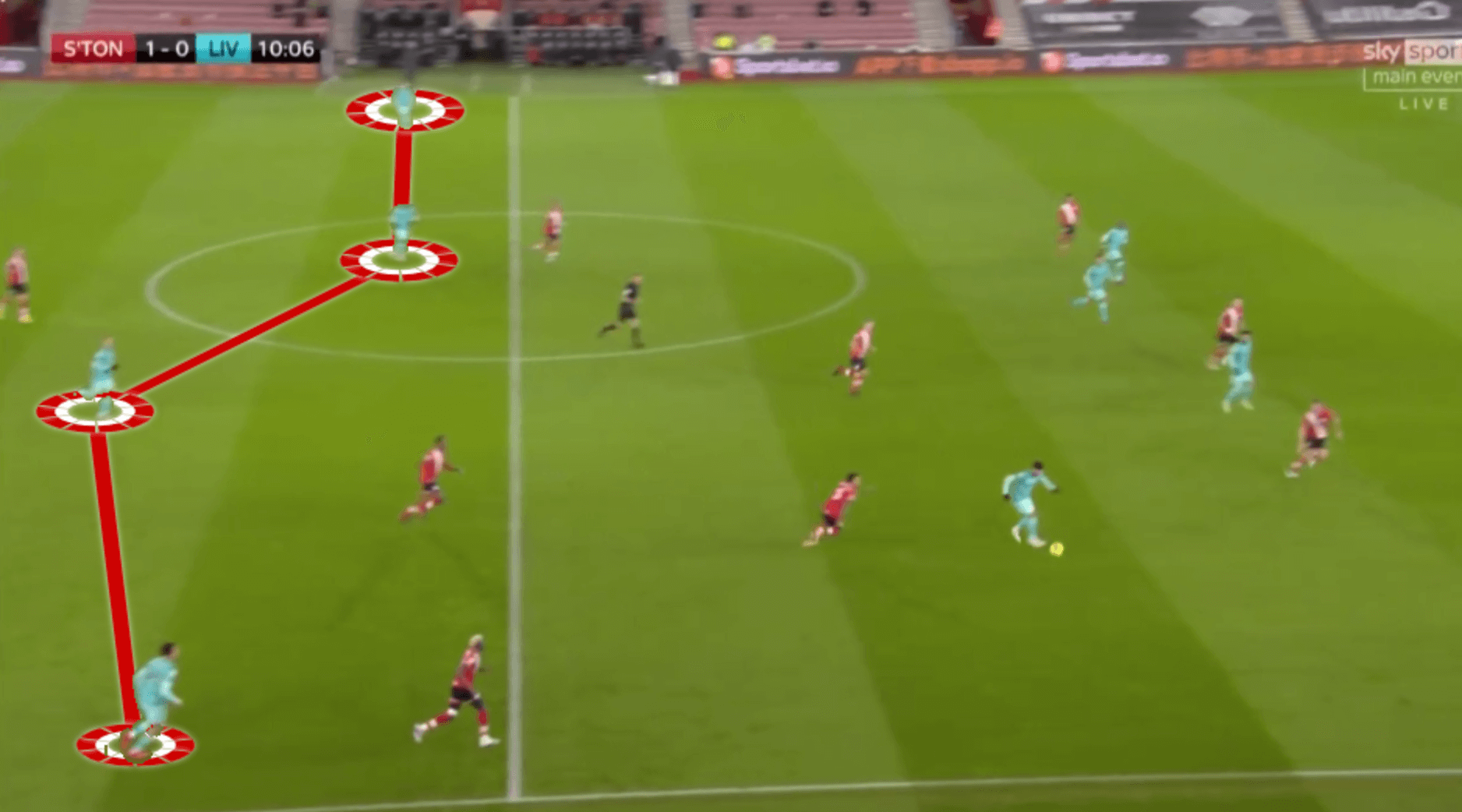 Liverpool's success over recent years has been built around their ability to sustain attacks. Yet in the still above, you can see the gap between the attack and the midfield and the full-backs.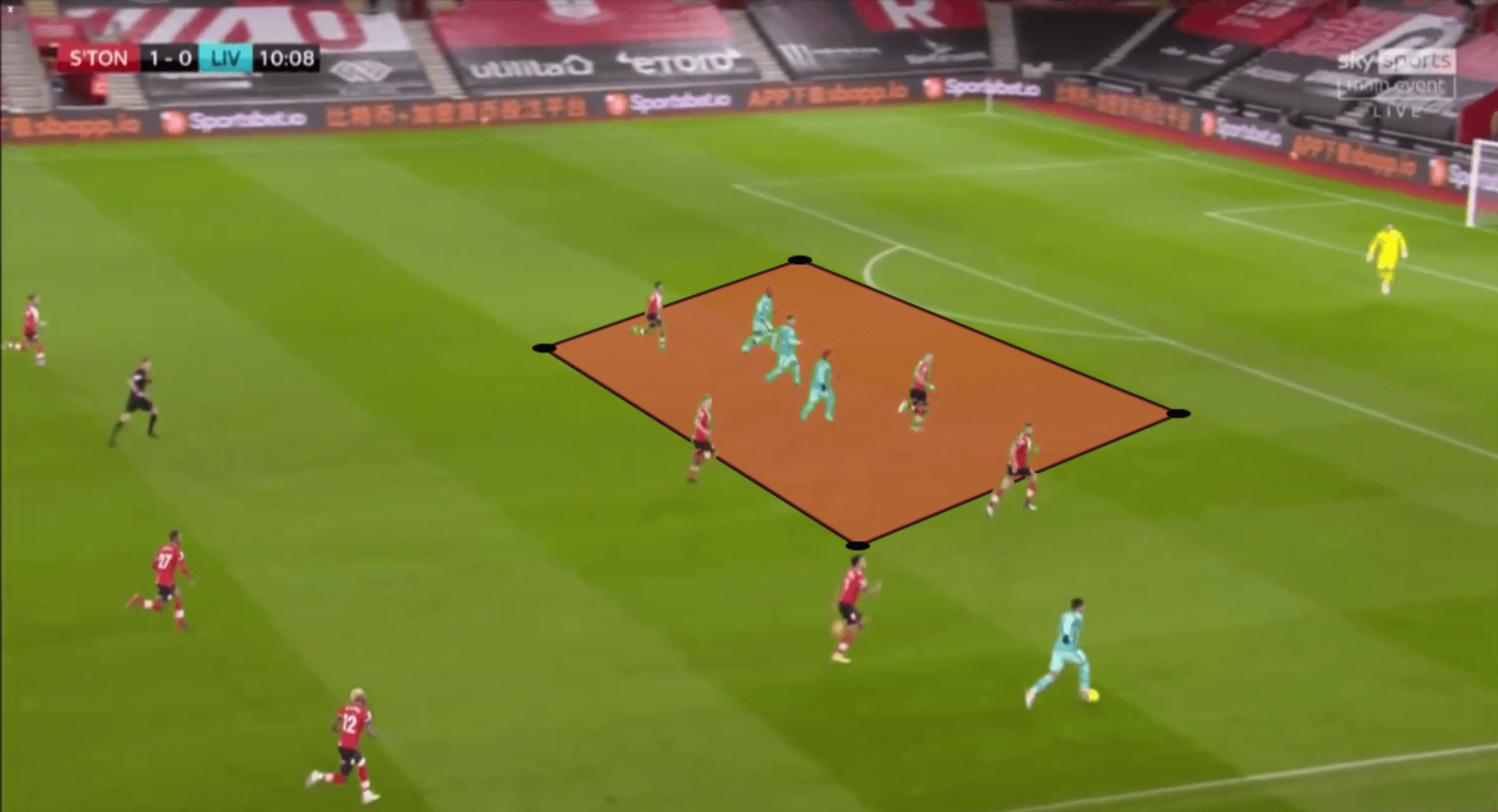 Oxlade-Chamberlain only has one option. He drives forward with the ball and then looks to cross it into the area. It's comfortably dealt with and Southampton deal with the situation. In the still though, you see there's no second wave of Liverpool players looking to press. 
The Reds aren't usually this chaotic. It kept happening, though.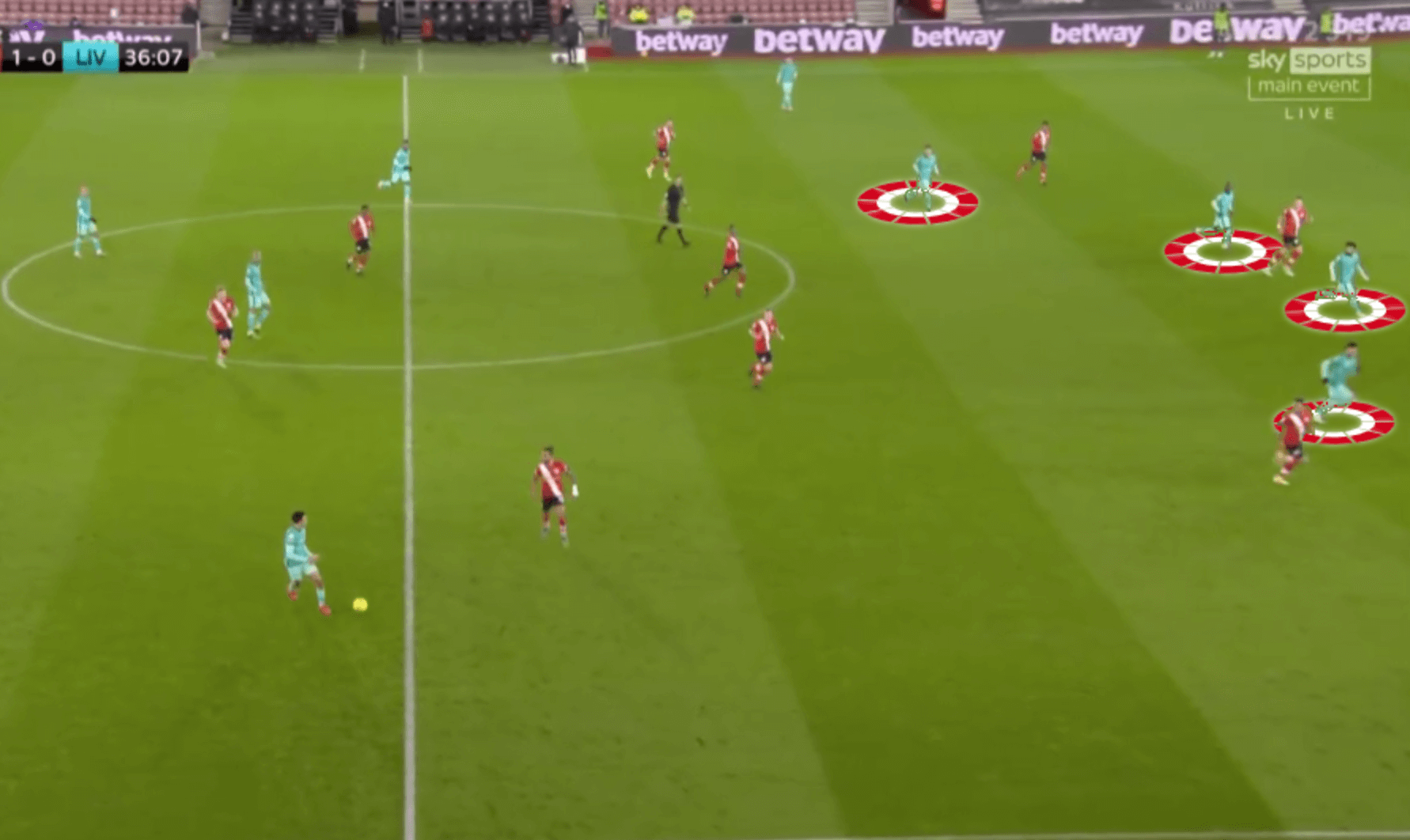 Above, you see Alexander-Arnold in possession. Here are no short options on as Oxlade-Chamberlain has already darted forward and is looking to get in behind. Theo Walcott blocks the attempted pass but the ball stays in and the Liverpool right-back is able to carry it forward. He looked to flick it to the No.15, having nothing else on, but it's easily dealy with.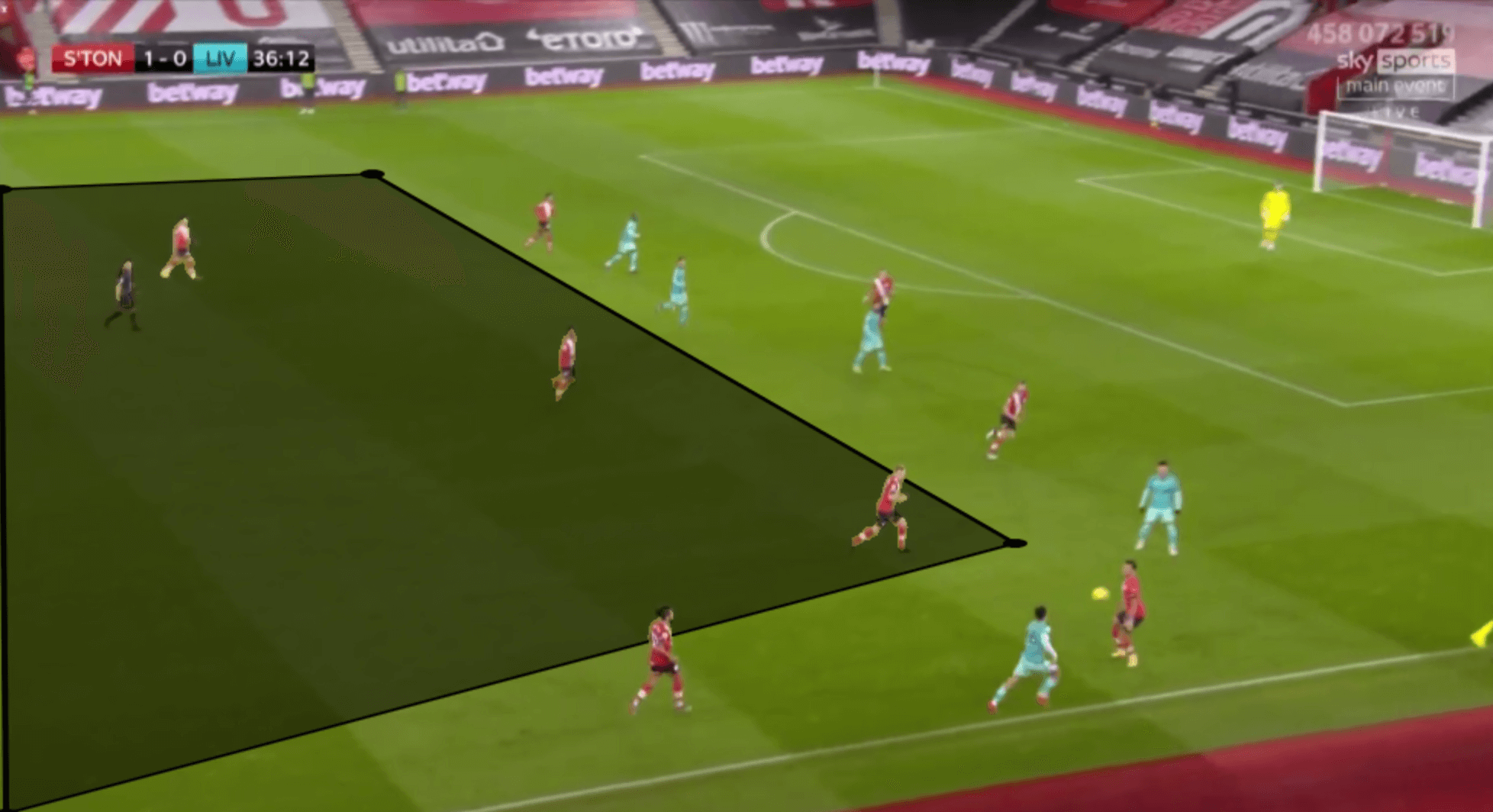 Then we see this. No midfielder following up play for the visitors. Klopp's Liverpool are known for their compact structure and their ability to dictate the tempo and control a game. They looked unrecognisable at St Mary's. Unpredictability is a positive, but as soon as Southampton took the lead, it was clear they weren't going to follow the script with regards to their shape and system. The Premier League champions should've adapted sooner in a bid to combat this. 
With a fully fit squad, this might've worked. But it was gamble trying something new with an unfamiliar centre-back and centre-midfield pairing. Hopefully, lessons can be learned from this.