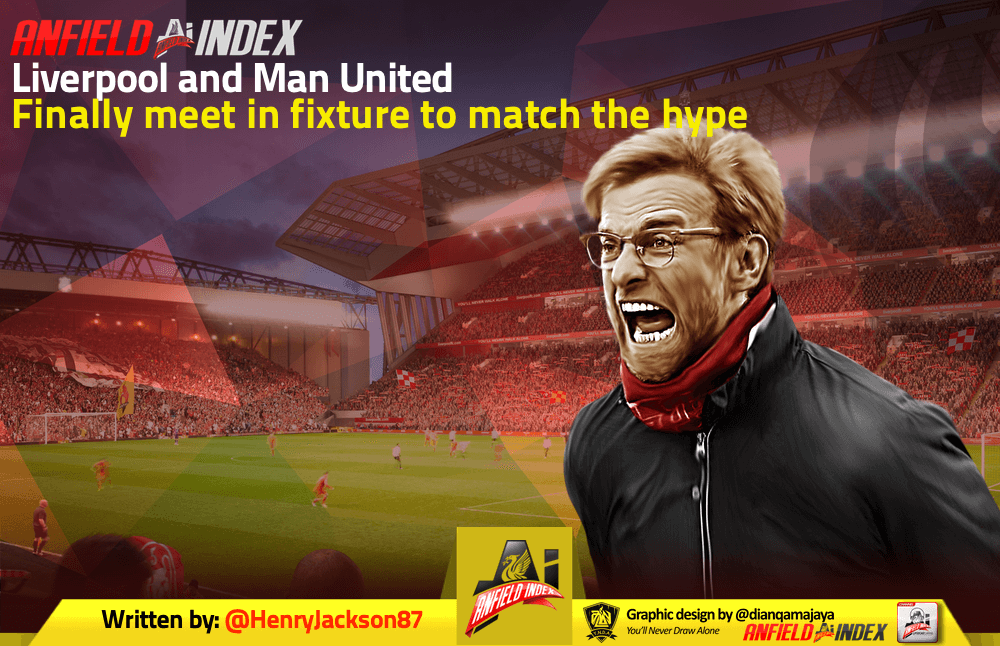 Liverpool and Man United finally meet in fixture to match the hype
When Liverpool play Man United, it always means a huge amount. It remains the No.1 fixture in England, bar none.
The history between the cities, whether it be relating to music, fashion or the success of their football teams, makes it a heavyweight match-up that will forever feel special.
Despite the build-up always being gargantuan and those pre-match nerves arriving regardless of where both sides are in the table, the hype is rarely justified.
For starters, too many recent games have been damp squibs lacking in both entertainment value and quality, with Liverpool guilty of shrinking every time they head to Old Trafford.
The Anfield clashes haven't been much better either, with two drab 0-0 draws in the last four meetings there, as well as a late 1-0 win for United before that.
Liverpool have won the last two on their own turf, which is something, and Mohamed Salah delivered an iconic goal and celebration when the rivals met this time last year.
On Sunday afternoon, the Reds and their most bitter adversaries reconvene again and there hasn't been a more meaningful meeting between the duo in years.
Assuming United beat Burnley on Tuesday night – a dodgy decision will no doubt benefit them – they will be three points clear of Liverpool with the same number of games played.
That perfectly illustrates how important the weekend clash is, not least with Man City starting to purr, and with a hugely kind run of games coming up.
For too long, the Liverpool-United fixture has been a case of one flying high and the other struggling – considering how massive both clubs are, they have arguably only been neck-and-neck once in a Premier League title race since the 1990s, back in 2008/09.
Even then, there was always a painful feeling that Alex Ferguson's relentless outfit had too much quality not to get over the finish line, even after Rafa Benitez's men won 4-1 at Old Trafford.
Since Ferguson's departure, only Liverpool have legitimately found themselves in title races, whether it be under Brendan Rodgers in 2013/14 or during the Jurgen Klopp era.
Before that, United's primary competition in the battle for silverware came from Arsenal (late 1990s and early 2000s), Chelsea (mid-to-late 2000s) and City (early 2010s), with the Reds simply trying to dent their rivals' hopes whenever they came up against them.
All of a sudden, however, there is a game to match the hype – one where the result will affect both teams greatly rather than one, and potentially look season-defining come the end of the campaign. It is huge.
United go into it as the more in-form of the two, having gathered a certain amount of momentum that has seen them remain unbeaten in the league since November 1st.
While Ole Gunnar Solskjaer deserves some credit for bringing a togetherness and playing more attractive football than past managers, it still feels like a team that relies on individual brilliance instead of managerial expertise.
United remain comfortably inferior to Liverpool, and their manager isn't fit to lace Klopp's boots, but in Bruno Fernandes, Paul Pogba, Marcus Rashford, Anthony Martial and Edinson Cavani, they have players who can win a game in one moment, or in a crazy 10-minute burst.
Their performances don't justify their points tally, but they carry a huge threat as kickoff approaches.
As for Liverpool, it is hard to pinpoint what has gone so wrong since that masterclass away to Crystal Palace on December 19th, when they looked on course to cruise to back-to-back titles.
Almost from nowhere, their cohesion and fitness levels have nosedived, culminating in almost unwatchable performances against West Brom, Newcastle and Southampton.
The hope is that this wonderful team have simply suffered a mini-blip, due to legs tiring, finishing being sloppy and key players losing form, with this nine-day break after the FA Cup win over Aston Villa clearing the minds.
Liverpool famously lack rhythm after a long period without a game, which is a concern, but time on the training ground and rest for certain individuals will be invaluable.
Their ability to bounce back under Klopp when the pressure is most on has been astonishing, especially home outings against high-profile opposition, which can only bode well.
Victory over United on Sunday, particularly if it comes in dominant fashion, would immediately banish those last three results from memory, and prove that they remain the team to beat.
If they come unstuck once again, though, and worst of all lose their long unbeaten home run to their biggest rivals, questions will start to be answered of the champions.
Sunday's nerve-shredding affair promises to be fascinating and the magnitude of what we are about to witness is worth every ounce of hype you hear.
Just win, Liverpool.