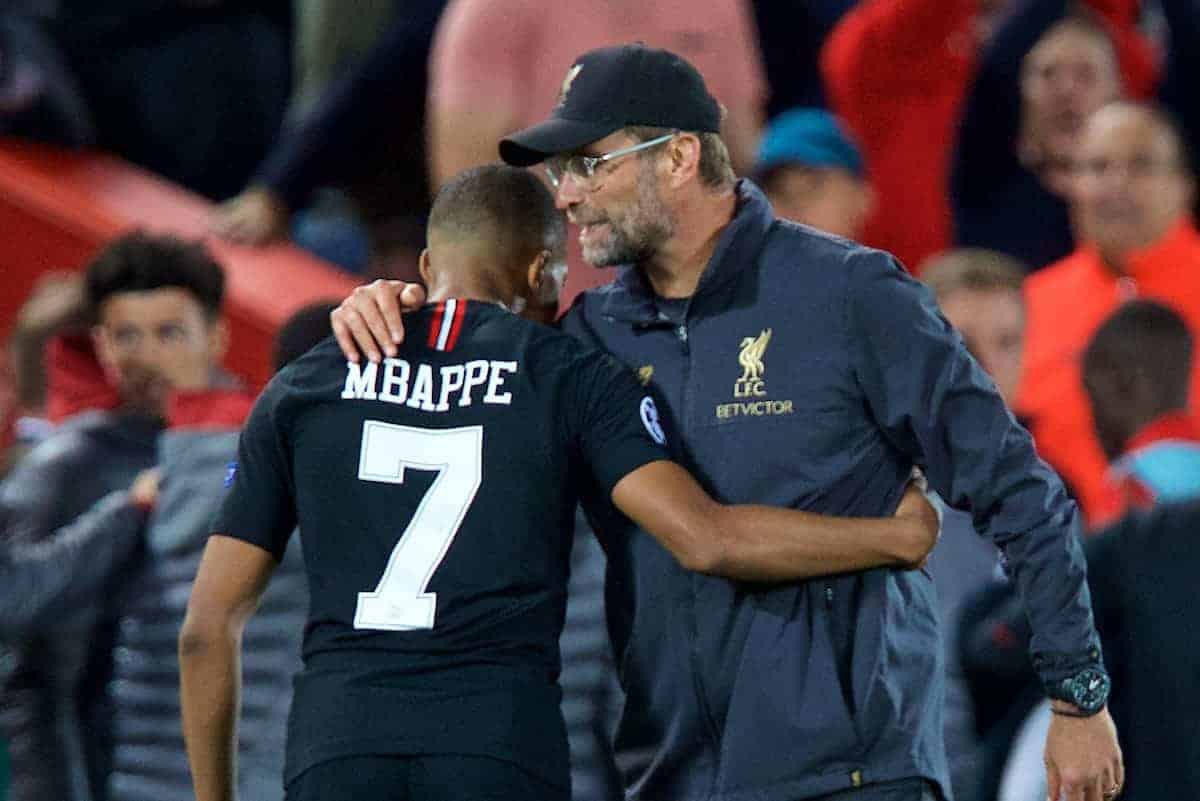 Is Kylian Mbappe the answer for Liverpool?
Kylian Mbappe in Merseyside. Although it's currently just speculation, this has the potential to be a transfer story of the decade, let alone just the summer.
It's pretty fair to say that Mbappe & Erling Haaland are two of the hottest properties in world football at the moment, so any transfer stories are bound to attract serious attention. It's unlikely that Liverpool would spend the £200 million-plus to secure his services, but if they wait there's a chance they won't have to pay a penny.
Kylian is out of contract in the Summer of 2022, which means that he could move to any club that he wants to. However, there's a huge stumbling block in any hopes of a deal. Currently, he earns around £400,000 per week. If he moved on a free transfer it's likely that his wages could be in excess of £600,000. With Mohamed Salah on a respectable £200,000 per week, this has the potential to cause disharmony within the Champions dressing room.
It will be difficult for PSG to keep hold of their talisman, as there will be many suitors for him. The biggest competitors are Real Madrid and Liverpool. The reds sit in the driving seat for this one, as Mbappe has already announced previously that he loves what Klopp & Liverpool are doing.
Real Madrid however, will be able to flaunt their cash once again. After losing Cristiano Ronaldo to Juventus, they haven't been convinced with Eden Hazard's fitness and will once again look to acquire a galactico. Real Madrid won't have to wait until the Summer of 2022, but they are also rumoured to be interested in Haaland.
To see Kylian Mbappe lining up alongside Sadio Mane & Mohamed Salah would be a dream for the Reds. It would be a partnership that could compete with the deadly figures the 'SAS' partnership managed. We could even dub the 'MSM' trio.
It's an expensive question to ask, but one that needs to be asked is 'Do Liverpool really need him?'.
During the 2019-20 campaign, I would have said a definite no. He would be a great addition still, but he wasn't needed for success. Roberto Firmino struggled to kick on for the first half of the campaign, although he managed 17 contributions come the end of the season. In this covid-stricken 2020-21 campaign, he's currently managed 5 goals and 3 assists.
The 2021 campaign hasn't been the kindest to Liverpool, with injuries ripping the spine of the squad to shreds. They still find themselves in 1st place, on track to retain the Premier League title. In other seasons, Mohamed Salah would manage to find a way to scrape enough together to earn the win, but things just haven't fallen right. He still leads the Premier League stats as the Top Scorer, but he could've scored so much more.
The reds have been left frustrated recently against Fulham, Southampton, Newcastle United & West Bromwich Albion. They will see this as 9 points dropped, a figure which would have them completely clear of their old rivals, Manchester United.
If Kylian Mbappe was added into the strike-force that Liverpool behold, you can't help but think that they would be at least 9 points clear during this period. He's a game-changer that would strike fear into the opposition. We are used to seeing Manchester United as the 'Media Kings', but Football Index Analysis shows that the tide could soon turn, with Liverpool becoming the dominant force.
So, Is Kylian the answer for Liverpool? On the pitch, he would provide the difference that's required to put games beyond doubt. Neither Mane or Salah are slouches, but Mbappe would add such a devastating pace into the team, that the opposition would be petrified of a counter-attack.
However, the problems could arise off the pitch. If Liverpool paid Kylian around £500,000 per week, how much do the current champions deserve? This problem would stem throughout the whole squad, but definitely starting with Mohamed Salah & Sadio Mane.
Once Jordan Henderson, Virgil Van Dijk, Robertson & Fabinho have asked for equality… The Anfield expenditure could rise easily by a million pound per week. With the uncertainty of COVID looming, I'd be surprised to see this deal finalised.
Stay tuned Reds, for a potentially busy Summer of 2022!