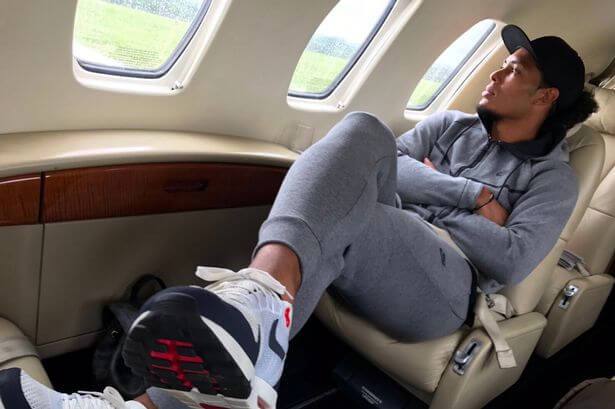 How big of a loss has Virgil van Dijk been to Liverpool this season?
It would be hard to deny that Liverpool's season took a dramatic turn during their Merseyside derby clash with Everton in the Premier League back in October.
There are a number of reasons as to why that fixture stands out in the memory of those that follow the Reds, and not for all the right reasons. The match ended up being drawn 2-2 however it was marred by a number of controversial decisions.
Thiago Alcantara saw his start to life in the Premier League halted abruptly following a horrible tackle by Richarlison, a challenge that ultimately saw him sent off, although the tackle in the first half that has seen Virgil van Dijk sit on the sidelines ever since has left a lasting impression.
The Dutchman was hacked down by Everton goalkeeper, Jordan Pickford, in the 6th minute of the game and suffered a likely season-ending ACL injury as a result of the challenge.
Liverpool's form since Virgil van Dijk has been out
Since being out, Liverpool have had mixed fortunes across all competitions and have seen a number of various results be recorded that would not necessarily be associated with Jurgen Klopp's side over the last few years.
Admittedly, Van Dijk did not have his best showing in a Red shirt for the Anfield club in the game prior to his injury, as Aston Villa put seven past them in a humiliating 7-2 defeat at Villa Park.
Things have gone as well as could have been hoped for Liverpool following his injury, as they have only been beaten twice across all competitions since he has been on the treatment table – defeats to Atalanta in the UEFA Champions League and the Dutchman's former club, Southampton in the Premier League – however, there have been some concerning performances to have occurred.
Concerning performances that VVD may have been able to solve
For example, draws against Brighton and Hove Albion, Fulham, West Bromwich Albion and Newcastle United would have all been considered poor and someone like Van Dijk in the heart of the defence could have made all the difference.
Although that could be considered 'ifs and buts', there is no denying that Liverpool have been performing worse off this season than they did last year. Despite all of the factors that can be attributed to the 20/21 Premier League season, Klopp's side have already drawn six matches so far – three more than they did all of last season. In addition, they only had three defeats all season last year, but already have two this time around at the halfway point.
With these poorer performances the bookies now price Liverpool at 3/1 to win the 20/21 Premier League with Man City now the favourites at 8/11, and Man United close behind at 5/1.
Problems with defence in general
Furthermore, the Reds have suffered numerous injuries to their backline, which has not helped in their quest to retain their Premier League title this season. The likes of Joel Matip and Joe Gomez have had their issues, with the latter also requiring surgery and expected to be out for the season.
Of course, Virgil van Dijk is considered to be one of the world's best defenders and is a leader on and off the field. It is undeniable that he has made a huge impact at the Anfield club since making that huge money switch from Southampton and the Reds are always going to find his absence hard to fill.
However, with all of the other injuries and problems that Klopp has had to deal with at Liverpool this season, and the fact that they remain in the Premier League title race still, perhaps the Dutchman's absence has not been as big a loss than we all would have initially believed he would be.