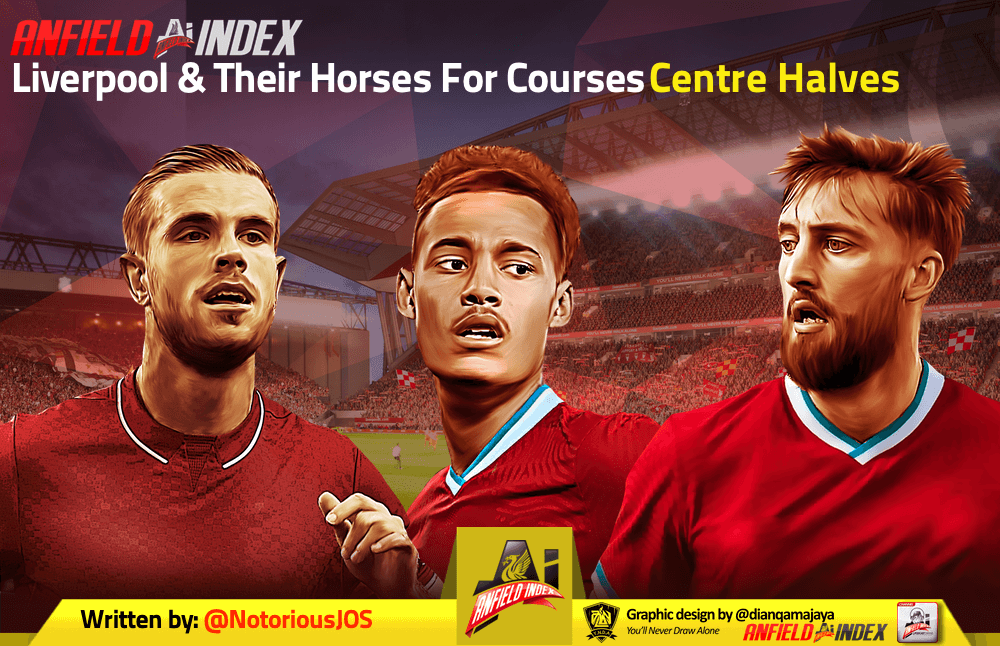 Liverpool & Their Horses For Courses Centre Halves
It looks as if Liverpool, barring a late plot twist, will stick with what they have in the centre half department of the team.
After injuries to Virgil van Dijk and Joe Gomez — both of which are serious enough to keep the duo out for most of the, if not all of, the season — it was widely expected that the Reds would look to replenish their defensive stocks in the January transfer window.
Whether there is a lack of suitable options available, or the inability to sell on fringe players to raise funds or the reality of the ongoing pandemic on club finances is rearing its ugly head — or a combination of all the factors — the English champions look certain to rely on internal solutions to their central defensive shortages.

We have already seen this approach bare fruit with the performances of Fabinho in the heart of the defence. Previously a defensive midfielder, the Brazilian has settled into a centre half role this season and hasn't missed a trick. Such has been the 27 year-olds levels of composure and comfort in his new position, you could be fooled into thinking he has played there all his life if you didn't follow his career path before this season.
Beside the Brazilian international, though, is where things get tricky for the Reds. Fabinho has been partnered by Joel Matip, whose consistent injury woes have made any attempts at building fluency of partnership nigh on impossible, Rhys Williams, Nat Phillips — relative greenhorns at the highest level — and Jordan Henderson this season.
The fact that the Anfield club had to rely on Henderson to play at centre half against Manchester United last weekend — a position he has played in twice at senior level — lays bare the extent of their defensive personnel struggles. Not only is the club captain unproven in the role, but there is also the impact of taking a quality midfield operator out of the engine room rotation. This will, especially in a season with a crazy fixture pile up, place a further strain on another player in the Reds' midfield roster.
Going forward, the 30-year-old will likely have to get used to playing in the heart of defence and Jurgen Klopp could use him and the other centre halves in a horses for courses manner.
Matip, as is becoming customary, missed the trip of Liverpool's eternal rivals to Anfield last weekend and Klopp — instead of selecting Phillips and or Williams — picked Henderson to partner Fabinho. Similarly, the former Sunderland dynamo was given the nod away to Southampton in the league.
The logic, or so it seems, was that Henderson — a quick player with a strong vocal presence —  could deal with the pace of the Reds Devils' and Saints attackers by holding an offside line and using that as a means of protection of the defence. On this score, while not shooting the lights out by any means, the skipper has done what has been asked of him. Or at least what we can imply is his task.
At St Mary's, Liverpool — although sadly not on the host's goal, which should have been disallowed for a push on a Reds player that kept Danny Ings onside — caught the hosts offside on six occasions. Against United at Anfield, the visitors were flagged offside eight times. Interestingly, in a measure of how deep Liverpool's opponents played in both games, the Reds were adjudged offside only twice in those games.
Against different styles of team's, though, Klopp may well turn to other members of his central defensive cohort. In the upcoming game against Burnley, for example, the German would be wise to play the 6'3″ Phillips against the Clarets physically bruising strike duo of Chris Wood and Ashley Barnes. Aerial battles are meat and drink for the 23-year-old and his lack of pace won't be exposed against a one-paced Burnley team.
The ideal scenario, obviously, is to partner Matip with Fabinho, but with the Cameroonian's unreliable fitness record, he will need to be managed and used sparingly and tactically.  In those games, the Reds may look to partner their Brazilian defensive linchpin with players who work well against the strengths of their opponents.