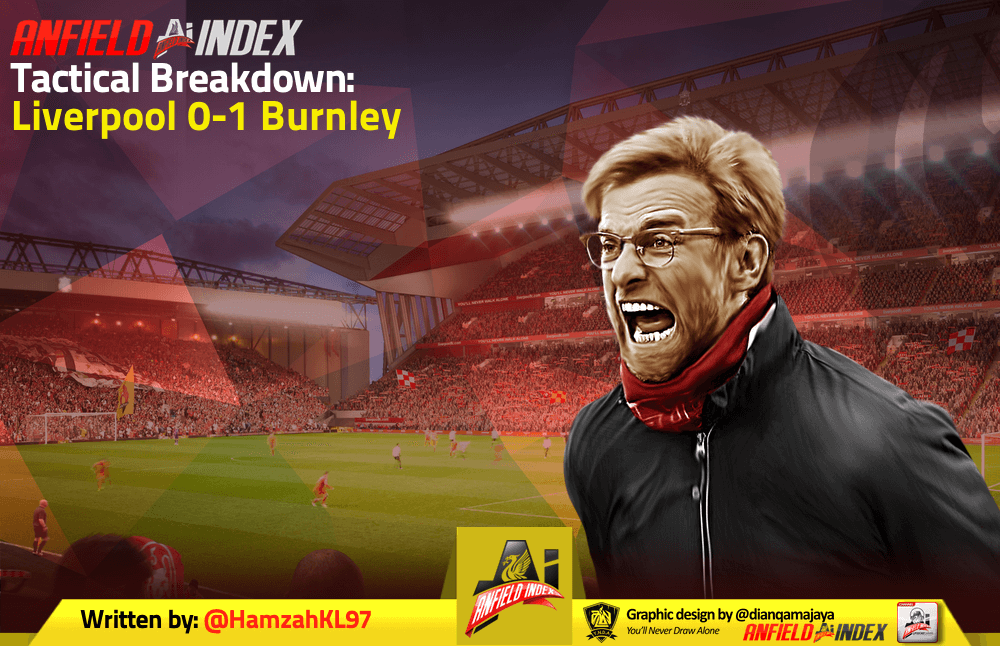 Tactical Breakdown: Liverpool 0-1 Burnley
As this bizarre season crosses its midpoint, Jürgen Klopp's Liverpool appears in trouble. The side is yet to score in the league this month and have surrendered first spot in the league to Manchester United, who are almost certainly set to be usurped by Manchester City. As readers of this series will no doubt already be aware, the Reds' poor run of results started with some bad performances, but recent performances have been far more positive, but without the result to go with them. Thursday night was the latest to follow in this trend.
Liverpool featured in their normal 4-3-3. With Henderson unavailable through injury and Joel Matip fit to play, it was an easy decision to bring him in alongside Fabinho, both of whom were flanked either side by Alexander-Arnold and Robertson. In midfield Thiago, Shaqiri and Wijnaldum started together for the second match in a row, with the selection of Thiago and Shaqiri in particular meant to instigate fast passing between the lines into the forwards. The front line was comprised of Mané, Origi and Oxlade-Chamberlain, a combination that struggled to break through the Burnley defence.
Sean Dyche's Burnley was deployed in their typical 4-4-2 shape. The availability of two strikers theoretically would prevent them from being isolated and disrupt Liverpool's capacity to recycle possession and push up easily, but in practice, the threat of them was minimal, but the compact back four of Burnley played deep and tight, forcing the home side to have to use the halfspaces and wide channels if they wished to break through.

As was the case in the previous match, against Manchester United, Liverpool looked for early balls from deep positions to get in behind the Burnley line before they were settled, and whilst they were further up the pitch. Burnley's strong aerial presence and poor execution of runs by the Reds' forwards meant this tactic was largely fruitless.
One more promising tactical development was the work of both fullbacks. Alexander-Arnold and Robertson both pushed up early on, moving into advanced areas. For Alexander-Arnold, in particular, this was significant as he is best able to affect play when he is further up the pitch, and that is essential to the on-ball counterpressing and possession structure in the final third. Despite this presence though, in the opening phases of the match, Liverpool did not use their fullbacks as much as they should have.
Liverpool's biggest problems was the forward line. Against a deep block, it's important to have a constant forward presence positioned up against the defensive line. Ideally, in a 4-3-3, two of the forwards should be positioned between the fullbacks and centrebacks on either side, ready to break in behind when a throughball is played from midfield. However, the Champions rarely had more than one of their forwards positioned up against the visitors' defence, and on the occasion either Origi or Oxlade-Chamberlain were positioned correctly, their hold-up play was not good enough to allow their teammates to build or run off them.
Despite this issue, the midfield and fullbacks combined well with their best phases of play coming with good, fast ball speed being played horizontally, as they moved across the pitch, with neat in-and-out vertical movements, combining with Mané and Oxlade-Chamberlain who dropped deep to drag players out and manipulate the space. As they did this, it allowed Alexander-Arnold and Robertson to come inside and begin to combine from better positions, such as inside the box with low crosses, or just outside the box with short passes. This was precisely the sort of activity Liverpool need to do when breaking down a low block.
Changes in the 57th minute saw Mohamed Salah and Roberto Firmino come on in place of Oxlade-Chamberlain and Origi. The improvement in play was immediate and obvious. Specifically, the intensity and quality of play on the right side skyrocketed. Salah's movement into deep positions, alongside the advanced movement of Alexander-Arnold up the field pivoted around Shaqiri, creating a triangular network of play that swapped, moved and passed in sync, and suddenly "chances" that previously were just non-threatening shots from outside the box became good quality chances from dangerous areas inside the Burnley area.
The presence of Firmino against the Burnley back line began to draw in Burnley players around him, thereby creating more space for his teammates. Salah created one good chance for Mané, who was taken out by a slide tackle after his shot, but no penalty was awarded. Another incident built up on the right side led to a handball incident, which was again turned down. Pope also saved well at his near post from a Salah shot on the right again, demonstrating the improvement and threat of Liverpool on the right following Salah's introduction. For all of this very good play though, more bad decision making and finishing let the side down again. Opportunities to play in a teammate were squandered, momentum in attacks dissipated as players took too long and some bizarre spur of the moment choices turned chances with big goalscoring potential into opportunities that could be smothered by blocks. The intensity seemed to wane beyond the 75th minute, with breaks in the game disrupting flow and eating away at valuable time.
A dive by Ashley Barnes in the 82nd minute was unsurprisingly awarded a penalty, despite replays demonstrating Barnes had committed to diving immediately after touching the ball.
Narratives continue to swirl about effort, passion, signings and so on, but as far as the tactical side of the game is concerned, Liverpool were clearly not at their best, but did enough to win, as they did in their previous two matches, with no such luck then either. Last season, just doing enough to win carried the side to a record point total, and utterly dismembered the competition. This season, Liverpool's finishing skill has dropped off precipitously, and it's underscored by freak misses like Origi's one-on-one chance in the first-half.
Liverpool's finishing woes are combining with a lack of threat on set pieces, which both affect the ability to score early and then dominate the game against a low block, who are forced to come out as a consequence. I detailed this issue at the start of the year and how it relates to our crossing volume in this thread:
LFC tactics & stats thread: Crossing, the low block and set pieces

(Using FBref crossing data) https://t.co/vCcIK94CWa

— Hamzah (@HamzahKL97) January 1, 2021
These results are tough to take, but given the strong commitment to process we've seen from the players, and their continued ability to get into good spaces and to fashion opportunities, it's clear that despite the long list of issues the team faces, none of them are insurmountable, and a turnaround should not be far away.