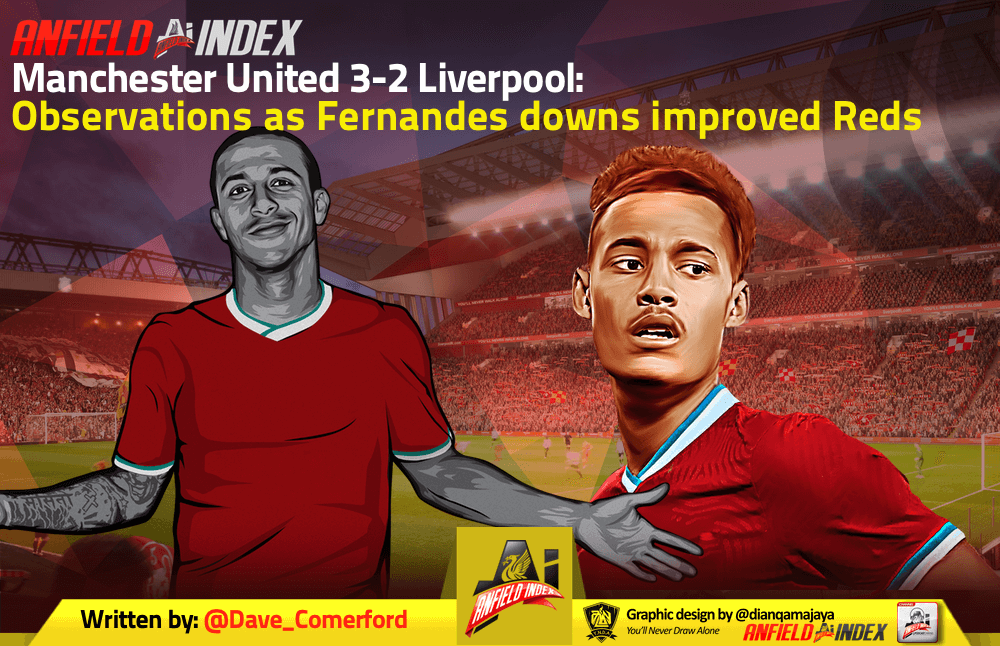 Manchester United 3-2 Liverpool: Observations as Fernandes downs improved Reds
Defeat at Old Trafford, but at last reason to be optimistic. Going forward, Liverpool started to tick again.
Having been benched in midweek, Mohamed Salah and Roberto Firmino responded commendably. Salah was the finisher and Firmino the architect as the Reds scored twice at Old Trafford for the first time since 2014.
This time, they were undone by defensive errors and an admittedly magnificent winning goal from Bruno Fernandes.

But they travel to Spurs with something to build on.
The Salah we know and (mostly) love
Mohamed Salah's recent dip has been alarming, but this was a rampant return to form against the opponent who has historically frustrated him most.
Dean Henderson was his victim, chipped and then nutmegged. Salah's composure had deserted him but these goals oozed it.
Faced with a decision between a square ball to Mane for a potential tap-in and a hat-trick attempt for a tight angle, he opted for the latter. And in a strange way that display of selfishness might just confirm that Mo Salah is back.
Jurgen Klopp may well have told him to 'just shoot', having watched the Egyptian repeatedly caught in two minds when receiving the ball in the penalty area of late.
The end of the drought takes Salah to 19 goals in all competitions. That's three more than anybody else in the top flight.
Angry Roberto Firmino comes alive
There was a moment in the second half when Roberto Firmino miscontrolled a lay-off, prompting commentator Jermaine Jenas to bemoan 'more of the same' from the out-of-sorts Brazilian.
Firmino had threaded an excellent pass into Salah for the first goal but Jenas' criticism was fair. It was, after all, the kind of penalty-box fumble to which Liverpool fans have grown accustomed.
But this time the Brazilian's head didn't drop. If anything, he seemed to get angry, charging into tackles as he defended from the front.
He then came up with his second assist of the game via James Milner's intelligent dummy.
Throughout his Liverpool career, Firmino has compensated for his lack of natural goalscoring ability in part through his creative talents.
His decline as a provider has thus led many, myself included, to ponder his worth to his side. This gutsy yet classy performance was timely but it can't precede another underwhelming stretch, as his brace against Crystal Palace did.
Learning more about Thiago
Thiago Alcantara has played eight games for Liverpool and would probably earn a 'good' review from most supporters for his efforts up to this point.
Much of the criticism he has faced has been either confusing or malicious. I even saw him derided for a lack of goal involvements in the past week, which gave me a headache.
More often, and thanks in part to Didi Hamann, Thiago is presented as a poor fit for the side, as if he wasn't bought specifically for his unique skillset.
But one area I accept he does need to work on is his discipline. The Spaniard goes to ground when defending almost as often as Aaron Wan-Bissaka, but not as effectively. It's especially risky to be giving away free-kicks when you're without your first-choice centre-halves. He is a little rash.
It again makes you wonder how well-suited he is to the no. 6 role in this team. A positional switch with Gini Wijnaldum looks Liverpool's best bet.
Williams' mistake strengthens Phillips case
Liverpool need another established centre-back. Jurgen Klopp thinks so, and you'd be hard-pressed to find any supporter who disagrees.
For reasons which merit discussion in an altogether separate article, they won't be getting one. At least that's how it looks with a week of the transfer window remaining.
Given the necessity of managing Joel Matip's minutes, this will leave Klopp with a far from desirable toss-up between Rhys Williams, Nat Phillips and Jordan Henderson.
There will be plenty more opportunities for the youngsters barring a policy reversal. It's clear that Williams is preferred to Phillips, but it's not clear why.
Williams has been described as more athletic than Phillips and therefore better-suited to a defence that sits high up the pitch. But evidence for that is scarce. Williams is losing foot-races and appears somewhat less reliable than Phillips, a defender who does the basics well (£1 in the cliché jar).
Let's not forget that while Phillips was helping Stuttgart to promotion to the Bundesliga, Williams was plying his trade in the sixth tier.
I don't want to criticise Rhys Williams. In fact, I don't even want to be discussing whether he or Nat Phillips should start for Liverpool. But that's where we're at, and if it's an exercise in damage limitation I know who I'm going for.
Klopp risks 'flattening' Minamino
A year on from his arrival at Liverpool, Takumi Minamino's prospects are bleak.
Even with five subs at his disposal in a domestic cup, Klopp did not call upon the Japanese international.
Divock Origi may only be 25 but he looks to have hit his ceiling at Liverpool. He will, inevitably, be stepping down the football ladder for a starting role elsewhere in the next year or so.
Minamino, by contrast, looked to be on an upward trajectory when he scored his first Premier League goal against Crystal Palace. Patience was always going to be required.
If he was starting to grow in stature, Klopp might just have flattened him. To an outsider, it is bizarre.
Squad rotation will probably present Minamino with a surprise Premier League start at some point in the coming months, but he may be hopelessly short of sharpness when it arrives.