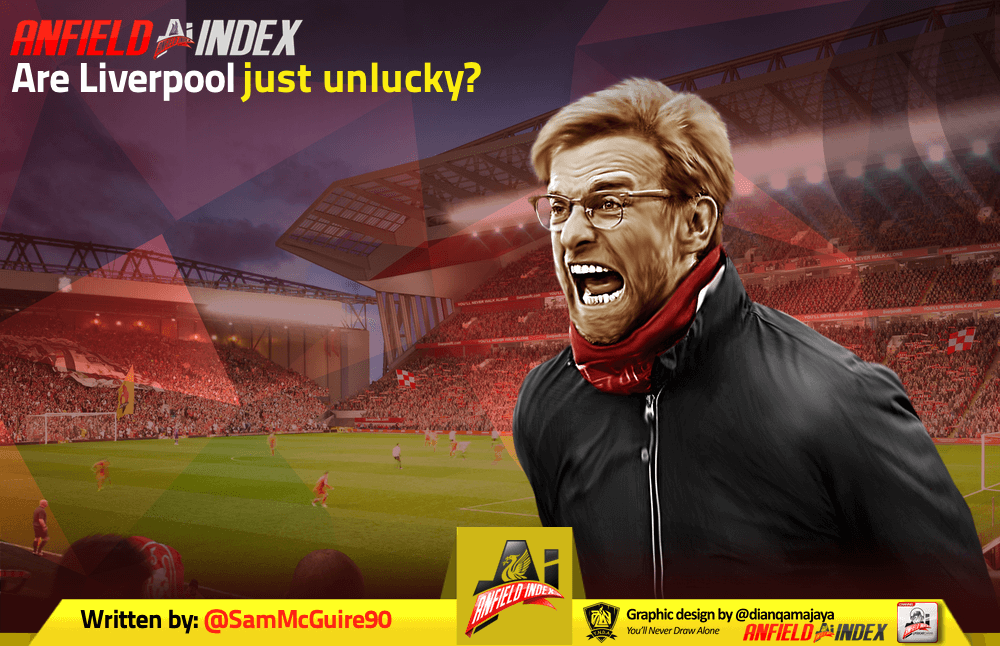 Are Liverpool just unlucky?
Remember during the first couple of seasons under Jurgen Klopp, when Liverpool would perform well, but an individual mistake would cost them? I'm talking about Alberto Moreno against Sevilla in the Europa League final, Simon Mignolet in the Carabao Cup final, Dejan Lovren on multiple occasions, and Loris Karius in the Champions League final.
This isn't a criticism of any of these players either. I'm just pointing out that their individual errors played a pivotal part in the outcome of the match. It wasn't until the entire starting XI was at a certain, reliable level that the Reds started to turn good performances into trophies. 
Over recent weeks, we've started to see what happens when players not up to that level are put into the team. Again, not a criticism. It isn't Rhys Williams' fault that he's having to play as often as he is. 

But, as harsh as it may sound, You're only as good as your weakest link. 
When Liverpool racked up 196 points across two seasons, their weakest link was arguably Joe Gomez, purely because he wasn't as good as the other centre-backs in the air. The weakest link was a player who would start for every other top-six team, so it was hardly a negative. 
Despite his limitations in the air, you, generally, knew what you'd be getting from the former Charlton youngster. Like the rest of the team, he was reliable. It's no surprise that this high level coincided with Liverpool winning everything. 
It's different now, though. 
The Reds carefully pieced together a squad perfect for their system. Injuries have forced their hand and players not suited to their squad are playing key roles. Everything can be spot on 99% of the time, but that 1% can undo all of the good work. It was evident against Manchester United in the FA Cup.  
Klopp's side looked back to their best going forward, but left a lot to be desired in defence. Why? Well, Rhys Williams isn't in the same sphere as those who usually start there for Liverpool. Granted, few are, but it's difficult to watch him learn on the job in what is such a key area of the team. He was rash, diving in on multiple occasions and not getting the ball. He's not the quickest in general and he should've dealt with Mason Greenwood's pass before it reached Marcus Rashford. I'd like to reiterate that this isn't a criticism, this is just his level right now. 
We're even starting to see the problem with using a midfielder at centre-back. Fabinho has been brilliant, but he gives away free-kicks on the edge of the area on a regular basis. Against United, it resulted in the winner. As a defensive midfielder, you're much more proactive and this is his natural game. It isn't his fault that he's having to play there. 
The narrative used to be that Liverpool were unlucky, but, in truth, they just lacked players of the requisite level. As soon as the players arrived, results started to match performances. The Reds are back to being unlucky but it coincides with them losing players key to their system. It really emphasises the point that you can't be elite, which Klopp's side have been for years now, when you have players doing a job as opposed to having players who are excelling.