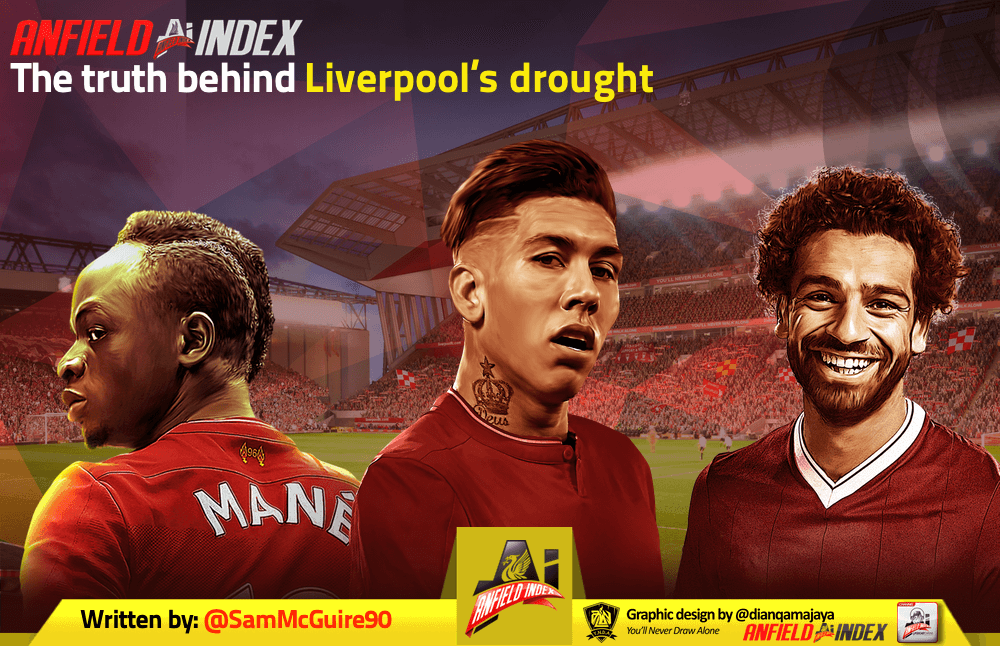 The truth behind Liverpool's drought
Liverpool's goal drought never really bothered me. Some went to the extreme, claiming the system had been found out and Jurgen Klopp needed to make wholesale changes to get them firing again. In truth, it was a mixture of bad luck and bad finishing. I wrote about it in detail for work. 
The Reds had the chances, but they kept falling to the wrong players. Liverpool's system and success is built on ensuring certain players get the volume required to be at their effective best. Mohamed Salah scores goals but he needs chances. Post-Boxing Day, Roberto Firmino had been the one on the end of the chances. The Brazilian went from 2.1 shots per 90 to 3.3 while Salah went from 3.75 to 2. 
Of the Premier League champions' famed front three. Firmino is the worst finisher. This isn't a criticism, but a fact. 

He regularly underperforms his expected goals while his post-shot xG shows he devalues his efforts with his placement. His output is fine when he's only averaging between 10-15% of the team's shots. Recently, however, he's been responsible for one in every four Liverpool shots. The more involved he is in this particular metric, especially when he, the more wasteful Klopp's men are. 
I wasn't concerned because I knew that as soon as the chances started to fall the way of Salah again, the Reds would be back amongst the goals. Against Manchester United in the FA Cup, the No.11 had six efforts and Firmino had just the one. Normal service had resumed and Liverpool scored twice. 
The match ended in defeat, but, for the first time this year, Liverpool looked like themselves going forward. The spacing was much better throughout and key players were involved in the right areas. 
Klopp has been married to the 4-3-3 for the majority of his time on Merseyside, but subtle tweaks change how they look in possession. When they're at their best, it morphs into a diamond with Firmino as the No.10. You can see it above in the build-up to the opener at Old Trafford. The Brazilian drops, the wide forwards cut inside and play between centre-back and full-back.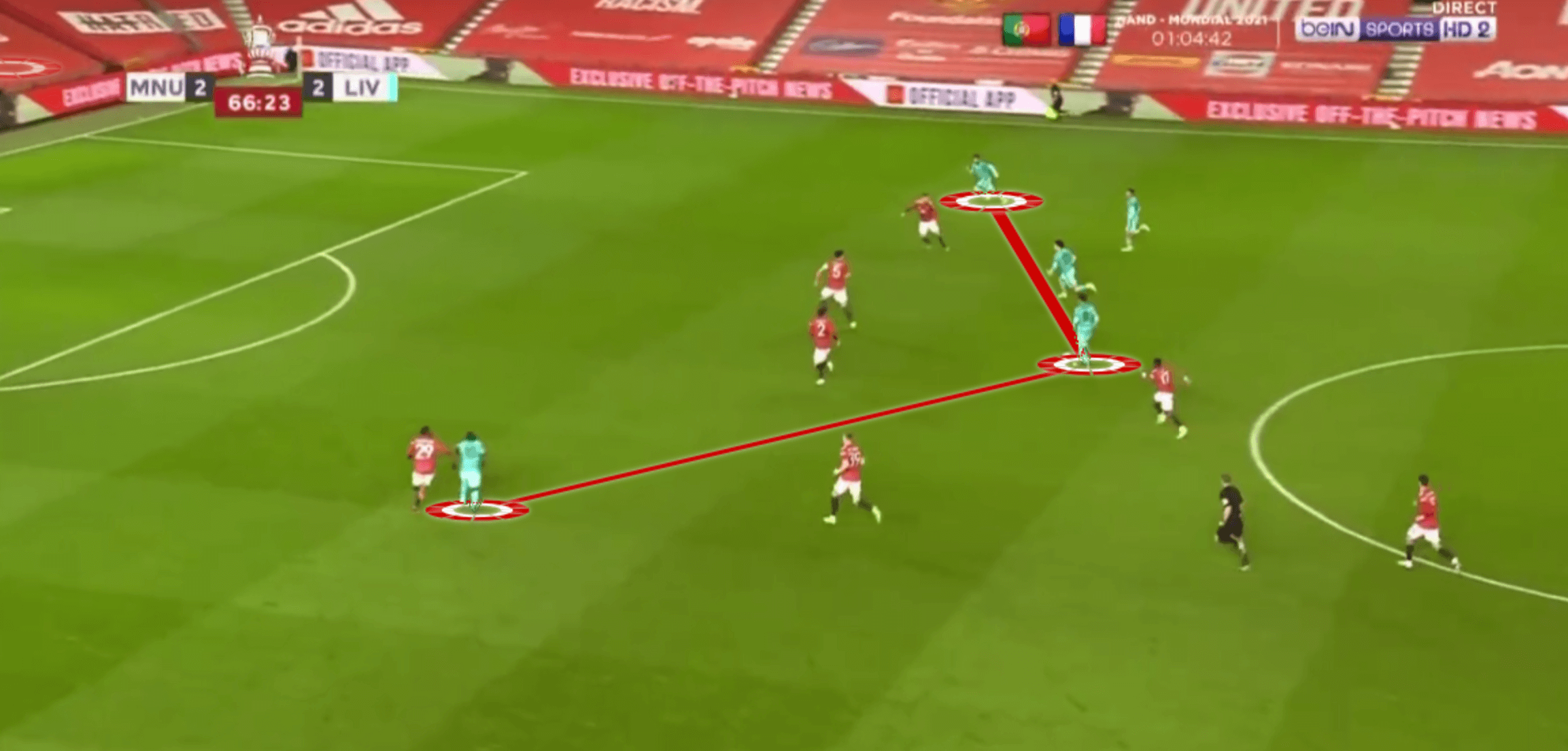 The same thing happened after Sadio Mane's introduction and the still above is taken just prior to Salah almost scoring a third but he was thwarted by Dean Henderson. It's no coincidence that Liverpool looked back to normal going forward. 
This is a tried and tested formula.
Klopp's tried different things since the turn of the year. Alex Oxlade-Chamberlain played as a hybrid right-sided centre-midfielder and right-winger against Southampton. Xherdan Shaqiri has played a similar role, too. Thiago has been introduced and, despite playing as the No.6, he's pushed forward in matches to play almost as a right-sided centre-midfielder in a two with Gini Wijnaldum. He's not been shy about carrying the ball forward and occupying spaces usually filled by Firmino. This has then forced the former Hoffenheim man into a natural centre-forward role and this is perhaps why he's found himself on the end of more chances. 
Liverpool went back to basics against United. They had two runners either side of Thiago and the Spain international played more of a single pivot. This allowed Firmino to play the false-nine role and it opened up space for Salah once again. It was only a matter of time before this was going to happen, that is why I wasn't too bothered by the drought.