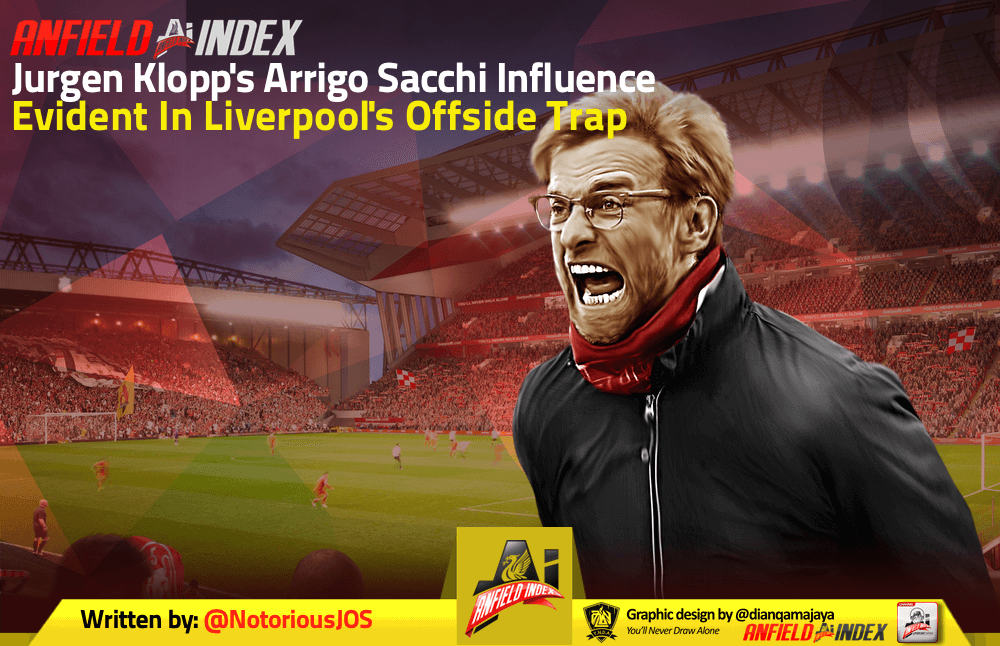 Jurgen Klopp's Arrigo Sacchi Influence Evident In Liverpool's Offside Trap

Liverpool manager Jurgen Klopp has on record in the past to say that Arrigo Sacchi — the legendary former Parma and A.C. Milan coach — is one of his biggest influences in football.
Sacchi, now 74, guided Milan to back to back European Cups in the late 80's/early 9o's while using a high pressing, intense style of football. Italian football was associated with defensive football, known as Catenaccio — literally translated as chain or bolt — but the former shoe salesman was an ideologue and forthright in the belief of his footballing principles.
Boasting a legendary back four of Paolo Maldini, Franco Baresi, Alessandro Costacurta and Mauro Tassotti, the Rossoneri also claimed the 1987/88 Serie title.
Using their legendarily efficient offside trap to brilliant effect Milan — who finished top, three points ahead of Diego Maradona's Napoli in the Italian standings — only conceded 14 goals across the whole, 30 game campaign.
As we can tell in the below video, the San Siro based team proactively use their offside trap as a means of defending. Mostly, the popular narrative around defending with a high line suggests that it is the fault of the forward — whose run wasn't timed correctly — when a team is adjudged offside. However, as Milan showed, with the right organization, both tactically and vocally, a well-primed trap is a work of tactical sophistication and a proactive means of defending and not a last-ditch recourse.
https://www.facebook.com/LegendsHaveSpoken/videos/1994363390592132/?hc_ref=ARTq10PeKNcDMDsHvbP5VXY4EpKZyQz5qzr-4ebxKhMggNMs8HXtdGQZ_11Gs-wdHSo
Speaking last February, Klopp — who is known to be in contact with the Italian on a regular basis via text message — was effusive in his praise of Sacchi.
"The most important coach I learned from is Arrigo Sacchi," he said.
"For all the things he did with his AC Milan, those things were implemented in our team. When I became coach, I didn't have time to look left or right but the basis of everything I do is what Arrigo did."
This influence is evident in the way Liverpool play and their insistence on squeezing the play high and looking to utilize their offside trap on a regular basis.
In the Premier League this season, the Reds have the most successful offside trap — "soft" — figures, and they have caught their opponents offside 59 times to date, per stats from FBRef.
On the opposite side of the ball, the defending English champions have only raised the linesman's flag on 32 occasions this campaign which highlights the defensive, deep-lying tactics that Klopp's men invariably play against. It's simple, a team cannot run into an offside position if there's no space in behind.
This strict adherence to playing a high defensive line is perhaps the reason why Klopp reneged on signing a replacement for Dejan Lovren in the summer. Finances also played a part, of course, with the Reds being unable to sell their squad players to finance a move for an orthodox centre half and the ongoing impact the coronavirus has had on the club's coffers.
Instead, the German turned to Fabinho — the team's defensive midfielder — to plug the gap in the heart of the defence left by the long term injuries to Joe Gomez and Virgil van Dijk and the inconsistent availability of Joel Matip.
A good communicator and tactically astute, the Brazilian has taken to playing a centre half like a duck to water and this is perhaps why Klopp has turned to Jordan Henderson — a player with similar capabilities to Fabinho, especially in terms of vocality — to play at the back in recent games, instead of signing a specialist this January.
To be able to hold an offside trap, a team needs players with pace, anticipation and leadership qualities. Fabinho and Henderson tick these boxes and the Liverpool manager's devotion to this proactive style of is sure to have pleased one of it's most famous proponents, his friend Sacchi.