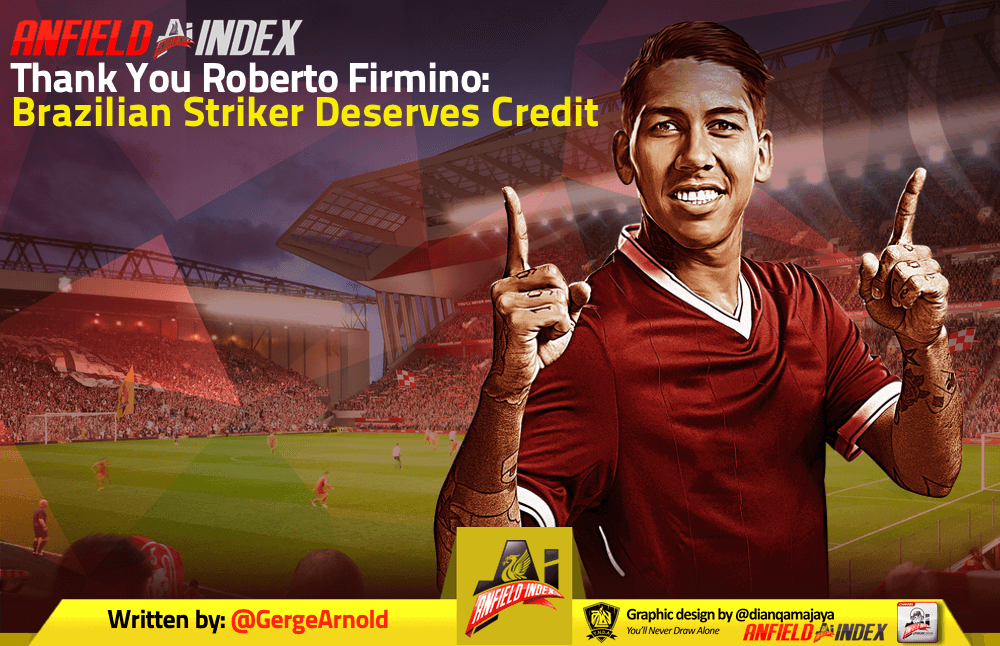 Thank You Roberto Firmino: Brazilian Striker Deserves Credit
The press, the fans and the neutrals have all criticised Roberto Firmino this season. However, Bobby deserves credit for firing Liverpool out of their current dry spell. 
Liverpool had gone 2 Premier League games without scoring, when Manchester United arrived at Anfield in January. Mo Salah slalomed through Manchester United's defence, in search of that elusice finish, and the ball broke to Roberto Firmino in the area. Bobby scuffed his finish in to De Gea's arms, and a better opportunity never arrived. Fans lamented that their biggest chance of the match had fallen to their profligate striker. Liverpool's goalless draw against United saw their baron run continue, and Klopp dropped Firmino for their game against Burnley. 
Roberto Firmino provides Liverpool with more than just goals. Pundits and fans have argued this constantly. But, as Liverpool dry streak continued, this fact became increasingly laboured. Yes, he might open up spaces with his movement or execute the counter-press well, but Liverpool needed their number 9 to step up and do what strikers do.  

However, Bobby wasted chances. Frustration grew and questions were asked of the forward. Was Roberto Firmino the player of two seasons ago? No, many believed.
 
After another goalless performance against Burnley, Klopp started Bobby in the Cup. He had not lost faith in the striker, although many had. It was the correct decision. The Brazilian was everywhere, resuscitating life into Liverpool's choking attack. 
 
Firmino hustled, harried and created. He threaded Mo Salah through for The Red's first goal, and set-up the Egyptian again for their second. His efforts were not enough that day, but the performance twinkled cautious optimism in every Liverpool fan.
 
Fast-forward four days, and Liverpool faced another daunting fixture. They had gone seven without a win, and a strong Spurs team aimed to pile on the misery. But, Bobby's mood remained defiant. The forward kept dropping into pockets of space, pressuring the Tottenham defence and creating chances.  
He scored on the brink of half-time to give Liverpool the lead. It was a vital finish, as the clock ticked towards Liverpool's 8th goalless hour. Relief was palpable. Firmino had stepped up, when the Champions needed him the most. 
During the United FA Cup tie Jermaine Jenas, in commentary, remarked that Firmino would play his way out of a bad spell through hard work, determination and hunger. He hunts the ball, even when he struggles. And this is exactly what Bobby did, over Liverpool's worst spell in 3 seasons. He played his heart out, and helped pull the team out of a rut. He deserves huge credit for that. Despite the recent criticism. 
The critics do have a point unfortunately, on the whole Firmino's level has dropped. It may be age or fatigue. Either way, he lacks the consistency he once did. However,  should he move on in the summer, or the season after, Liverpool fans will remember him as a great. This is because of his flair, determination, and the fact that he could always play The Reds out of a bad patch. Liverpool hero.