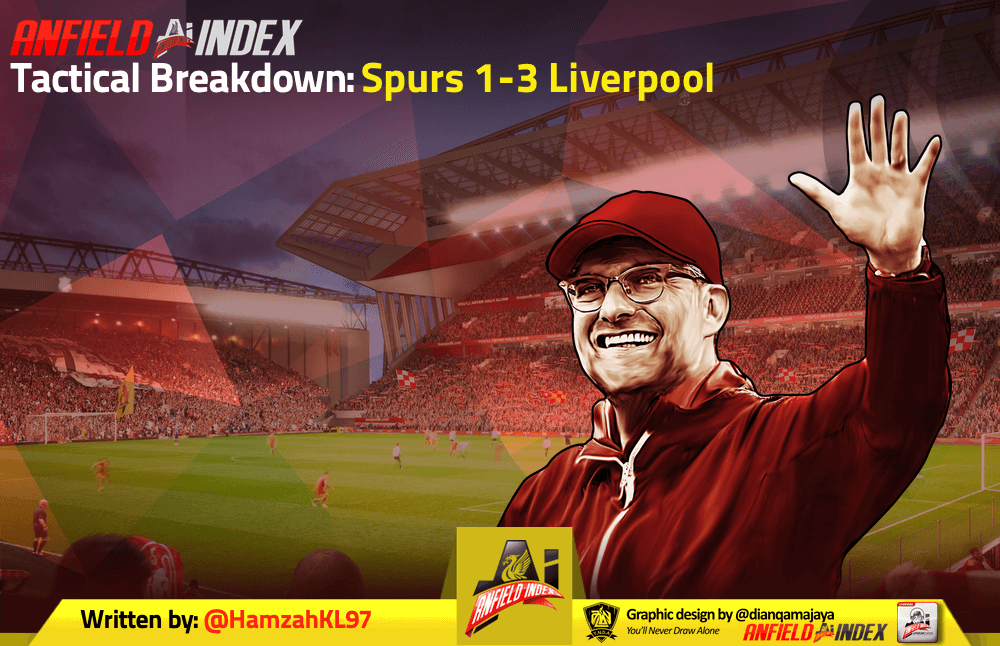 Tactical Breakdown: Spurs 1-3 Liverpool

A month ago, Spurs travelled to Anfield in a contest for the league's top spot. Since then, results have tailed off for both sides, and an hour prior to kickoff, the news that Fabinho was injured compounded a terrible winless run for Liverpool with more adversity.
However, the truth was that the Reds had played fairly well recently, but had not had the results to reflect their performances. As Statsbomb's James Yorke argued in recent weeks, Liverpool were due to get the results that matched their performances soon enough – this contest was the manifestation of that.
José Mourinho was coy in his pre-match interview, not wishing to explain his tactics. But It was clear from the first minute what Spurs' tactical plan was.
The home side initially lined up in a 3-4-3. Aurier was deployed as the right wing-back and Doherty as the left wing-back. In the middle was a double pivot comprised of Tanguy Ndombele and Pierre-Emile Højbjerg, whilst the front three featured Son, Kane and Bergwijn.
Mourinho hoped to use his wingbacks to fulfil three main tactical roles:
Push up high and wide against the touchline to offer a passing option for Lloris – and avoid the Liverpool press.
Push up to draw out the Liverpool fullbacks, and create space for Son and Bergwijn to run into, on the outside of the Liverpool centre-backs.
When out of possession, drop deep to double up on Salah and Mané, theoretically leaving Firmino either isolated or too deep to cause problems.
Son and Kane, much like in the reverse fixture, were instructed to defend as part of a compact shape when out of possession. They were also instructed to stay close to one-another for knockdown opportunities from Lloris' goal kicks, and to break if a ball was played centrally. Typically, Kane would look to drop into a deeper position and bring a centreback with him, to allow Son to attack the other centre-back in a one-on-one.
Klopp's Liverpool played in their typical 4-3-3. Henderson partnered Matip at centre-back, whilst Wijnaldum featured as the no.6, behind Thiago and Milner, both deployed as no.8s.
Liverpool were instructed to press high and intensely. To facilitate this, the defence needed to push up high, in order to compact the pitch, and reduce the space for Spurs to play through. Likewise, Alisson needed to be proactive and ready to sweep when passes were played beyond his defensive line.
In recent games, the Reds' right side has been quieter than usual. The main issue was the spacing and passing combinations of Salah, Alexander-Arnold and the no.8. Salah often found himself isolated, as Alexander-Arnold was too deep, whilst the no.8 was not high enough on the pitch to draw pressure away from Salah and link Alexander-Arnold back into the triangle.
In this game, Thiago featured on the right, and his forward passing and dribbling combined with the forward presence of Alexander-Arnold created a passing network that was able to pass, move and interchange freely, which disrupted the Spurs defensive shape. Firmino's excellent performance, which was characterised by timing his runs and passes with this triangle perfectly, created overloads, and the advanced presence of two players against the Spurs backline meant Salah could drop deep and run with the ball, which is far harder to stop compared to him receiving the ball out wide, with his back to goal.
Liverpool were also very direct. This was useful for two reasons. The early pass from the champions' centre-backs offered opportunities for Mané and Salah to run in behind before Spurs were able to form their low block. It was also a great tool for forcing counter-pressing situations in the final third, with the forwards and midfielders pressing immediately after Spurs won possession following a long pass.
This direct play produced the first big chance of the game, in the second minute, as Liverpool moved forward, not allowing Spurs' backline to settle into shape. Salah played in Mané, who shot wide.
Within moments, Spurs nearly executed their gameplan perfectly. Ndombele, a notoriously press resistant player due to his excellent technical skills, dribbled from deep beyond the Liverpool press, and Kane dropped into the halfspace as Son looked to break beyond the champions' high line. Son's excellent finish amounted to nothing after the goal was ruled offside. It was a fine example of Spurs' great qualities in transition and was similar to Son's goal at Anfield.
A particularly strong opening ten minutes for Spurs dissipated as Liverpool grew into the game. Thiago began to cover for Alexander-Arnold in the right halfspace, allowing the right-back to move up into the box, and combine and cross from dangerous areas. This was a significant difference from the high volume of low-quality crosses from deep positions displayed in recent weeks.
This graphic, courtesy of @StatsZone, displays Alexander-Arnold's passes in the final third. His forward presence makes an enormous difference to how Liverpool attack, and in this game, he made 13 passes to Mohamed Salah and 8 to Roberto Firmino. No other player passed to either forward as frequently.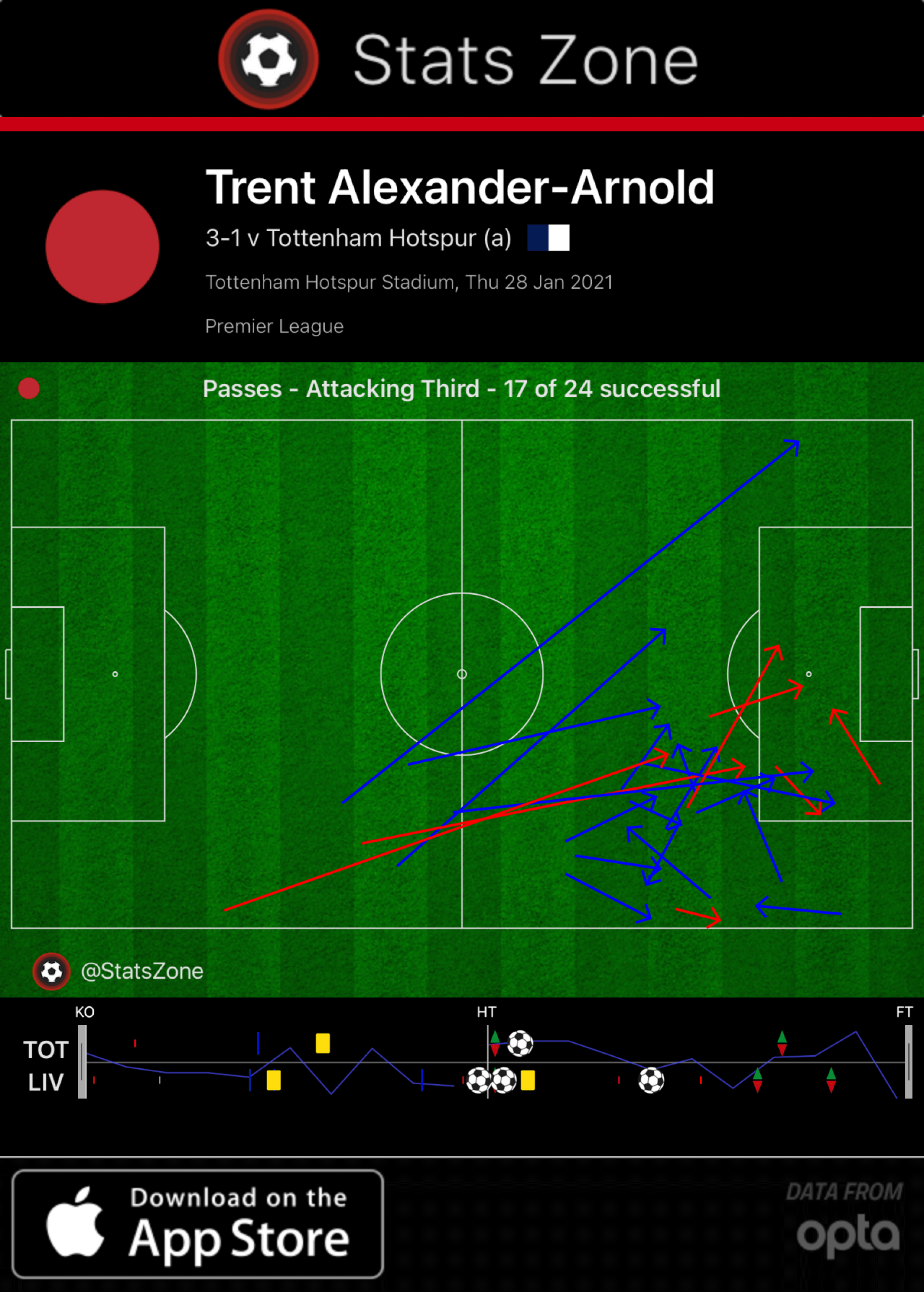 As Liverpool enjoyed long periods of possession, Spurs' shape began to resemble a 5-3-2. Bergwijn moved inside as Son and Kane looked to prevent balls being played centrally to Wijnaldum, but the visitors were able to bypass this block by playing the ball wide and then moving it back inside. Because of the high fullbacks and Spurs' two forwards and deep wingbacks, the Reds had a numerical overload in midfield. Good ball speed, especially from Thiago shifted Spurs from side to side, creating opportunities. Klopp's side did not use the switch pass as much as they should have, but Thiago attempted to involve Robertson and Mané as much as possible with frequent passes from the right side to the left.
As the first-half entered its final stages, it appeared Liverpool were in control, but unable to regularly break into good shooting areas because Spurs' defensive line was settled. What Firmino required was players running beyond him, directly breaking the Spurs backline with vertical runs. Both of Mané's big chances in the first half came as a product of him coming inside and running in behind, but what they needed was multiple runners in behind – a movement which is far harder to track and defend. An early unpressured pass from Henderson allowed Liverpool to do just this, with Mané running into space, supported by Firmino who finished the chance off.
This goal changed the "gamestate". Spurs could no longer sit back and hope to break. The impetus now lay with Mourinho's side to move up the pitch, retain possession of the ball and take on more risk in their play; this suited Liverpool who had the ability to counter-attack into space.
At half-time both Mourinho and Klopp made changes. Lamela and Winks came on for Aurier and the injured Kane, whilst Nat Phillips replaced the similarly injured Matip, who had defended Son in one-on-one situations superbly.
Liverpool continued to press high and ferociously. Within the opening seventy seconds, the champions had three shots inside the box, one of which was a parried shot that fell to Alexander-Arnold, who quickly scored the second goal.
The increased deficit forced Spurs to engage higher up the pitch, and for a brief spell Spurs moved forward with numbers. This was rewarded through an extraordinary shot by Højbjerg, beating Alisson from outside the box in open play – a very rare feat.
Despite this goal though, Spurs' goal threat for the remainder of the half was non-existent. Son was unable to combine for knockdowns with Lamela, and Nat Phillip's strong aerial presence combined with the strong fast reactions of Wijnaldum and Henderson to seize upon second balls completely snuffed out Spurs' remaining attacking impetus.
Mohamed Salah was seemingly denied a well-earned goal after Firmino was adjudged to have handled the ball, but it was not to matter as another early ball from a deep and wide position by Alexander-Arnold, played in behind the Spurs backline was met by Mané, for the visitor's third and final goal of the night.
The pass and goal epitomised the importance of holding gamestate advantage, as Spurs were forced to step up and this allowed Liverpool to break in transition, but importantly attack free and open space with a vertical run. Defending when in motion, especially when running backwards, is far harder than defending from a static position, and that is a key difference between most of the major chances the visitors had in their previous games, compared to Thursday night.
This was a great match from a tactical perspective. It showed how Klopp's aggressive high press, supported with direct forward impetus overcame Mourinho's counter-attacking low block, but it also displayed the importance of gamestate, errors, one-on-one defending and good decision-making.
As a visibly pleased Klopp put it in his post-match presser: "This was us."