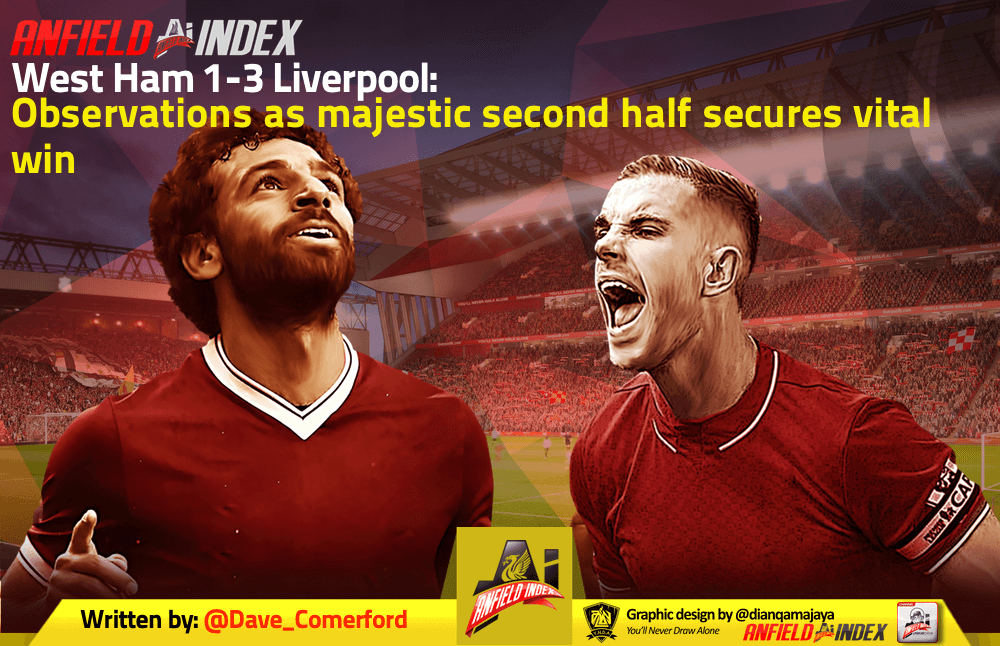 West Ham 1-3 Liverpool: Observations as majestic second half secures vital win
With Roberto Firmino rested and Sadio Mane the latest addition to the injury list, it looked as if Liverpool were going to need to win ugly at the London Stadium. A drab first-half seemed to confirm those pre-match convictions.
But in the end, the win wasn't ugly; it was beautiful. Either side of a contender for Liverpool's goal of the season, Mohamed Salah curled home unerringly and Georginio Wijnaldum finished off an incisive one-touch move.
Craig Dawson would deny the Reds a clean sheet but take absolutely nothing away from the victory and the performance, which surely exceeded expectations.

Liverpool have hit their stride, leapfrogging Leicester, moving within a point of Manchester United and setting-up a season-defining battle with Manchester City next Sunday.
Salah back, and more devastating than ever
Think back to just before the turn of the year, when Liverpool travelled to Newcastle, and Mohamed Salah spurned a glorious opportunity to break the deadlock, sidefooting charitably wide after Roberto Firmino set him through.
This was game two of a five-match barren spell (a telling phrase in itself). In the month between the rout at Crystal Palace and the FA Cup trip to Manchester United, Salah only scored against Aston Villa's children.
The Newcastle miss both intensified and reflected a dip in confidence. Salah was on the end of few clearcut opportunities in subsequent games, but when he did receive the ball in the box, he was unusually ponderous and hesitant, typically crowded out before a tame effort at goal.
Observers tried to connect his out-of-sorts displays to the overblown fallout from his AS interview.
But the past week only emphasises Salah's fortitude. It began with a sumptuous dink over Dean Henderson and culminated with a majestic touch and finish as he plucked Xherdan Shaqiri's pass out of the sky. Four goals in seven days, and but for our confusing and absurd handball laws, it would have been five.
Salah has not merely rediscovered his ruthlessness, he has sharpened his axe.
He doesn't even feel the need to celebrate, instead simply basking in the adulation of his team-mates. He is one of the greatest players to have worn the shirt, and frankly, he knows it.
Why do we still need reminding that he is stupidly good?
We've underestimated Phillips
Nathaniel Phillips' stock grows with every Liverpool appearance.
He started as a Championship-level centre-half 'doing a job', then he became an attractive prospect for lower-level Premier League sides, and now there are supporters anticipating a healthy injection of cash from what they see as an inevitable summer move.
Phillips has hardly put a foot wrong. He is domineering yet measured, and he also looks reasonably comfortable on the ball. Pace is his only clear deficiency, and that is hardly his fault.
The former Stuttgart loanee was man of the match in the reverse fixture against West Ham but faced an altogether different test here against Michail Antonio.
Across Antonio's 79 minutes on the pitch, though, there was only really one winner in the battle.
His personal highlight was a stretching headed clearance as West Ham shirts surged forward looking to meet a menacing free-kick. It underscored the value of his defensive instincts.
If he is to be involved heavily for the remainder of the season, there will be trickier moments. But for now, there is no reason to underestimate him. Why can't he have a future at Liverpool?
Sublime pass sustains Trent's momentum
There was no assist or goal for Trent Alexander-Arnold here following his Spurs masterclass, but his marked upturn in form continued.
Following Andrew Robertson's excellent clearing header, Alexander-Arnold lifted his head and picked out the ideal pass to launch the counter-attack, unleashing Xherdan Shaqiri into acres of space.
Alexander-Arnold is so often the man to apply the penultimate touch, but we should also appreciate his playmaking abilities. When he launches the ball cross-field or fizzes it vertically, you get the impression he is thinking a number of passes ahead. He is Liverpool's architect.
Liverpool's rivals should be very concerned because an explosive run is brewing.
Klopp has managed Jones effectively
In consecutive games now, Curtis Jones has been an excellent substitute. Against Spurs, he threatened to engineer a fourth goal and here he was immediately the architect of the crucial breakthrough.
He burst forward, shifted the ball to Alexander-Arnold, received Shaqiri's lay-off and then fed goalscorer Salah.
James Milner was baffled by his withdrawal but Jones made the decision look a masterstroke before he could even sit down.
The 20-year-old's form showed signs of dipping after an excellent run. Jurgen Klopp, recognising that this was inevitable at some stage, tactfully withdrew him to the periphery. Having started six out of the seven league games in December, he was an unused substitute against Southampton and Manchester United.
He looks to have benefitted from the break and may now be in line to start against Brighton in midweek.
Firmino on best run of the season
Klopp's decision to bench Firmino after two strong performances caused consternation among supporters, but it panned out exactly as the German would have wanted. The game was already tied-up when he was sent on with 20 minutes remaining, and he was able to contribute a tidy assist for a third goal which added gloss.
He has now been scored or assisted in three consecutive matches for the first time this season.
Much like Salah, he has enjoyed a vastly improved week. There are signs that he is recovering form after a concerning spell and given that he hardly had to exert himself here, he should be able to sustain that on Wednesday.