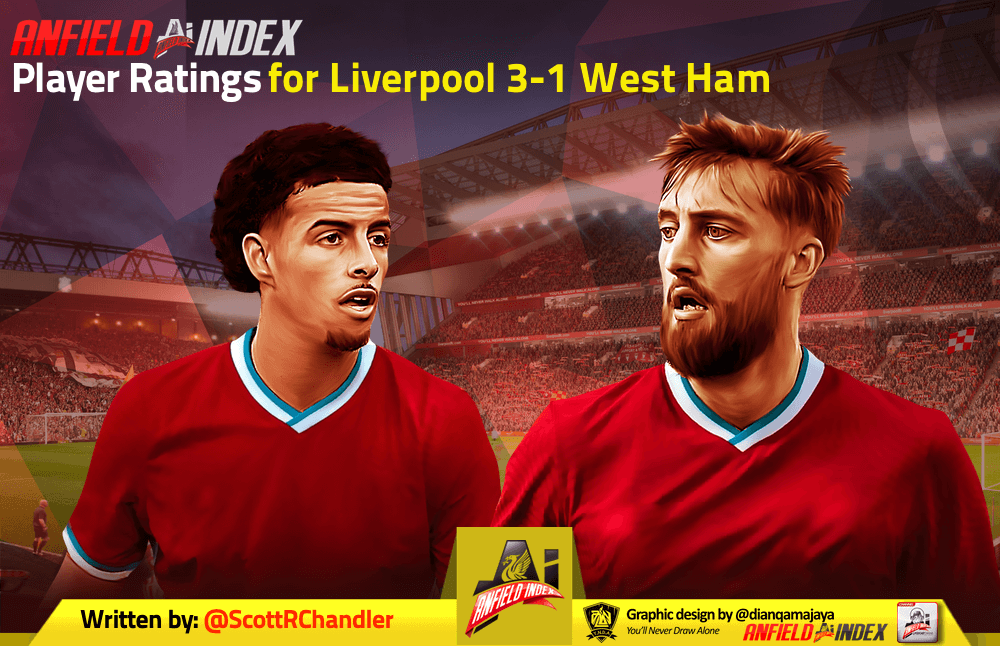 Player Ratings for Liverpool 3-1 West Ham
January may have been a rough month to start for Liverpool, but a couple matches in the capital at the end of the month have firmly put the Reds back on track and in title contention again.
Alisson – 7
The handsome Brazilian wasn't asked to do much today with Antonio surprisingly ineffective and Soucek subdued, but he came off his line well several times to snuff out danger and make sure the Hammers didn't find any joy in the final third. Can't really be faulted for failing to get a glove on a scruffy shot off a Hammers' corner basically after the game was over.

Robbo – 7
It was evident that he wasn't as comfortable without his partner Mane on the left flank, but he still managed to put in a couple of passes for Origi to waste. He had a vital clearance in the 2nd half that conceded the corner leading up to Liverpool's 2nd goal. Thanks to Andy's deflection off the ensuing corner, TAA was off to the races, and the rest was Liverpool history.
Henderson – 8
Fabinho has been Liverpool's player of the season thus far, but the versatility Hendo has shown during a bona fide injury crisis is worthy of applause. While the Hammers' attack didn't put the back line under much pressure, Henderson did well to cut off possible chances and keep the defense organized. He also showed some mettle by getting his head stuck in on Soucek's high boot, and honestly, with how bad of a ref Jon Moss is, it's shocking Jordan didn't get called for a foul by using his head to hit the Czech's foot.
Phillips – 8
Easily the first half MOTM, he also mixed it up with Antonio in the 2nd half. Rarely put a foot wrong and went about his business in a composed fashion. Liverpool absolutely need to reinforce in the center of defense if they want to compete for trophies this season, but more performances like this will calm supporters' nerves.
TAA – 7
Trent showed flashes of his former self against Spurs, and he continued his trek back towards elite status with a fantastic second half display. He was fairly ineffectual in the first half and gave the ball away cheaply to set up a threatening Antonio run down the flank. Yet, TAA showed the measure of his quality with an incredible cross-field, raking pass to Shaqiri on the left on the Reds' epic counter off a Hammers corner. That play was truly Liverpool's moment of the season, and it doesn't happen without Trent's amazing vision and passing ability.
Gini – 7
Goals aren't really something that the Liverpool version of Gini is known for (aside from crushing the hopes of a certain side from Catalonia), but thanks to some lovely play and a nice pass from substitute Bobby, Gini got one of the easiest goals he'll ever score. It also happened away from Anfield, so that's truly one to remember.
Thiago – 8
Hopefully after Thiago's performances in London this week, the naysayers will shut up for a bit about what Thiago brings to the side. He put in an absolutely telepathic pass to Origi that a better player would have finished to give Thiago a worthy assist. But time and again, Thiago found a way to get stuck in, break up the Hammers' play, and find a pass to get Liverpool going forward. His introduction to the team may not have been the smoothest, but once he's surrounded by similar players of quality, he should unlock another level for the Reds.
Milner – 5
Liverpool's attack took off after he was withdrawn, and it's no surprise after watching Milly admirably but slowly trudge around the pitch. His highlight of the day was a heated exchange with Klopp after being substituted, but there were smiles for both of Liverpool's elder statesmen after Salah scored shortly thereafter.
Shaq – 6
He wasn't involved much in the first half and couldn't find the right space to impact the match. The second half was a different story and the ball he put in to set up Salah's second goal shows the impact Xherdan can have when given some space and some runners moving forward. His creation from the left flank could give Liverpool some attacking options down the stretch that are vitally needed.
Origi – 4
At this point, Divock Origi can be summed up simply by "it is what it is." He's not the quality of forward that Liverpool should be turning to when part of the front line isn't available. As much as he will always be a cult hero for his goals in 2018-19, those goals aren't coming back. When he wasn't running around aimlessly like he was hit by a tranquilizer dart, he wasted the chances that were put on a tee for him. His decision to shoot from a tight angle instead of laying it off for Salah early in the first half is a microcosm of his current footballing level. He did have a couple decent runs and passes in the second half, but his inclusion in the starting XI says less about him than it does Minamino's status – or lack thereof – in the team and Michael Edwards's inability to replace Divock with a more capable player.
Salah – 9
In a match where his forward linemates were injured or on the bench, Mo dialed back the years with a performance that was more like his 2017-18 Player of the Season level instead of the Salah that hadn't scored in the Premier League for 6 matches. After Curtis Jones got the ball into the final third, Mo took a layoff from TAA and then cleverly cut into space to get off a beautiful curling shot for the opener. As good as that was, it was nothing compared to his otherworldly first touch off Shaq's cross that settled the ball for a cool, sidefoot finish to put the game out of reach for the Hammers. Now with a comfortable lead in the Golden Boot race, today could be the start of a barnstorming race to the finish for the Egyptian.
Subs:
Curtis Jones (On 57) – 6
Brought an immediate injection of energy and pace by dribbling into the final third, and the move ended with Liverpool's opener. These are the moments that portend to something much, much bigger for the Scouser in the near future.
Firmino (On 69) – 6
Up 2-0, it was certainly a nice time of the match for Bobby to come on and stretch his legs. While Klopp would have been justified in fully resting Firmino, his enthusiasm and passion for the game was evident from his ability to find time to set up Gini for an easy tap-in. Save some of that for Brighton & City, Bobby.
Ox (On 80) – N/A
In his return to the capital, it was nice for him to get 13 minutes of exercise. Hopefully he's saving his energy for next Sunday to give City fans some PTSD of goals back in 2018.