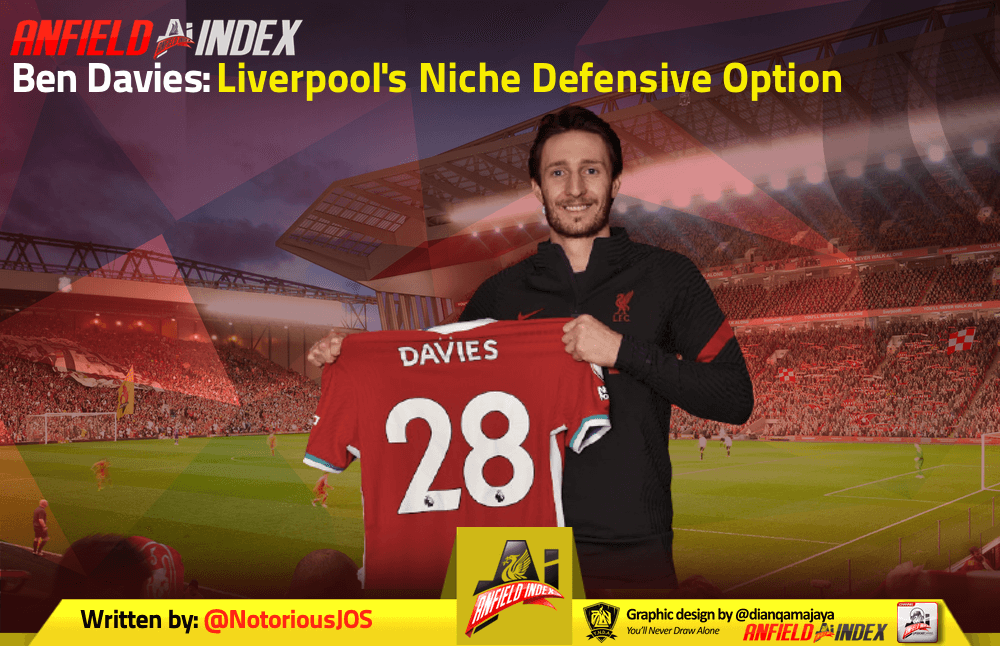 Ben Davies: Liverpool's Niche Defensive Option
Liverpool's need for reinforcements at centre half has been clear since both Virgil van Dijk and Joe Gomez' season-ending injuries.
It now appears that one of the Reds' solutions is to sign Preston North End's centre half Ben Davies. According to reports from numerous journalists who cover the Anfield club, the English champions will tie up a deal for the 25-year-old at an initial cost of £500,000 which will potentially rise to £2,000,000.
Understandably, a Championship player with no experience in the English top-flight doesn't set the heart racing of Liverpool fans who have been united in their clamour for the club to sign a defender — or defenders — in the January window.

But there may be a method to the Reds' perceived madness of pinning their hopes on a player who is untested at the highest level.
Davies, who Celtic were close to securing on a pre-contract before Liverpool ratcheted up their pursuit of the former Fleetwood loanee, isn't defensively in the same ballpark as the likes of van Dijk or Joel Matip. The 25-year-old only wins 53% of his aerial duels, which is perhaps unsurprising given he has only relatively recently converted from being a left-back to a centre half.
However, one attribute that Davies boasts — something he surely honed playing as a left-back —  and that most likely piqued the interest of Liverpool's recruitment team is his passing and ability to play long diagonal, cross-field passes out from the back.
According to stats from understat, the Preston stopper averages a long pass accuracy of 72% and 74% of his passes into the final third are successful.
Clearly, Liverpool have missed the defensive prowess of van Dijk. This is indisputable, even if the auxiliary centre halves — such as Fabinho and Jordan Henderson — have acquitted themselves well in the defensive stakes. Despite the seven goals conceded at Villa Park — a game van Dijk played in, incidentally — the Reds still boast the joint third-best defence in the league.
But an area where the Dutchman has been sorely missed has been his ability to play make from the defence and dispense raking, long balls to the flank, usually to the full-back pair of Trent Alexander Arnold and Andy Robertson or Sadio Mane or Mohamed Salah.
Usually finding themselves up against teams who employ deep sitting defences, the ability for Liverpool to quickly and accurately switch the point of attack and isolate opposition defenders against the full-backs and the forwards is a crucial and often utilized component of their attacking game.
Van Dijk is especially good at this — dropping into a pocket like an American football quarterback to spray passes around — and Arsenal manager Mikel Arteta highlighted it after the Reds' 3-1 victory over the Gunners earlier in the season.
"We tried to put them under as much pressure as we could but Van Dijk plays 60 yards to Salah and they are out.
"This is real quality and that is why they have spent the money they have," the Spaniard told Sky Sports in his post-game interview.
This is a tactical element that Davies can add to the Reds' build-up play and somewhat mitigate a quality that they have missed since van Dijk's injury.
Klopp could turn to this new signing in certain games — against teams who won't try and press the defending champions' high in order to disrupt their deep distribution — to help and slash the tyres of parked bus'.
Any worries about Davies' defensive shortcomings — which are legitimate — should be balanced against the fact that Liverpool's greatest offensive weapon — the press and ball possession — is also their means of defending. The volume of defensive work is lower because opponents — by design — focus their energies into remaining compact and defensively rigid.
Ticking the homegrown player box, offering progressive play from the back, and signing for a relative pittance, the Preston stalwart — who would very likely fetch Liverpool quadruple their investment if they were to sell him down the line — is a no-risk signing for the Reds with the potential of being a useful, defensive playmaking option against low-block defenses.