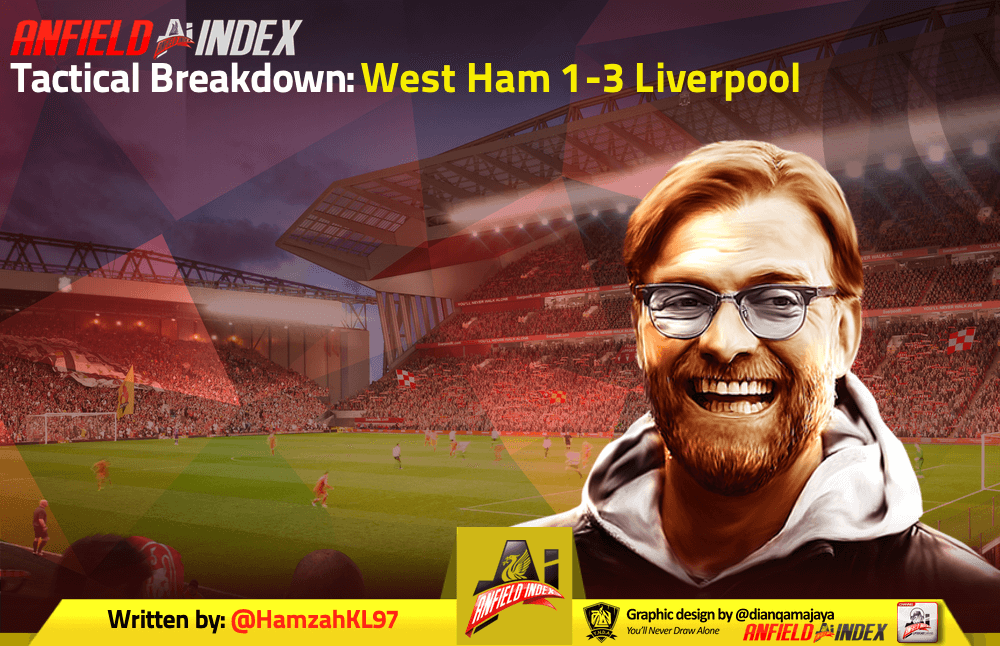 Tactical Breakdown: West Ham 1-3 Liverpool
Liverpool travelled to the London Stadium buoyed by a brilliant performance against Spurs. However, David Moyes' West Ham side have proven this season they can vie with the best, and hope to challenge for European qualification at the end of the season.
West Ham lined up in a 4-2-3-1 shape. Michail Antonio led the line, supported primarily by Said Benrahma who would help create a front two when out of possession. Jarrod Bowen also contributed offensively, moving up in the right halfspaces. Early in the match, West Ham's shape was fluid, and when they defended without the ball, their shape fluctuated and reacted to how Liverpool progressed the ball up the field, with their wingers dropping to support the fullbacks. This shape caused West Ham some issues, as the Rice-Soucek double pivot was overwhelmed by the deeper presence of Shaqiri, in combination with Wijnaldum and Thiago.
Liverpool's shape has been described as a 4-4-2 diamond, with Shaqiri playing as a no.10, but it largely resembled the usual 4-3-3 with a false 9. Origi and Salah played too wide to consider the shape a typical diamond, and this itself became an issue in the first half.

West Ham looked to use their strong physical presence to their advantage in both attack and defence. The presence of Antonio up top, occasionally supported by Soucek moving forward was supposed to offer second-ball opportunities to break. However, Nathaniel Phillips played excellently at centreback and was supported by an extremely efficient counterpress in midfield, which vacuumed up most loose balls.
The West Ham defensive unit used their physical presence to better effect. Early long passes from Liverpool to Salah or Origi were handled easily, and this nullified the tactic to attack West Ham when they were in transition, and the defence was not settled or protected by the midfield.
The West Ham defence also retained a tight and compact shape for much of the first half. Origi and Salah often found themselves on the outside of the West Ham fullbacks, and thus were unable to break in behind into threatening positions. When Shaqiri dropped to link up with the midfield, Liverpool had a central overload, but did not have the presence out wide to stretch the West Ham backline and allow the forwards to move into shooting positions. What the visitors needed was for the fullbacks to move forward and, crucially, a midfield player to run beyond the forwards from deep positions. James Milner attempted this a few times, but the forwards needed support from the fullbacks moving further upfield, as they did against Spurs.
This tactical quandary characterised the first half, with opportunities that threatened to become chances for both sides, but each team erred on the side of caution, wary of conceding first.
The second half saw a few tactical changes. Klopp, in his post-match presser, drew attention to how Liverpool had too many players on the "wrong side of the ball" when in possession, and to rectify this, he moved Thiago alongside Shaqiri in a "double 10" position. This effectively created a midfield box, which was anchored by a Wijnaldum-Milner double pivot. Crucially, this box was supported by a very offensively positioned Alexander-Arnold. His presence, combined with Salah and Thiago created a passing network on the right side that involved Salah far more frequently and allowed him to move into better positions.
The impact of this change was immediately evident as Salah had a good chance before setting up one for Origi. The forwards had now moved into the left and right halfspaces, rather than occupying the wings, and challenging the fullbacks on the outside. Now they challenged the fullbacks on the inside, and could attack the centrebacks too.
As Liverpool simplified their possession phases, with more direct passes forward, West Ham dropped off. One of West Ham's great strengths in the first half was their forward presence and how they used it to stop the Reds from building pressure in the final fifth of the pitch. However, as West Ham engaged their press from deeper positions, the ability for Antonio to break and link up with Benrahma, Fornals and Bowen in offensive positions dissipated. Paradoxically, as West Ham defended more, it made defending harder for themselves. Gary Neville, on commentary for Sky, summed up the change in approach really well, stating in the first-half they were "waiting rather than arriving." It didn't take long for Klopp's side to begin to arrive in attacking positions at the right time, but key to this was a direct forward run from Curtis Jones immediately after being substituted on.
As the following three images display, Liverpool's half time changes meant they could push more men up against the West Ham back line. We can also see Alexander-Arnold in an advanced position, which allows for fast possession recycling, sustained pressure and it draws attention away from Salah.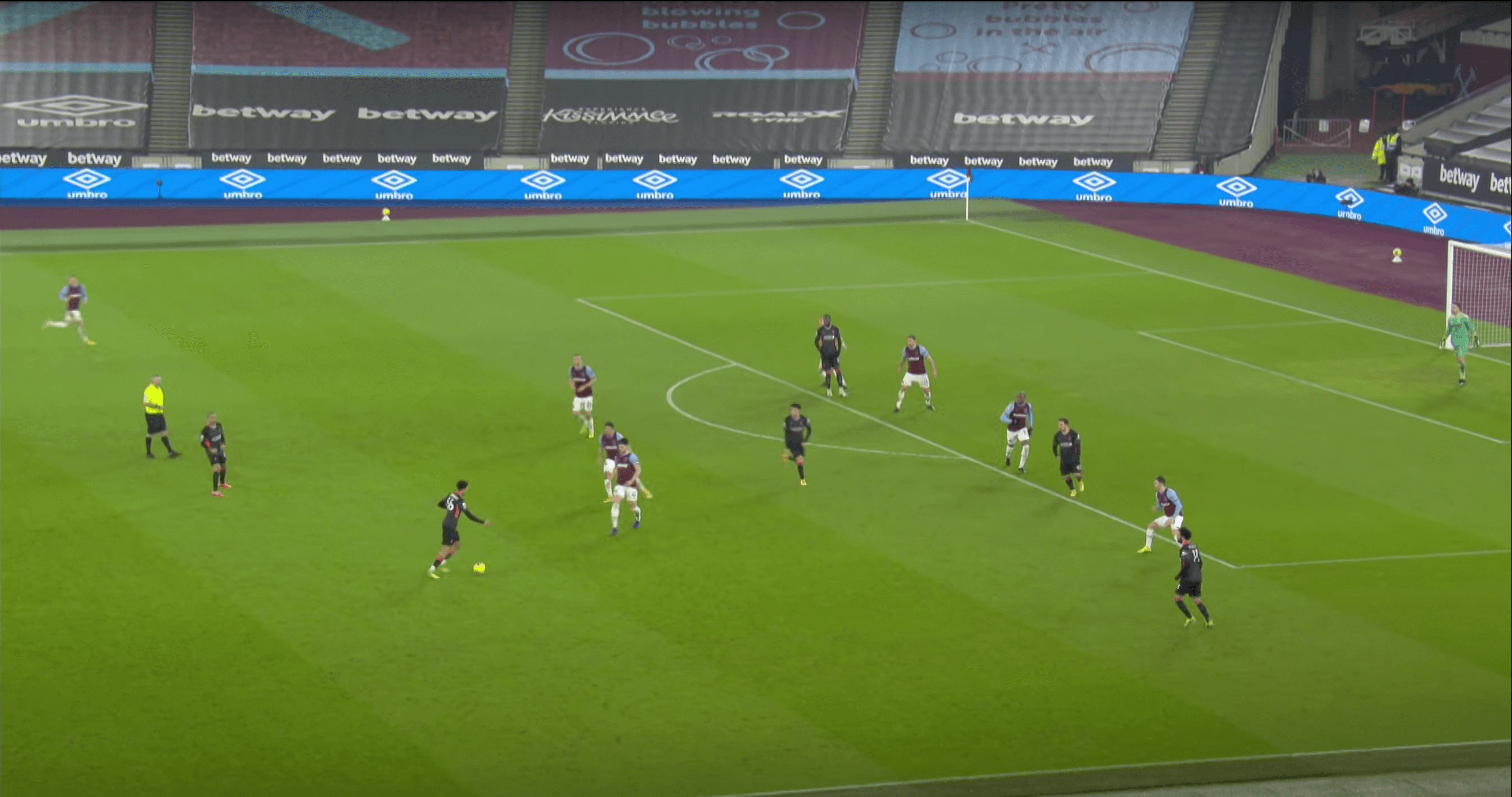 Jones' line breaking dribble creates a four-on-four situation at the back, which isolates Cresswell, and also prevents West Ham from being able to stay compact.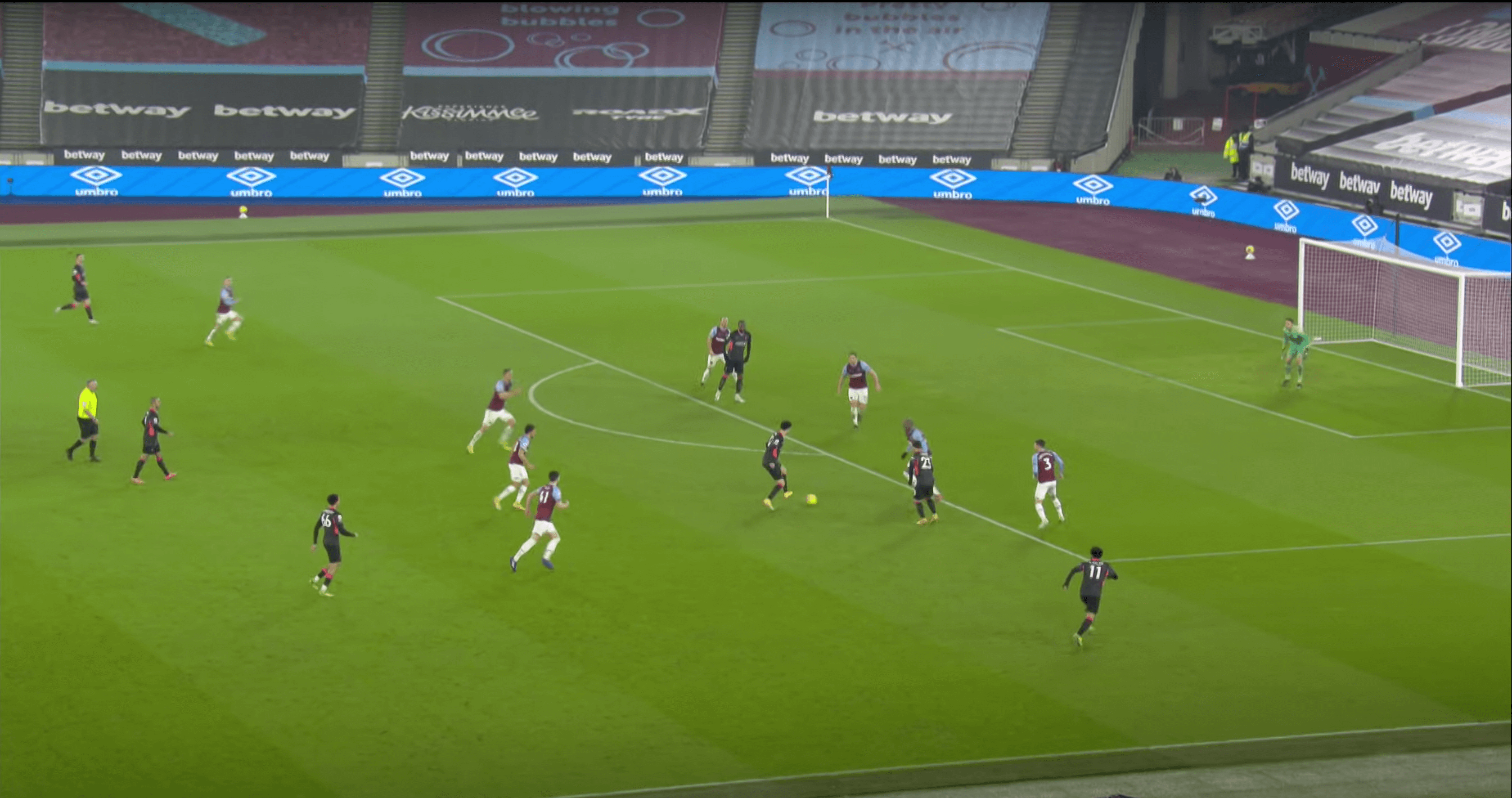 Lastly, and most importantly, we can also see West Ham defending in a dynamic phase, rather than a static one. When an attacking team is able to run at a defending team, and the defending team also has to adjust their positions and shape accordingly, it's easier for space to open up, for players to find that space and then to exploit it. This is exactly what Liverpool did, and we can see how Shaqiri and Jones are moving at the same time as Salah.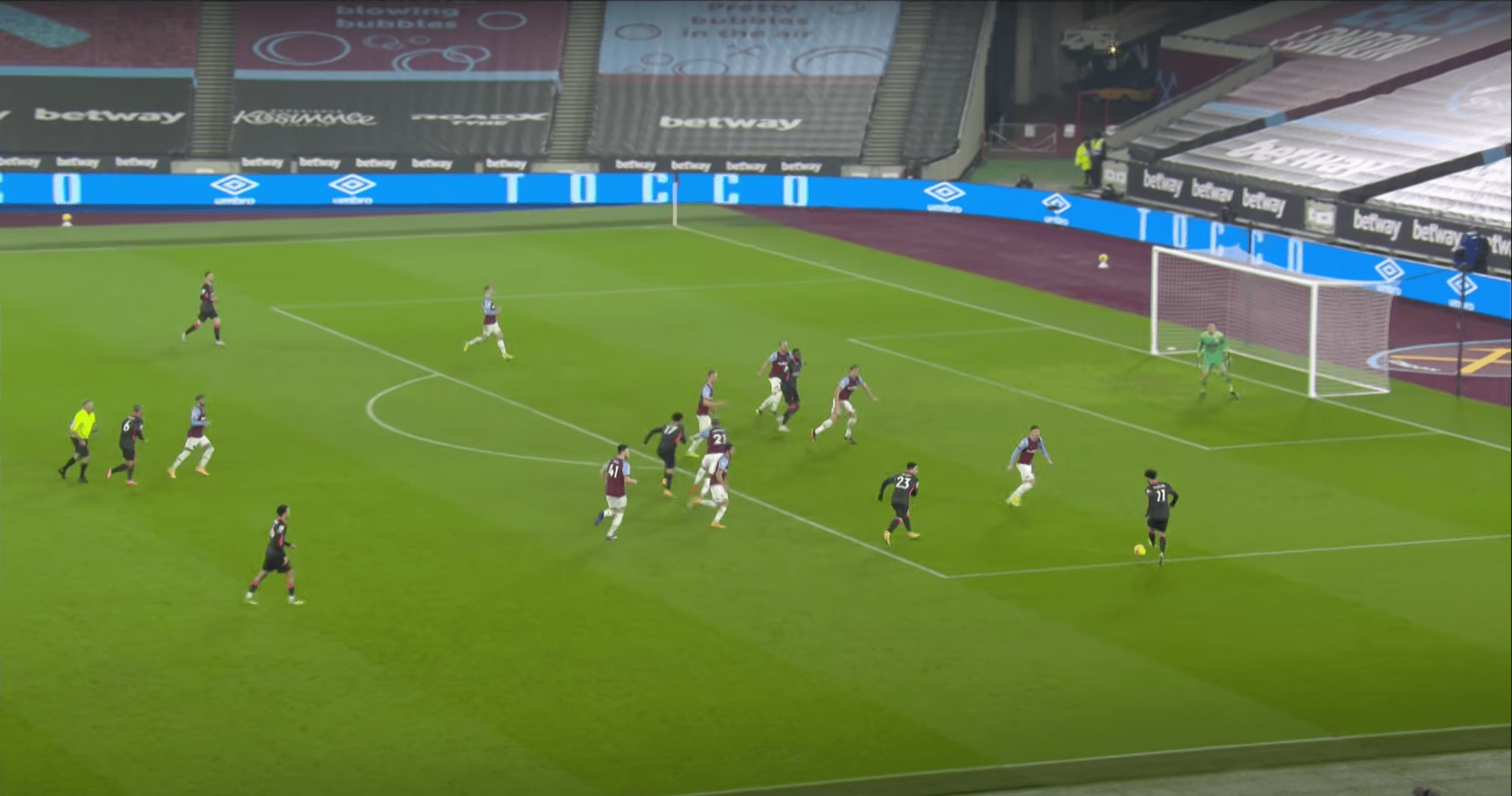 Salah's opener was the product of some intelligent and direct buildup, tactical changes, but also individual brilliance, and as ever, the first goal fundamentally changed the nature of the game. Now the pressure was on West Ham to equalise, and sitting back was no longer an option.
West Ham's troubles were compounded when Liverpool broke from a defensive set-piece, as Alexander-Arnold switched play to Shaqiri, who then delivered a brilliant dipping cross into Salah, who controlled the ball magnificently whilst running, before gently dinking the ball into the goal with his second touch. It was a marvellous goal, with the most sensational bit of skill the sublime first touch from Salah with his weaker foot.
A third goal followed for Liverpool as substitutes Oxlade-Chamberlain and Firmino combined to set up Wijnaldum, with the side again attacking dynamically, moving the ball forward and at speed, unsettling the West Ham line.
Dawson headed a late consolation goal, capitalising on a Phillips and Robertson mistake, but given West Ham's brilliant set-piece record this season, and Liverpool's relative lack of height, David Moyes will probably be disappointed his side could not force any more corners or make better use of the set-pieces they did have.
This was a very engaging tactical game which really underscored the importance of midfielders and fullbacks supporting the forwards. Thiago and Alexander-Arnold, in particular, both passed to Salah regularly in the second half, and it was no surprise his performance reflected that. The challenge now for Liverpool is for them to sustain the level of ingenuity and dynamism they displayed in the second half.
It's absolutely no surprise at all to see Salah's impact on matches improving as he's involved more. The match against West Ham saw him receive 12 passes from TAA, 9 from Thiago & 8 from Shaqiri. Graphics courtesy of @StatsZone pic.twitter.com/lfc0TdlEzz

— Hamzah (@HamzahKL97) February 1, 2021