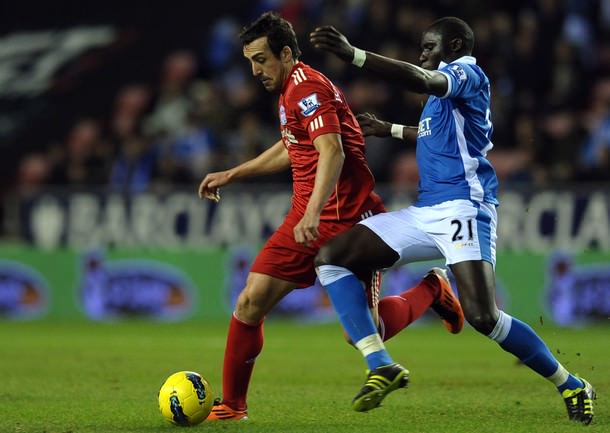 José Enrique effectiveness vs. Wigan
Quality left-backs at Liverpool have been a premium down the years but the acquisition of José Enrique has proven to be an excellent signing. Defensively, he is everything you need in a full-back; he's strong so holds attackers off with ease, calm and confident on the ball, quick, his positional sense is second-to-none and he knows exactly when to put his foot into a tackle. At £6 million, 'El Toro' is quickly becoming one of the signings of the season. His stellar performances this season have been consistent and last night – at Wigan – was no different.
In a performance that warranted goals, the Reds could not get the ball passed the impressive Ali Al-Habsi. Chances came and went for Glen Johnson, Dirk Kuyt and Charlie Adam, but the standout player on the night for the away side was José Enrique. Many would agree that Liverpool's three best players so far this season have been Luis Suarez, Lucas Leiva and Enrique.
Some of his performances may have gone unnoticed due to the sensational Suarez and classy Lucas, but last night, the Spaniard stood head and shoulders above everyone and deserves the praise aimed in his direction.

With Liverpool having the majority of possession – 55.3% to be precise – Enrique didn't have much tackling to do. He won his only tackle on the night.
Liverpool fans know how good Enrique is on the ball; he can dribble passed players with ease and has extremely quick feet. His passing never goes unnoticed and with a total of 54 passes completed from an attempted 66 in open play (65/84 overall), his passing accuracy hit a very impressive 82% – one of the highest in the team.
He chipped in with his crosses as well, sending 5 into the Wigan penalty area. Only 1 was successful and a lot of the time, this can be down to the movement of the forwards, and not the quality of delivery. At one point, he even powered his way past a defender and into the penalty area.
His effectiveness in the final third was impressive, creating one chance and winning two corners – suggesting that he spent a fair amount of time in attack. To back this up, his final third passing was impressive, completing 20 of his attempted 26. He also completed 32 out of 48 passes in Wigan's half of the field.
He completed all 23 passes in his defensive third, showing his calmness and quality on the ball. Often, Enrique turns on the ball or beats an oncoming player before releasing the ball.
Now, from these statistics it is clear to see how good his passing was last night, but what must be his most impressive stat is the amount of touches he had: 98. That is a massive amount of time on the ball and it is this reason why I chose him as Liverpool's Man of the Match. The away side had a lot of the ball last night but for a full-back to get the ball on 98 separate occasions is staggering. Yes, full-backs do tend to get more of the ball in the modern day game but if you have a pacey winger like Stewart Downing in front of you for much of the match, you may not see the ball as much as you would like.
This player influence screen shows how much of the ball he had:
His possession duels were split 50/50, winning 9 of his 18 duels. 'The Bull' also won 3 fouls, conceding just the one in his 90 minutes.
Now that Lucas is out for the rest of the season with injury and Luis Suarez is set to miss a fair chunk of games due to a ban, it allows José Enrique; 'El Toro', to put his name in the hat for Liverpool's Player of the Season. He has already caught everyone's eye with a string of impressive performances but if he carries on playing like he did last night, then he will surely grab the accolade at the end of the season. Let's just hope Barcelona don't come sniffing around, eh?
Follow me on twitter: @JackWatsonLFC