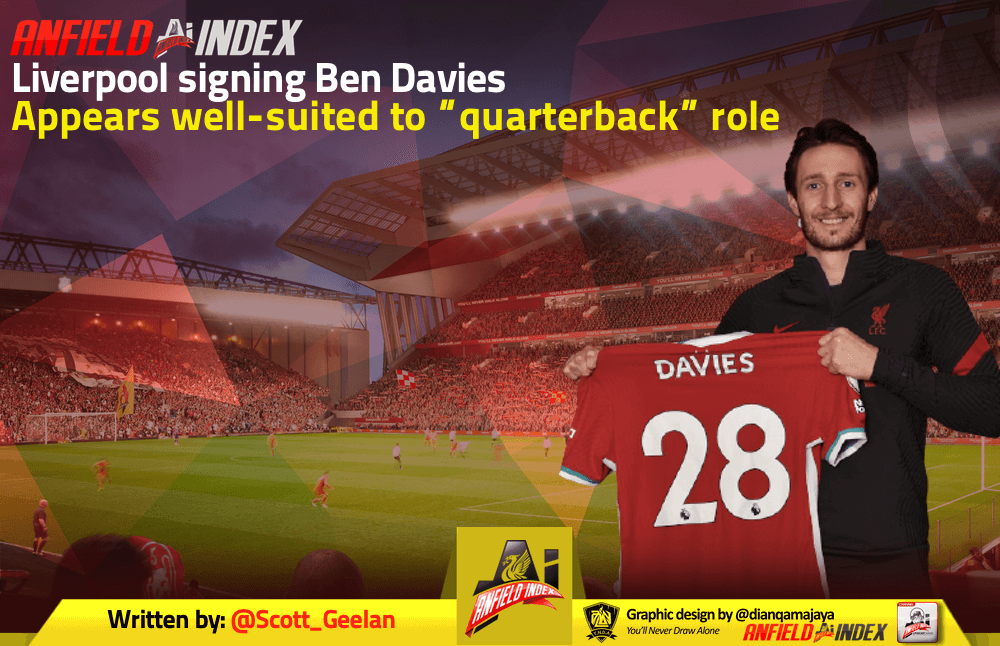 Liverpool signing Ben Davies appears well-suited to "quarterback" role

After days of nothingness mainly made up of endless scrolling through Liverpool Twitter (presumably), Michael Edwards was evidently moved enough by fans' pleas to leap into action with deadline day looming. With fears the team's season was slipping further away with every new injury at the back and its knock-on effects through the rest of the team, Liverpool have signed Preston North End defender Ben Davies as part of their attempts to fill their once-gaping void at the centre-back position. 
Just days ago, it was widely reported the team would stand by their surviving collection of centre-back options. However, Fabinho joined Virgil Van Dijk and Joe Gomez on the injury list prior to Liverpool's trip to Tottenham last Thursday, before Joël Matip's absence from the Kirkby medical room was cut short by an injury suffered in North London that will reportedly rule him out for the season. 
Subsequently, the team performed an abrupt about-turn and moved to address the centre-back position. Unlike many deals that happen at the end of the January window as a result of multiple injuries, Liverpool's business did not feel panicked. Davies arrived on a cut price, incentive-driven deal, followed a few hours later by Schalke's Ozan Kabak.
Conversely, in typical Liverpool fashion, both moves have likely been heavily informed by data, with the Davies move likely being substantially influenced by his offensive contributions. Whilst I do not have access to the advanced statistics / models that Edwards can peruse when not reading our assorted social media pleadings, some more basic numbers highlight where the former Preston defender likely caught the eye. 
The left-footed Davies, who is capable of playing centre-back or left-back, has impressive passing range and is the most accurate long passer amongst qualifying  Championship centre-backs (800 minutes or more played this season). Overall, his passing accuracy is his standout statistical feature. 
Ben Davies pass accuracy percentile ranks, 2018/19 – 2020/21
| | | | | |
| --- | --- | --- | --- | --- |
| | Pass to the final third accuracy | Progressive pass accuracy | Pass to the penalty area accuracy | Long pass accuracy |
| 2018/19 | 70th | 96th | 82nd | 95th |
| 2019/20 | 85th | 86th | 86th | 89th |
| 2020/21 | 97th | 95th | 85th | 100th |
These statistics (and the fact they have remained at a high level for at least the past three seasons) suggest his passing ability has a fairly solid chance of scaling to his new, more possession-dominant club: Liverpool average 62.38% possession this season vs Preston's 49.63%. 
His accuracy has also ensured his volume of successful passes of each type remains high, despite the fact he is the bottom third for total passes per 90 in the Championship this season. When he was making an above average number of passes per 90 (as he was last season), his volume of successful final third, progressive and long passes was extremely impressive.
Resultantly, Davies appears to have been identified as a player who can at least replace the progressive and long passing abilities of Liverpool's missing centre-backs (particularly Matip and Van Dijk). Liverpool's willingness to persist with centre-midfielders at the centre-back position this season was indicative of their desire to retain ball-playing quality at the position; Jürgen Klopp has said as much in interviews. It also explains their preference to play Rhys Williams at the expense of the more experienced Nat Phillips. Given how much possession Liverpool traditionally enjoy and the set-ups they generally face, prioritising the centre-backs' offensive contribution over their defensive contribution does make sense. With Matip being lost for the season and the knock-on effects of losing Fabinho and Jordan Henderson from the midfield being felt across the pitch, it appears the side have made a move to add a progressive talent to the back line.
Davies' progressive ability will hopefully give Klopp more tactical freedom with his other selections. It will allow Henderson and (hopefully in the near future) Fabinho to play a larger role in the midfield rotation. This will help with players' conditioning, potentially re-invigorate the side's counter-press and enable better cover in midfield for Liverpool's full-backs and, in Fabinho's case, add a more impressive aerial presence in the 6 position. The latter itself may make it viable to play Henderson at centre-back alongside Davies, in certain scenarios. This will ensure the side has two progressive options at centre-back. A horses for courses approach at centre-back is made infinitely easier by having multiple horses to choose from.
In addition, Davies is likely to be able to provide the left-to-right switches of play that Liverpool have missed since Van Dijk's injury. Though Van Dijk was right-footed, he was very capable of playing inside-out passes to Trent Alexander-Arnold on the right flank. These passes were a crucial part of Liverpool's offensive arsenal. They got Alexander-Arnold the ball to deliver / progress whilst the opposition block was moving whilst simultaneously ensuring Alexander-Arnold's main offensive shortcoming – his relative lack of 1 vs 1 space-creating and dribbling ability – was rendered largely inconsequential by the space he initially received the ball in. Davies' passing range may in turn bring a concurrent increase in Alexander-Arnold's efficiency.
There are questions that will still need to be answered of course. His aerial ability has been questioned – he has been in the 26th, 47th and 22nd percentiles for aerial win percentage in the Championship in the past 3 seasons, which is decidedly poor. This does potentially limit the viable selections around him. His ability to defend against Premier League pace and movement, whether in space or close quarters will also be tested. This excellent thread highlights Davies' abilities both on and off-ball, but even in some of the defensive clips which are praised, he is reactive rather than proactive in his positioning. Premier League quality may punish those lapses.
Nevertheless, this looks a smart signing for a number of reasons. Davies offers passing range, an effect of which may be improving Alexander-Arnold's efficiency. He can provide cover at both centre-back and left-back, and has demonstrated he has the defensive ability to survive in the spaces he will find himself in in Liverpool's system. His presence (alongside Kabak) will return Liverpool's midfield rotation to closer to maximum capacity, giving more freedom to Klopp's midfield selections, which in turn can have other tactical effects. For a very small fee, Liverpool are also likely to make a profit on the player in the future. This is especially likely given they appear to have signed him precisely because they want to utilise his very specific ball-playing strength, shop windowing him at a high level. This ability to identify specific skillsets to be maximised has been a hallmark of Liverpool's recent recruitment, and the club's signing of Davies appears to be another example of that.