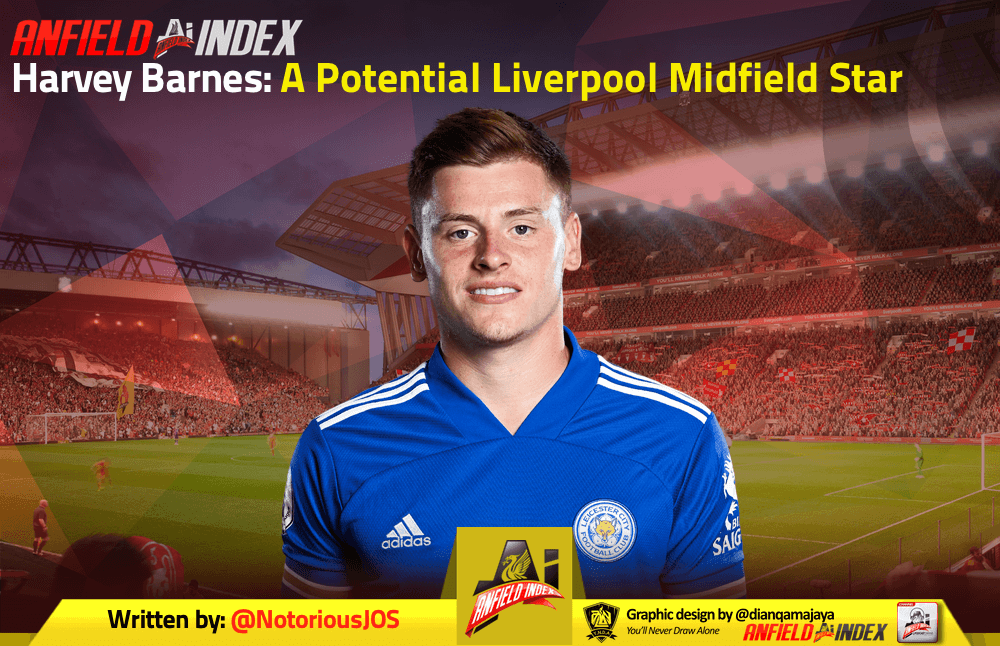 Harvey Barnes: A Potential Liverpool Midfield Star
Alex Oxlade Chamberlain has endured a frustrating season with Liverpool.
The English midfielder has missed 20 games so far with a knee injury that sidelined him from late August until December.
And when the 27-year-old has played he has, understandably, looked short of rhythm and has — aside from a beautifully executed back heel that allowed Roberto Firmino to assist Georginio Wijnaldum's goal against West Ham last weekend — failed to make a mark on the game's he played.
The former Arsenal man's struggles are a far cry from his debut season at Anfield where, after a period of adaptation, he excelled as a central midfielder in the second half of the 2017/2018 season. With three Premier League goals and seven assists, the England international was in sublime form before a ruptured cruciate ligament sustained in the Champions League semi-final against Roma halted his progress and saw him miss almost a year of action.
Such was the extent of the injury, many were surprised that the Southampton academy graduate was able to return to play football at the highest level. However, after returning in 2019, Oxlade Chamberlain hasn't recaptured the sort of performances that saw him become an important lieutenant for Jurgen Klopp in the Reds' run to the European Cup final of 2018.
With the emergence of both Curtis Jones and Harvey Elliott — a player whose sterling performances on loan at Blackburn Rovers will surely see him given a crack of the first team whip at Anfield next season — questions will be asked about whether Liverpool's number 15 has a future at the club.q
If Oxlade Chamberlain — whose ambition and hunger to improve saw him reject Antonio Conte's Chelsea and facilitated his move to Merseyside from Arsenal for £35,000,000 — were to choose to move to pastures new a player who could replace him as a powerful, box to box central midfielder who can contribute goals to the cause is Leicester City's, Harvey Barnes.
The 23-year-old winger has been an outstanding performer for Leicester this season as the Foxes chase the Champions League qualification they ought to have secured last season. To date, Barnes — who primarily plays on the left flank — has scored seven league goals and has laid on three assists for team-mates.
Although the England youth international plays in the attacking line, he has all the credentials — like Oxlade Chamberlain did, who, for context, primarily played on the flanks for Arsenal either as a wing-back or as a winger — to be repurposed as a central midfielder.
Standing 5'9″ but with a stocky, athletic build, Barnes has the power and pace to hold his own physically in the crucible of a midfield engine room. With a successful pressure rate of 31.9% — which is defined as the percentage of times the team recoups the ball after five seconds of the pressing movement — the former Barnsley loanee, who presses primarily in the middle third of the pitch, is well adept against the ball and is proactive in his defensive duties.
On the ball, Barnes is ambitious and looks to play with penetration. A key feature of Oxlade Chamberlain's play as a central midfielder is his ability to pick up the ball in deep and to powerfully bludgeon his way through the opponent's midfield in the manner of a swashbuckling rugby player.
Attempting 2.7 dribbles a game — with a 41.2% rate of completion — the 23-year-old is both capable of and willing to take the game to opponents by running with the ball. These figures, however, pale in comparison to Oxlade Chamberlain's 17/18 season dribbling success figures of 64.2%, but the England international attempted more dribbles per 9o, 3.19 to 2.97, than Barnes has this season.
In terms of passing, the Leicester attacker averages 1.05 key passes — which are passes that lead to shots on goal — per game and completed 64% of his long passes, which are defined as passes that go longer than 30 yards. Liverpool likes to mix their play up and play long passes to quickly change the point of attack, so the capability to play booming, arrowed balls over big distances is an attribute they like in midfielders.
Barnes only attempts 0.4 switches — which are passes that travel 40 yards across the width of the pitch — per 90, but this could be attributable to Leicester preferring a shorter passing game under the guidance of Brendan Rodgers.
Liverpool have proven that they like to think outside the box with their signings and enjoy the project of converting players into new roles — think Firmino becoming a false 9 and Wijnaldum transitioning into a deeper midfield role — and Barnes would be an ideal candidate to replace Oxlade Chamberlain if the powerful midfielder was to leave Anfield any time soon.
Valued at  €28,000,000 by Transfermarket, which is likely a conservative estimate, the Foxes' flier would be an expensive acquisition, but — as a central midfielder or even his natural, winger role — his upside is huge and it would be great to see him ply his trade with the English champions. 
All stats sourced www.fbref.com