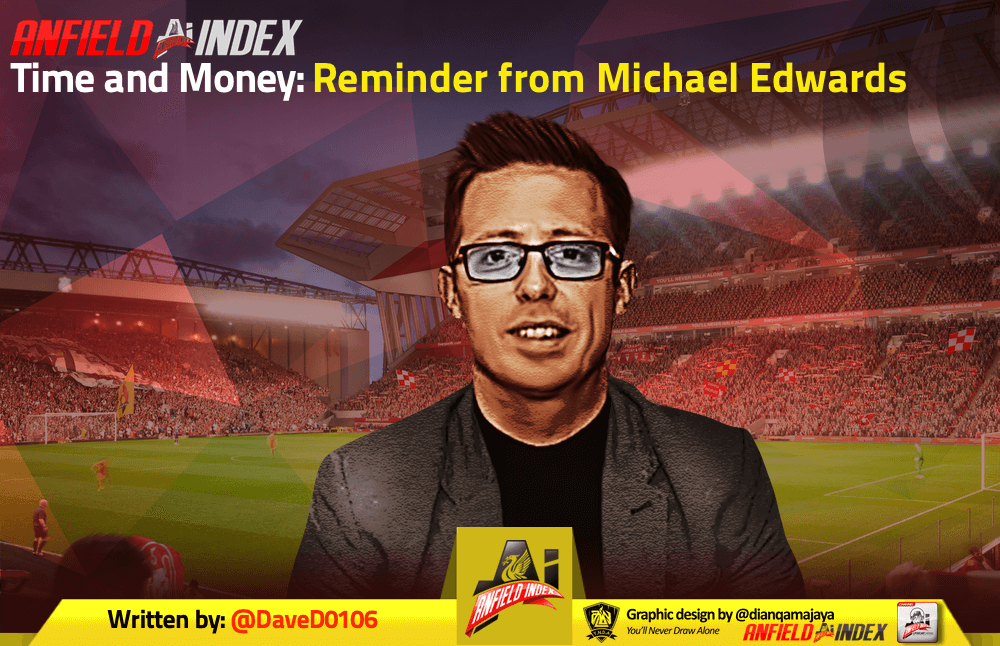 Time and Money: Reminder from Michael Edwards

Benjamin Franklin said time is money in 1748. In 2021, there's no-one more acutely aware than FSG and crucially Michael Edwards. The transfer window opened on 1st January, but it's been clear for some time of Liverpool's needs in defence. However, the exact needs only became abundantly clear to everyone late last night. In a race against time and with funds clearly tight, it became clear that all the days business had been done efficiently.
To start at the beginning would be wrong. You need to start at what Liverpool knew at the start of the day. Unbeknown to most, ankle specialists (plural as LFC had sought a second opinion) had confirmed that Joel Matip's season was over. An innocuous block from Son against Spurs in the 19th minute produced no visible effects, yet the ramifications were huge. Liverpool knew they had zero senior centre half's available in what made an unprecedented season even stranger.
Hence, Michael Edwards begun the process of what many referred to as 'the plates spinning'. The signing of Tom Davies had already been negotiated and an initial transfer of a up to £2.5m had been suggested. Yesterday though, a mix of Edwards skills and Liverpool's limitations was clarified for all. An initial £500,000 with potential to rise up to £1.6m had seen the Preston defender pinched from under Celtic's noses. A homegrown, little-risk signing meant Klopp had at least one in the door and the club had a player worth more than the fee already. Time will tell how an England cap clause is viewed.
Approaches had been made to Marseille for Duje Caleta-Car and Leverkusen for Edmond Tapsoba, according to stories throughout the day. Quotes of £23m (Caleta-Car) and £44m (Tapsoba) didn't appear impossible. Numerous reports even suggested the Croatian defender had a private jet chartered and ready, simply awaiting the go-ahead from Marseille. Mentions of Bremer, Botman and others came and went throughout the early morning. Whether it was down to the French club not being able to find a replacement or not, Liverpool's financial limitations soon became clear for all in the afternoon.
After a simultaneous move for Braga's David Carmo (also on loan), it became clear that Liverpool were pressing ahead for Ozan Kabak. Klopp admitted he'd done his research with old friends (Wagner and Mislintat), which left Edwards with the job of finishing a deal with the cash-strapped Schalke. Mustafi joined from Arsenal before the 5pm German deadline which meant that the optics were all that was really left. Initial reports from many such as Romano, suggested a loan fee with an obligation to buy for around £25m looked likley.
Schalke probably hadn't reckoned on the shrewd and ruthless operator they-were dealing with. Knowing Kabak's desire to leave, the German clubs finances as well as our own a £1m loan fee with an option to buy of £18m with add ons was finalised. With a medical having already taken place in Germany too it became clear which club had negotiated the best deal. A try before you buy means in the worst case the club have committed to a £1 million for a natural centre back to finish the season. If Kabak succeeds, £18 million will seem like a snip. This signing may seem like you're gambling at a casino but that is always the case with transfers, you can get a casino bonus yourself, for more information go to Frescasinobonus.com.
As reds everywhere begun to draw breath, later breaking news indicated Liverpool weren't done for the day. Despite many appearing upset, Taki Minamino agreed a six-month loan to Southampton with no option to buy. A £500,000 fee for a player who has played eight minutes since his goal against Crystal Palace seemed wise. If you're behind Origi and Shaq with Jota still to return, a move for game time should rightly be a priority for you. For all the talk about training performance, Minamino as a chance to show his ability and hopefully get a run of games.
So £1 million pounds. The total cost of Liverpool's money and time on deadline day. Davies and Minamino offset each other and all that remains is the Kabak loan fee. Liverpool have two new central defenders and a player arguably eighth in the pecking order gets a chance for game time. When you put it like that, it appeared a tall order at the start of the day. If anyone had forgotten about Michael Edwards, they got a staff reminder by 11pm.