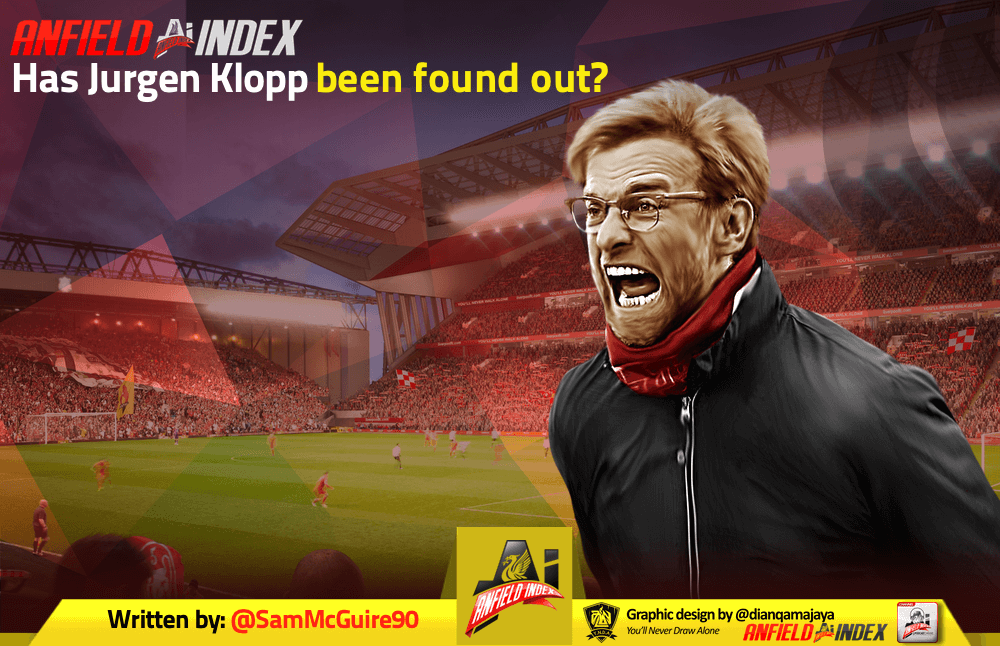 Has Jurgen Klopp been found out?
No.
Thanks for reading. 
In all seriousness, I'm not sure how anyone can come to that conclusion. Yes, Liverpool have lost twice in quick succession, and fortress Anfield has been ransacked. But it's a massive stretch to watch those games and your first thought to be that Klopp has been found out. Yet that's exactly what people are doing. 

When he first joined the club, Liverpool did struggle to break down those low defensive blocks. It was a big thing, especially against Burnley. However, in the seven games between their 2-0 win over the Reds in 2016 and their 1-0 win in January, they picked up two points. One of those draws arrived after the league was won and, if I remember rightly, there were a few questionable calls. Anyway, In those seven matches, the champions scored 16 goals at a rate of 2.28 per 90. 
Across the 2018/19 and 2019/20 campaigns, the Reds racked up 196 points and won 62 of their 76 matches. They won 82% of the games they played and in most of them, they were up against a team sitting deep. 
For Liverpool to look blunt and bereft of ideas, they've had to lose their centre-backs, play their centre-midfielders in defence, not have a number of their centre-midfielders available due to injuries and be without their back-up attacker. That's without even taking into account the fact Trent Alexander-Arnold, Mohamed Salah, Sadio Mane and Alisson have all had spells on the sidelines. 
Those who are fit have been overplayed because Klopp isn't in a position to rest them. Give the likes of Alexander-Arnold and Robertson a rest and you're going into games with a totally different backline in front of a different goalkeeper and behind a frequently changed midfield. Others who are fit have been shifted into new roles to cover for the absentees. It's a domino effect. 
You get people saying our depth isn't good enough. It isn't when you're missing this many players, but I don't know what team could compete at a consistent level when there's so much change. This isn't FIFA or Football Manager. It isn't just about quality, it's about understandings and they don't happen overnight. 
Mane and Robertson are so in sync down the left that any replacement immediately impacts the fluidity. Football isn't about 11 individuals, it's about how they function as a unit in a system. 
My Dad always says that every job is easy if you have the right tools. When you look back at those two seasons of domination, when Liverpool were able to keep the majority of their key players fit, it's abundantly clear that he is right. 
Right now, it looks as though Liverpool's system is too dependant on certain players. To be at 100%, they do need key players to be fit. But they've managed without the odd one here and there. This is different. 
Klopp is missing Virgil Van Dijk at centre-back. He bullies opponents and his on-ball ability was key to how the Reds would create counter-pressing situations. Fabinho was instrumental in pinning the opposition back. He'd sweep up everything and ensure his side could keep turning the screw. He was also an expert at playing those little passes over the top for Mane and Salah. This team is missing all of that. They're also having to reign in their full-back to support their makeshift centre-backs and this impacts how they attack. 
Whenever Klopp tries a new midfield, Firmino drops deeper to act as a safety blanket. Liverpool then lose their link between midfield and attack. People are also ignoring the fact many of these starters aren't used to playing so much football in such a short period of time. Fatigue will be playing a part. 
When everyone is fit, it's fine. But during an injury crisis, it isn't what you want. 
The Reds knew how to beat those low blocks and they added Thiago to give them even more options. I don't quite understand why people are rewriting history and pretending as though this team basically fluked their way to 196 points relying on ricochets and Virgil van Dijk headers. 
Has Klopp been found out? No. Is he struggling because he's been missing large chunks of his squad all season? Yes.