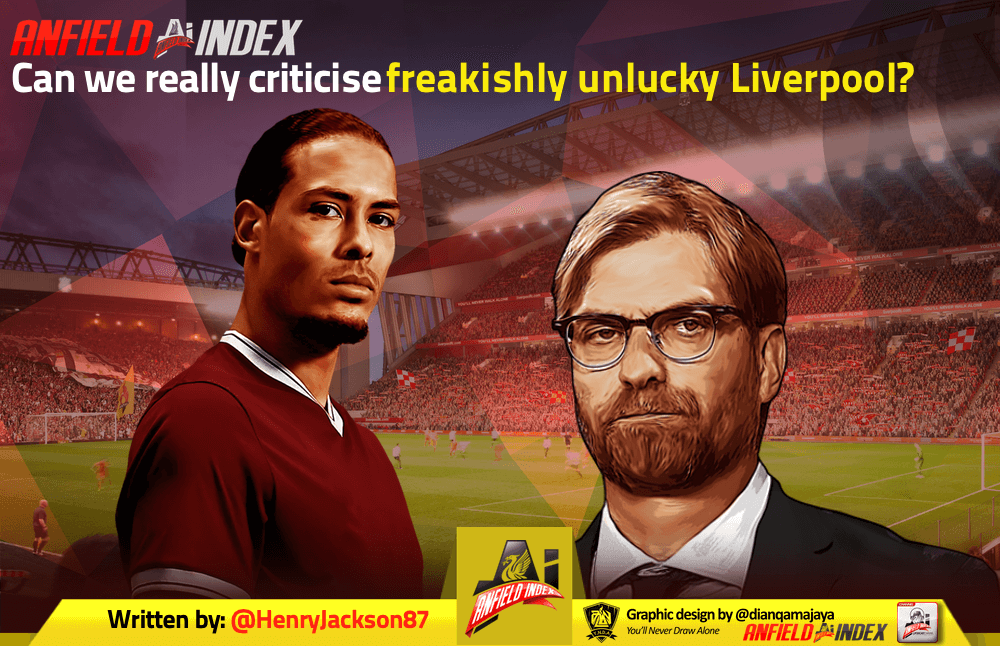 Can we really criticise freakishly unlucky Liverpool?
Sour grapes. That's what any rival supporter will tell you. But it's not, is it?
Liverpool started the season as reigning Premier League and world champions, as well as recently dethroned Champions League winners, looking primed for another dominant campaign.
No key players departed, those below them in the table didn't look remotely scary and silverware appeared likely for the Reds again, whether it be domestically or in Europe.

What has materialised in the last five months, however, has been one of the most unlucky spells in the history of the club – a period in which the wheels have come off and Jurgen Klopp's men have been powerless to do much about it.
It all started well enough, with three wins in a row to begin their league campaign, including a win away to Chelsea and victory at home to Arsenal.
Then Aston Villa away happened. That 7-2 defeat may have felt like a freak game at the time – a one-off match that can happen to anyone, with three deflected goals thrown in – but it acted as a catalyst for a season has become laughably unfortunate.
When we look back on 2020/21, once it finally ends, we will view the 2-2 draw at Everton in October as the defining game, though, in terms of where it really went wrong.
Liverpool have experienced few bigger injustices than the shambles that took place at Goodison Park, with Virgil van Dijk's season ended in shocking fashion and Jordan Pickford not even sent-off for the challenge, before Thiago was also taken out of the equation for three months and Jordan Henderson was robbed of a stoppage time winner.
That was a sign of things to come, as the Reds racked up an injury list that has become scarcely believable, making it impossible to pick up any sort of momentum.
Joe Gomez and Joel Matip won't play again this season, like Van Dijk; Diogo Jota has already been out of two months and isn't back yet; Fabinho and Sadio Mane are currently sidelined and the likes of Alisson, Trent Alexander-Arnold, Henderson, James Milner, Naby Keita, Alex Oxlade-Chamberlain and Xherdan Shaqiri have all been out, too.
Honestly, what do you expect?
If we aren't allowed to make excuses about this, then we will never be able to, because these injuries have essentially cost Liverpool their shot at back-to-back league titles.
It has not only left Klopp unable to field some of the best players in the world in their position, but it has also made the squad so much smaller, not allowing for rotation.
Legs and minds have become more jaded by the week, and while positive results have been achieved, that next poor result has never felt far away.
Wednesday's 1-0 defeat at home to Brighton was arguably the Reds' flattest showing yet in 2020/21, on an evening that essentially saw their titles hopes ended.
Liverpool's starting lineup featured Caoimhin Kelleher in goal and a centre-back pairing of Nat Phillips and Henderson – imagine being told that would be the situation this time last year – highlighting the situation Klopp finds himself in.
While Liverpool's starting lineup was still relatively strong on paper, too many individual performances were those of ground-down players with increasingly little to offer, whether it be flagging full-backs Alexander-Arnold and Andy Robertson, an ageing Milner in midfield or a lifeless Roberto Firmino in attack.
It has taken its toll, and that's just the injuries.
On top of that, no fans in stadiums has made for a pale imitation of the football we know and love, with matches feeling empty, both literally and figuratively.
Every team has suffered without their supporters cheering them on, of course, but Klopp and his squad feed off that energy more than most, with fans helping play a key role in Liverpool's "our identity is intensity" mindset.
Without fans, it has been almost impossible for the Reds to be as intense as we saw in both 2018/19 and 2019/20, especially when so many players are in the treatment room.
Then there's the various VAR calls that have gone against Liverpool, are selection of which are below:
Mo Salah not being given a blatant penalty away to Aston Villa
Jordan Pickford not getting sent-off in the Merseyside derby
Mane being given offside in the lead-up to Henderson's goal at Everton
Fabinho's tackle outside the box at home to Sheffield United being given as a penalty
Joe Gomez's handball against Man City that earned them a penalty
Salah being harshly given offside in the 1-1 draw at Brighton
The late penalty Brighton received after Andy Robertson's 'foul' on Danny Welbeck
This isn't a made-up sob story – just look at the statistics and you will see that Liverpool have been robbed the most by VAR out of all 20 Premier League sides.
Equally, how many decisions have Klopp's team had in their favour? It is difficult to think of a single one that has felt even remotely fortunate.
Liverpool may be "Mentality Monsters", but even for them, this tidal wave of obstacles the Reds have had to deal with this season have been too relentless to overcome.
It would be wrong to absolve Klopp and his players of all blame, though, before they get off scot-free.
They have been insipid in a string of winnable games in the last month or so, looking devoid of creative ideas, while Klopp himself has had one of his poorer spells as manager.
Some of the starting lineups haven't looked right from the off, substitutes haven't always been used well and constant use of Divock Origi boggles the mind, as does the decision to send Takumi Minamino out on loan.
Ultimately, however, there have been too many negatives out of Liverpool's control to manage this season, making a third year of near-faultless brilliance impossible.
Retaining such incredible consistency for a third season in succession was always going to be a stretch, but a deadly blend of endless injuries, no fans, dubious VAR calls and generally woeful officiating have all put paid to it.
The season isn't over, by any means, with a top-four finish still highly likely and a long run in the Champions League always possible, but we will all feel like taking a huge breather when it all ends in May.
Once Van Dijk and other key men are back, vital players like Fabinho and Henderson return to their best positions and the many thousands are back inside Anfield again, we will see this magnificent Liverpool side thrive once more.
For now, don't be too harsh on them.