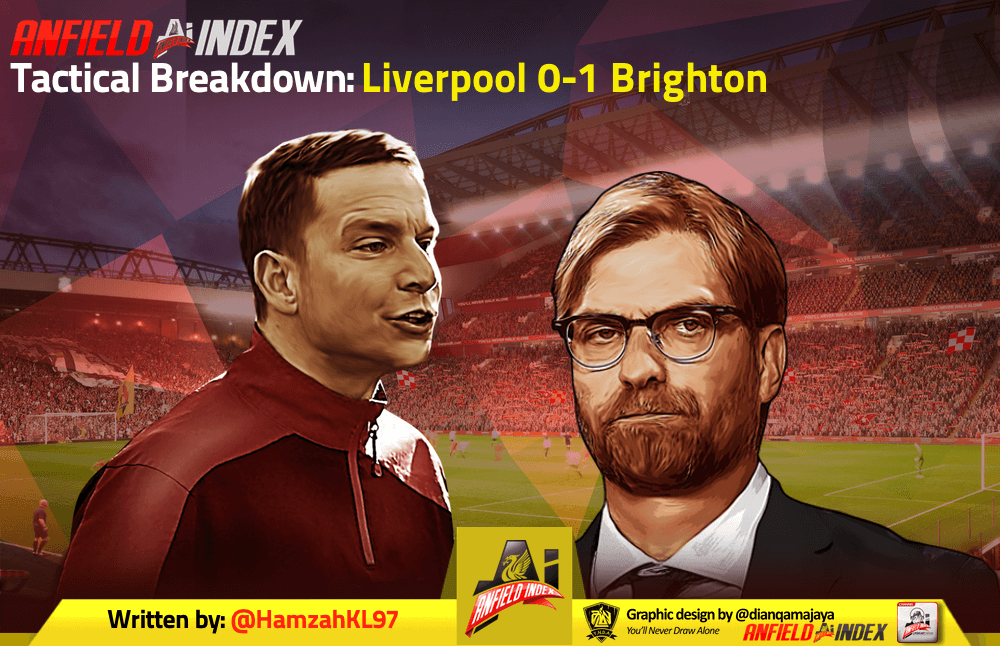 Tactical Breakdown: Liverpool 0-1 Brighton
Jürgen Klopp's Liverpool lost 1-0 to Brighton at Anfield to leave their ambitions to retain the Premier League title in tatters. They were without both Alisson and Sadio Mané, compounding the tactical issues that long-term injuries to Van Dijk, Gomez, Matip, Keïta and Jota have caused.
Systems
Liverpool set up in their usual 4-3-3, but with both Mané and Jota unavailable, the home side did not have a winger to suit their player profile and Xherdan Shaqiri was moved from the no.8 position, where he has excelled recently, to the left-wing. The midfield featured Wijnaldum as the no.6, Thiago and Milner in no.8 positions and Firmino between the lines. The champions' backline saw Alexander-Arnold and Robertson flank Nat Phillips and Jordan Henderson, whilst Caomihn Kelleher deputised for Alisson.
Liverpool's 4-3-3 system, requires a very specific type of winger, especially as the no.9 often drops into deep positions. These wingers need to be dynamic, quick, strong in one-on-one situations, able to move inside quickly and crucially, explosive. These qualities need to be present on both wings, because if only one side has a winger who can break into space explosively – in this instance, Salah – it's much easier to defend and double up on.

Brighton's system was a 3-5-2. In this shape, Brighton were instructed to press high when the ball was at the feet of Kelleher and Phillips. When they did so, Bissouma marked Wijnaldum extremely tightly, looking to intercept the ball and break immediately onto the exposed Liverpool defence. Both Groß and Alzate pushed up on Thiago and Milner in these situations too. If Liverpool broke beyond the press though, Brighton would immediately drop into a deep block, and forego establishing a mid-block.
In possession, Brighton also looked to encourage Liverpool to press, with the hope of drawing them forward, and opening up a diagonal pass, from which they could break. Brighton rarely kept the ball long enough for the Reds to win possession.
Liverpool attempted on a number of occasions to hit early passes from deep, before the Brighton defence could settle into shape. This is a common tactic from the Reds, and it nearly worked early in the first half, as Henderson played a direct pass in behind to Salah, who controlled the ball before striking the ball well over Robert Sanchez's goal.
Unlike in recent games where Liverpool struggled to progress the ball on the right side due to Alexander-Arnold's deep positioning, in this game he started further upfield. However, he did not move into the final fifth of the pitch, or inside the box as much as the team would have liked to break down the low block.
Central to Liverpool's problems though was bad execution. Positionally, they were predominantly in good areas, apart from in the final fifth of the pitch. Over the rest of the pitch the team was spaced and positioned well, but line-breaking passes were often mishit and ball control went missing in key moments.
In these wide areas, the Reds lacked width and explosiveness. Liverpool needed to stretch the Brighton defensive line to open up pockets of space between players. Herein lay another issue: the lack of runners.
James Milner and Mohamed Salah attempted to break the Brighton defensive line with runs in behind, but the volume of runs in behind from both fullbacks or Shaqiri and Firmino was not high enough to create consistent problems for Brighton. To make these runs in behind, Liverpool needed to pin the Brighton line in position, but with both Shaqiri and Firmino dropping deep, the Brighton centre-backs were rarely occupied with a player to mark, so when passes were played in beyond them, they could track them comfortably.
Yet for all of their issues, the champions still created two chances for Salah, who will be disappointed he did not score at least one of them. Had he done so, the gamestate would have shifted, and Liverpool in all likelihood would have been able to attack better as the game opened up.
Brighton, to their credit, defended well with a very good compact shape, pressed impressively and broke with enough frequency to just disrupt Liverpool from establishing a rhythm and flow to their play in the final third.
Following the visitors' goal, Graham Potter's side moved into a 5-2-1-2 shape, which compacted both the centre of the penalty area and meant the home side would need at least two players out wide to break around the defensive line. If Liverpool did so, they may have been able to create cutback opportunities, but instead, they reverted to crossing from deep areas and trying to force play through the middle.
Liverpool's shift to a 4-2-3-1 did not help this, and it was obvious that the Reds required either Jota or Mané in the wide areas, or Van Dijk to head in a set-piece, or the guile and dynamic vertical play of Naby Keïta if they wished to play through the middle. Despite a remarkable effort to defy the odds and mount a title defence, overcoming this injury crisis in this particular season appears to be an insurmountable task.
To beat a well-drilled low-block, a side usually requires an early set-piece or error, or fluid, fast and interchangeable play in the final third. However, this is near impossible when players are unable to build rhythm and familiarity with one another as they are regularly moved into different positions as a consequence of injury.
Whereas in recent games, such as the draw with Manchester United, or the defeats to Burnley and Southampton, there was very good activity in and around the box, but some dreadful finishing, this game saw good process in buildup but this was followed with bad decision-making and execution in the final third, which meant Liverpool were unable to sustain attacks and did not manage to pass the ball into the box enough. The StatsZone graphic below demonstrates this, with red arrows indicating unsuccessful passes, dark blue representing successful passes and light blue showing a pass leading to a shot.
Fifteen passes at a 42 per cent success rate is very poor, and when considering the lack of passes in the left and right halfspaces, it's clear Liverpool did not have enough verticality nor the runners to pair with it.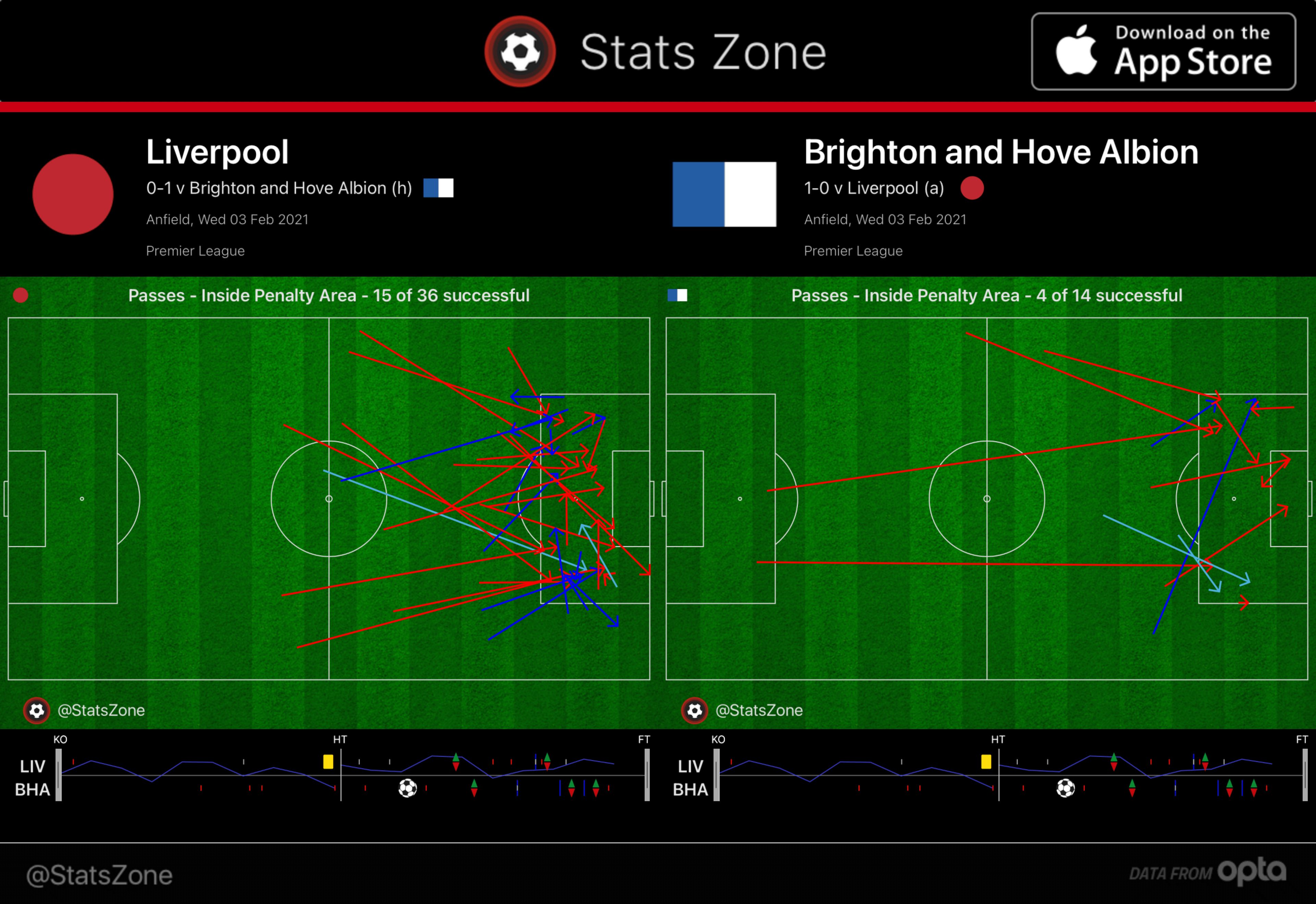 This result leaves Liverpool seven points off the pace of league leaders Manchester City. The champions have shown they have the mettle and nous to win big games when play is open, but breaking down low blocks is the foundation of a league winning campaign, and unfortunately, it appears that their best tools to do so are stuck on the sidelines.