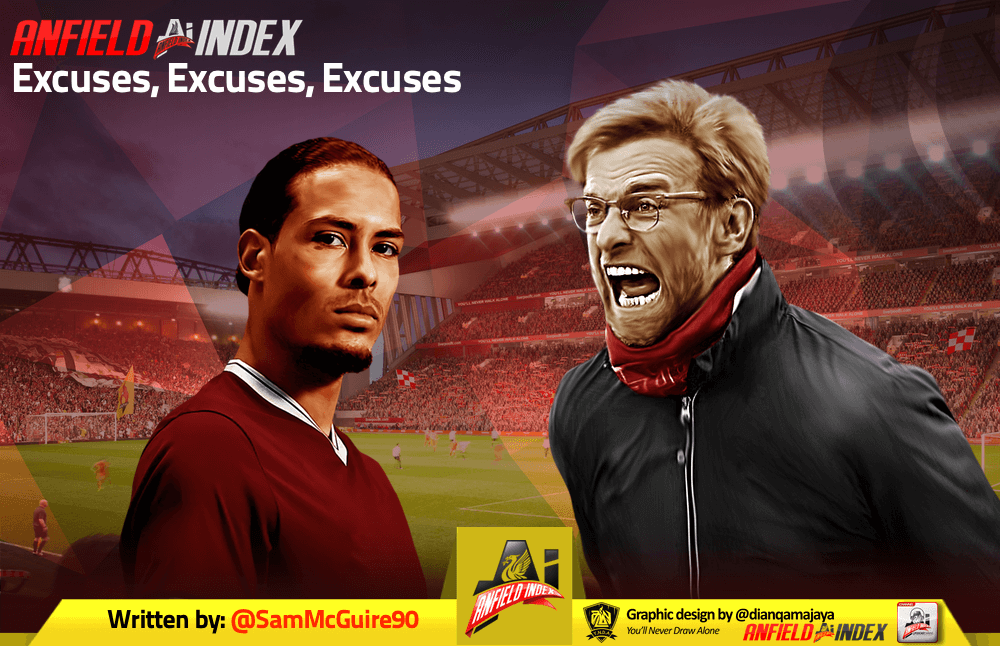 Excuses, Excuses, Excuses
Excuse:
a reason or explanation given to justify a fault or offence.
For some bizarre reason, excuses are viewed as negatives these days. I don't quite understand why given, per the definition, it is a justification as to why something has happened. Obviously, these truths can be embellished and this might why people seem to associate excuses with lies, but, ultimately, an excuse provides context. 
Context is often overlooked in football. This is usually tied to stats, but general narratives regularly ignore context. We're seeing this with Liverpool's form this season. 

There are countless reasons as to why the Reds are struggling. People want to write these valid reasons off as excuses, purely because they prefer to rant and shout for change. I get that it is a frustrating time. I hate losing and I can't stand abject performances, but what we've witnessed recently is hardly a true representation of Jurgen Klopp's Liverpool. And nor should it be. 
The champions aren't at full strength and haven't been for most of the season. Those who are fit have been overused because others are missing and you need some sort of continuity in the team. 
Across the last two seasons, Liverpool won 82% of their Premier League matches. They know how to beat a low defensive block. They haven't been found out. They just haven't been able to play their game due to the number of injuries they've suffered. 
I keep hearing people saying that injuries can't be used as an excuse. They can, though. Like it or not, injuries are the reason the Reds find themselves in a fight for top four. 
Liverpool's system is robotic. They squeeze really high, pin teams back and the relentless pressure of having to be switched on for 90 minutes eventually wears teams down. Klopp's team might not press as high as they once did, but their game is still built around counter-pressing. Virgil Van Dijk's ability to switch play stretches the opposition and allows his team-mates to hoover up second balls deep in the opposition's half. With him in the team, the Reds would go from back to front in a matter of seconds. One attack would be repelled only for the champions to regain possession fairly quickly and they'd have good numbers in the opposition half. The ball would then be worked out wide and a cross would arrive. I covered it in my newsletter. 
There was always the Van Dijk threat from set-pieces, too. Liverpool had different avenues to goal, but it was all pretty reliant on the centre-backs. Their pace helped the high-line and ensured the Reds had the ability to quell counter-attacks before they had a chance to progress and their use of the ball stretched teams. Being able to defend 1vs1 meant the full-backs could really commit to going forward. 
Injuries have taken all of that away. It isn't an excuse, it's a reason for why we're seeing what we're seeing. 
Liverpool have been in the top two for crosses for the best part of three seasons now. It's only more noticeable because the other ways they attack have been removed. Mohamed Salah's game has always been built on volume. Him missing isn't new. What is new, however, is the team's inability to create multiple chances for him. So his misses are now much more costly and people are only now beginning to realise he isn't exactly frugal.  
The things people are criticising the team and players for are things which have been present for three years. It just didn't because results were positive. Now they're negative, it's the end of the world. It isn't though, is it? Once key players are back in pivotal roles, things will fall back into place. I'm not even talking about Van Dijk. Just having centre-backs in defence would immediately change the dynamic. Midfielders then return to the middle third and all of a sudden the team looks normal again.