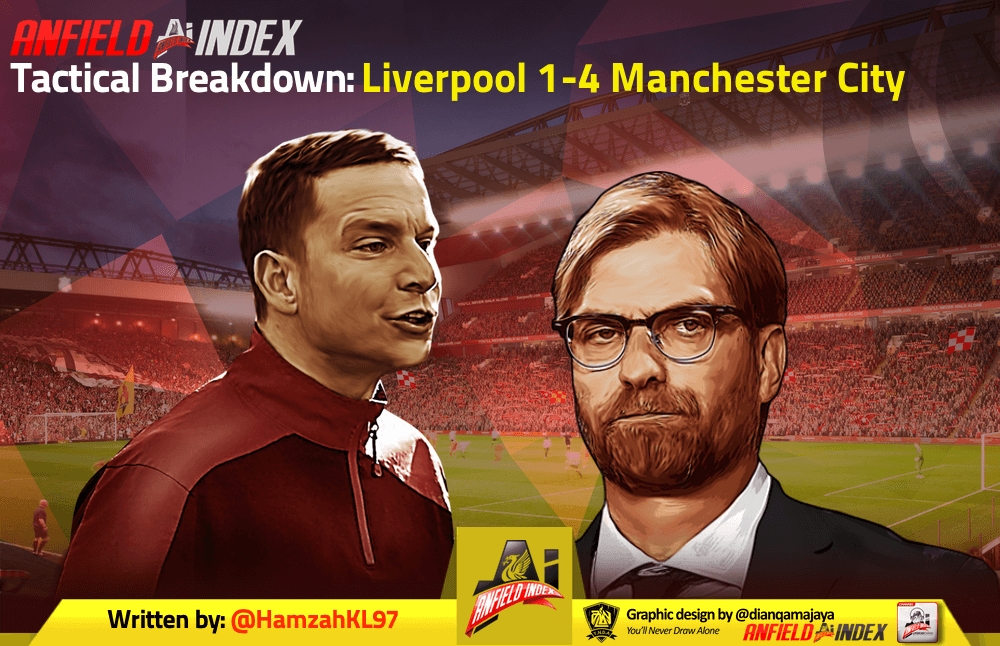 Tactical Breakdown: Liverpool 1-4 Manchester City
Liverpool fell to a third straight league defeat as Manchester City won 4-1 at Anfield. The result all but rubberstamped Manchester City's attempts to reclaim the title, yet the scoreline flatters to deceive in a game that was closely contested but ultimately decided by a number of key individual errors from Liverpool.
Systems
Liverpool were set up in their usual 4-3-3. Initially, they pressed across the front, but as the game wore on their pressing waned. The midfield of Thiago, Jones and Wijnaldum were particularly important to the on-ball system. The no.8s covered for both Alexander-Arnold and Robertson who not only pushed up the field, but pushed wide too. Consequently, Raheem Sterling and Riyadh Mahrez were pinned back in deep positions when Liverpool held the ball, which they did for unexpectedly long periods in the first half. The wide positions of the fullbacks allowed Mo Salah and Sadio Mané to be involved more centrally, and their threat was clearly more present than it has been in recent games.
City set up in a 4-3-3 false 9 shape. When out of possession, this shape was largely maintained, but as Liverpool pushed City back in the first half it seemed like a 4-5-1 at times. When in possession though, Rodri would move into the defensive line, as Cancelo progressed up the field, as an interior fullback, supported by Gundogan.
Guardiola instructed Phil Foden to play as a false 9, but was not entirely happy with his first-half performance. Foden, with the help of Bernardo Silva, attempted to mark Liverpool's two deepest midfielders, Thiago and Wijnaldum, however, these attempts did not prove fruitful in the first half. Compounding City's problems with retaining possession and effectively pressing the deep midfielders were the fullbacks.
Pep Guardiola cited City's difficulty in coping with the fullbacks in the first half, claiming "We could not control the width of Robertson and Alexander-Arnold" in his post-match presser.
Match analysis
The game started tentatively. A stoppage after Thiago fouled Gundogan early contributed to the slow pace. Manchester City looked to press high, hoping to win the ball from the Liverpool defence, but once they broke the press, City dropped back into their defensive shape immediately, much like Brighton did recently. City also paid particular attention to both Wijnaldum and Thiago, with the latter always having one player tasked with applying immediate pressure onto him, to stop him passing forward through the lines into Salah or Mané.
Liverpool had a number of occasions where they broke the City press but instead of playing the aggressive and direct option, the players often played the safer pass and retained possession. Yet despite seemingly looking to manage risk, they made a series of bad passing decisions. These passing examples included forcing passes from too deep, or even worse, forcing passes when the team was not ready to counterpress the ball if it ran loose. This happened a few times with City able to break, and it meant City were able to counterattack when Liverpool were not set up in the appropriate shape to defend those situations. This preceded City's penalty, which was missed by Gundogan, but following this, the Reds really grew into the game, dominating the ball, moving their fullbacks and no.8s into advanced positions, where they could exert control and link up with the forwards. This allowed Salah to move into a deep position and run with the ball, playing wall passes and combinations which were hard to defend. This impressive phase of play saw the home side rack up a number of shots and record a significant amount of touches in the box, but this excellent phase of play did not produce the goal the Reds needed. However, Klopp's men managed the risk well,  and did not give the visitors an opportunity to attack, as they retained possession.
At half-time, City changed shape into a 4-4-2, as they did to good effect at in the reverse fixture. This shape supposedly would restrain the Liverpool fullbacks, but that also meant it would leave the Manchester City defenders exposed if they played direct passes into the channels. This was precisely what happened when Alexander-Arnold passed from a deep position to Salah, following which Dias fouled him in the area, leading to a penalty and the equaliser.
With Thiago playing deep in a double pivot in buildup, Liverpool did not have the structure to linkup with their forwards through short passes, however, they did not need to do so, as they were able to play directly into the forwards.
As Klopp brought on Shaqiri for Thiago, it was clear he wanted Liverpool to build on the right side, and create opportunities to play Salah in behind – especially against Dias, who was on a yellow card.
However, a couple of unforced and uncharacteristic mistakes from Alisson in the space of a few minutes led to City taking a two goal lead and effectively wrapping up the game, due to their gamestate advantage.
A fourth goal, scored by Phil Foden capped off the victory for City, with their second 4-1 victory over Liverpool in the past three games.
The result ended Liverpool's hopes at retaining the Premier League, but those chances were already significantly shortened once the side lost its centrebacks. Nonetheless, it demonstrated a good turnaround in performance levels from the side after a disappointing series of games. The closeness of the match until the key errors bodes well for the remainder of the season, but the champions' hopes of silverware may now just lie in Europe.