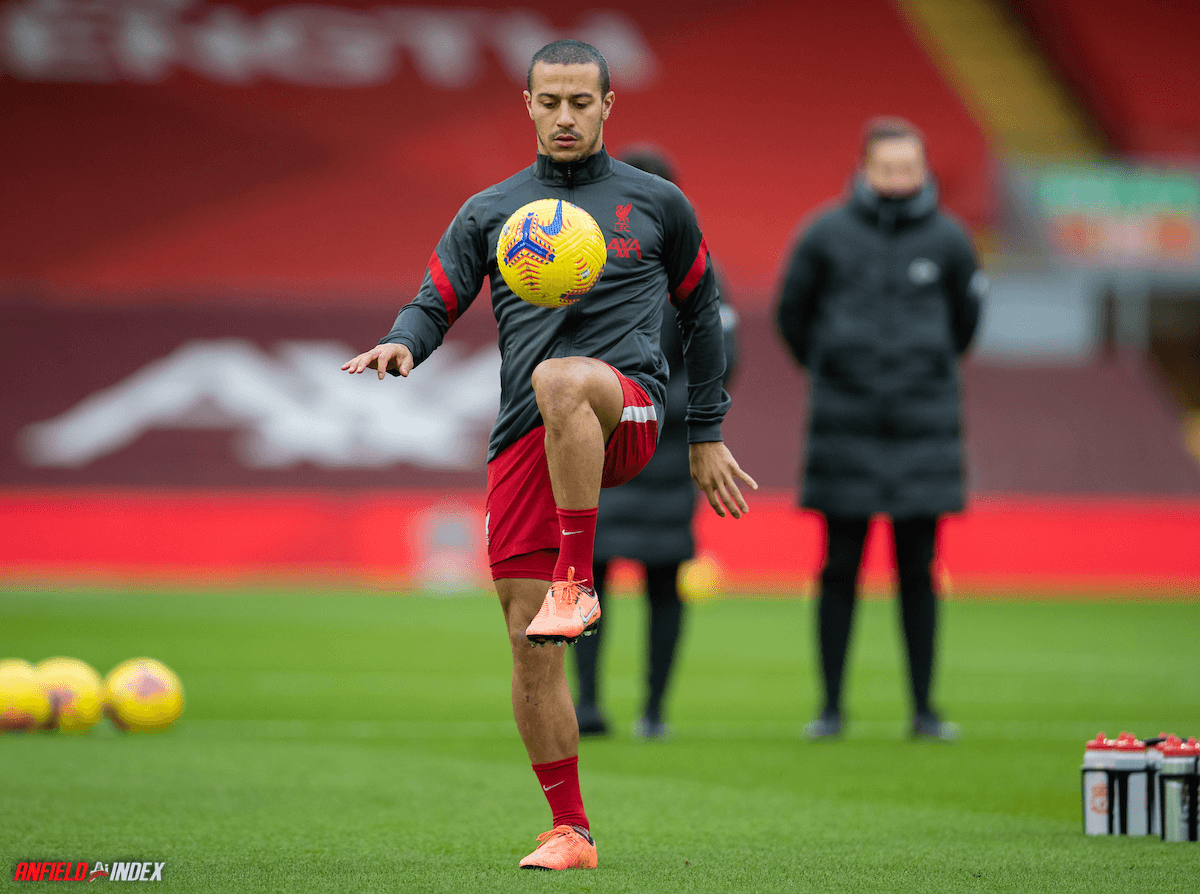 In Defence of Thiago Alcantara
It's hard to believe that it has come to this, but Thiago Alcantara is underrated.
The summer 2020 signing from FC Bayern has lazily and ridiculously been pigeonholed as a player who slows down Liverpool's play and whose style of play is incongruous with Jurgen Klopp's intense style of football.
Even a cursory glance at the Spaniard's statistics since his switch to Anfield debunk all the myths that surround the 29-year-old and the impact he has had on the Reds so far.
On the ball, unsurprisingly, Thiago has brought a verticality and incision to Liverpool's midfield build-up play, an area the club highlighted that needed improvement and which saw them move for the former Barcelona playmaker.
Compared to his midfield peers from across Europe's top 5 leagues, the number 6 is in the 99 percentile for progressive passes. Progressive passes, per FBRef, are "completed passes that move the ball towards the opponent's goal at least 10 yards from its furthest point in the last six passes, or any completed pass into the penalty area. Excludes passes from the defending 40% of the pitch."
This totally flies in the face of the unsubstantiated narrative weaved by pundits who clearly haven't been paying much attention to Liverpool this season.
It's not only Thiago's passing that ranks among the best in Europe, however. The Spain international's dribbling and his ability to sell a body feint to an opponent to escape pressure is among the very best on the continent. The 29-year-old is in the 90 and 91 percentile for progressive carries and dribbles per 90. It appears odd that a player who supposedly slows his team down is so adept at quickly scything through the opponents' pressing.
Thiago's tackling has been a point of concern for many Liverpool fans and there is a legitimacy to this. At times, the Spaniard of Brazilian extraction has looked cumbersome and has mistimed his tackles. Although, way more often than not, he successfully completes his tackles. His rate 0f 3.4 successful tackles per 90 see's him above 84 of midfielders in Europe in that metric. Given he has only been sent off once in his career, it is safe to infer that — at his best — the 29-year-old is a good tackler.
There is also a shocking lack of context applied when assessing Liverpool's number 6's performances to date. Thiago, after a horror tackle from Richarlison in the Merseyside derby, missed almost two months of football this season which hasn't helped his adaptation to a new league and country.
Added to this, the Spain playmaker has also had covid and, given his protracted transfer was only completed in September, didn't have the benefit of completing a pre-season with his new coaches and team-mates. For Thiago to be playing as well as he has, given the circumstances, is a testament to his manifold qualities.
Players don't exist in a vacuum and it is hard to get a complete picture of how a player has fared until you take into consideration the context of the team around him. Liverpool, because of a spate of injuries and the most condensed fixture pile-up of all time, have handed over their title without so much as a whimper.
The expectation that Thiago should be able to haul a jaded team — several of whom have been injured or in bad form — out of relative mediocrity and back towards the standards they previously set is totally out of sync with reality. For example, Sadio Mane and Roberto Firmino have both endured difficult spells of form this season. He can only do so much with his passing and dribbling if the supporting cast isn't at their best and able to take advantage of the opportunities he creates. As the old adage does, you can lead a horse to water but you can't make him drink.
Liverpool have had plenty of issues this season, but Thiago — despite what has been said — isn't one of them.