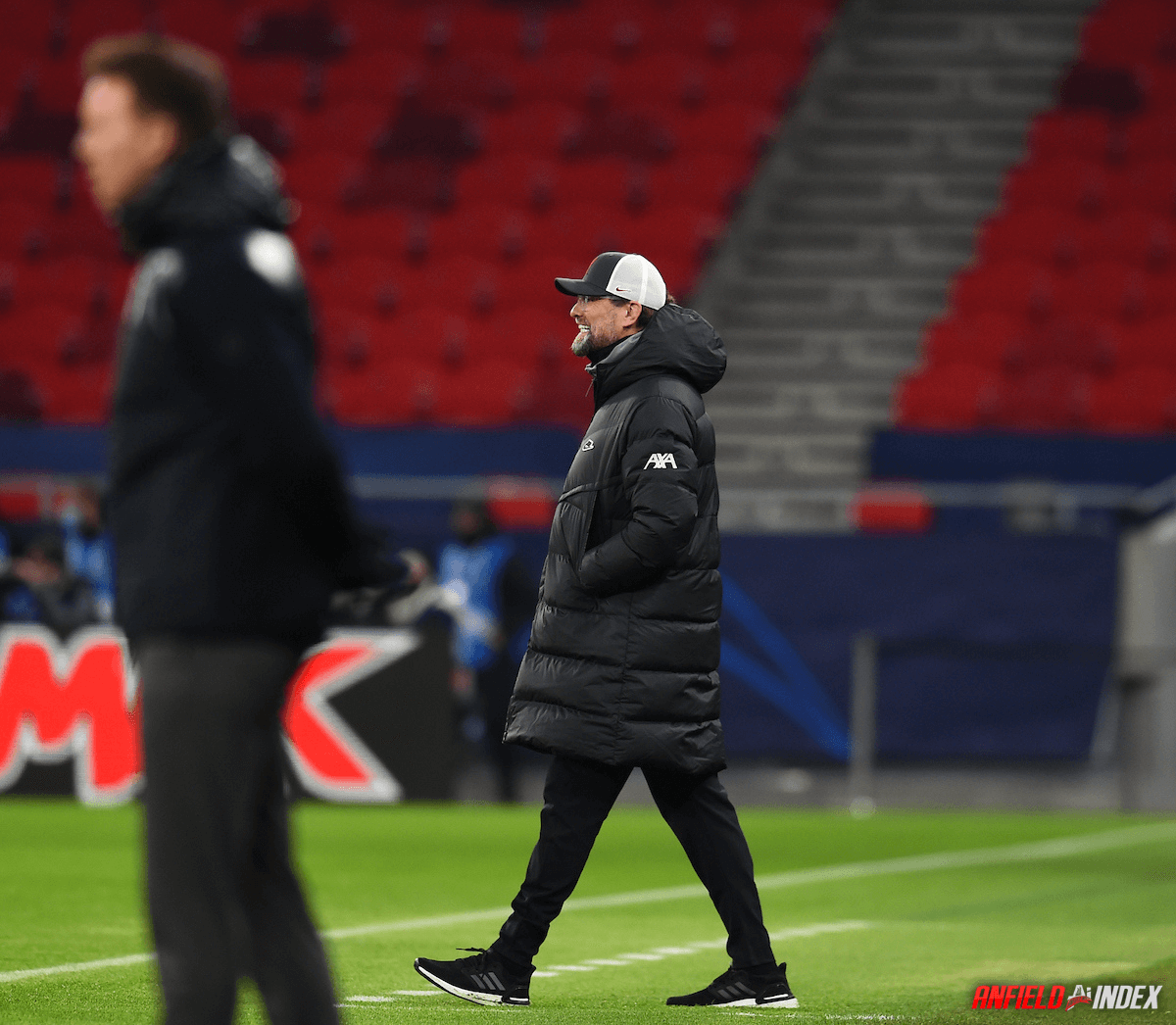 Tactical Breakdown: RB Leipzig 0-2 Liverpool
Liverpool won 2-0 in their round of 16 away tie against RB Leipzig to make them favourites to progress to the quarter-finals.
In some ways, Julian Nagelsmann's side was a welcome opponent, with their expansive, aggressive and calculated-risk based play. Leipzig offered a very different tactical proposition to the majority of Liverpool's recent opponents, with a high press, two forwards, a single pivot and back three almost all rare in their own respects in the Premier League.
Systems
When in possession, Leipzig started in a 3-1-4-2 shape. Nagelsmann opted for this system as it offers a lot in transition and allows for fast vertical progression. The two strikers would be able to occupy both Liverpool centre backs and break beyond them, whilst two interior midfielders would occupy the half spaces, supported by two wide midfielders, which would effectively pin back the fullbacks and allow Kevin Kampl (the no.6) to lynchpin the midfield. With Kampl, there would be a central passing triangle between him, Sabitzer and Haidara, whilst both of the no.8s would have a wide and forward option to make their own passing triangle too.

However, Liverpool's pressing game, in particular, the work of Curtis Jones on Kampl, completely disrupted this on-ball structure for Leipzig, and after the first thirty minutes, the shape changed into a 3-2-3-2, with Marcel Sabitzer dropping to create a double pivot.
When out of possession, Leipzig's plan was clear – press high and intensely. Leipzig wished to force Liverpool back where possible, and then look to press the goalkeeper and centrebacks as they looked to win the ball in dangerous areas.
Liverpool's system was, as ever, a 4-3-3. A few aspects of Leipzig's play allowed the Reds' system to really flourish and display the flair that was present in some of the group stage matches. Leipzig's high press left space in behind to attack on the counter but the German side's tactic to progress the ball from the back three into Kampl gave Klopp's side the opportunity to press, and the visitors did so ferociously.
Both sides were able to progress the ball vertically through the field rapidly, due to their open styles.
In buildup, Leipzig would start in a defensive diamond (3-1) shape. But they did not stick to this, and would often split their centrebacks, with the central centre back moving alongside Kampl in a double pivot. However, this allowed Liverpool's wingers to go man-to-man on the centre backs, and use their cover shadow to prevent passes into those areas. Or, if they wanted to encourage the pass, the winger would wait for the pass to be played, before sprinting across to apply pressure, supported by both Firmino and Jones who broke from deeper areas, creating a pressing trap.
Liverpool's fullbacks were especially lively. Alexander-Arnold started in an advanced position, and his position and passing range gave them a constant forward option and link to Salah on the counter attack. His eagerness to play first-time passes put constant pressure on Leipzig's defenders, who were constantly running backwards to track those passes, whilst Angeliño was unsure of how to deal with a playmaker at right back, whilst he wanted to contribute offensively.
Liverpool's speed of play was fantastic across the first half and even better at the start of the second half. Thiago, Wijnaldum and Jones zipped the ball across the pitch, attacking every space that opened up, creating a constant stream of opportunities to break. This was even more impressive given that the Reds' midfield was under constant pressure and were often playing these passes aware of the risk to their own goal if they lost the ball.
The Liverpool midfielders' technical ability shone through in this game. Their precise and close control, first-time passing, and ability to break a press with a dribble or pass sliced through the Leipzig press, and allowed the forwards to attack space in transition.
Liverpool's decision-making was clear and aggressive. If a forward passing option was available, the players took it immediately. Klopp's men were aware if they lost the ball, a counter pressing situation would arise. This essentially meant the forward thinking attacking balls were win-win: either Salah or Mané would break with the ball, or they would have a chance to pressure a Leipzig defender with the ball and potentially win it in the final third, with a clear pass to goal.
As the Leipzig back three was not supported by wingbacks, as we've seen used against the Reds in recent games, it effectively meant Salah and Mané could position themselves on the outside of Mukiele and Klostermann. In doing so, they compacted the Leipzig back three. Usually, a compact defence is a good thing, however, in this instance, it meant there was lots of space on the outside of the centrebacks, for the Liverpool wingers to run with the ball, and for Robertson and Alexander-Arnold to pass into.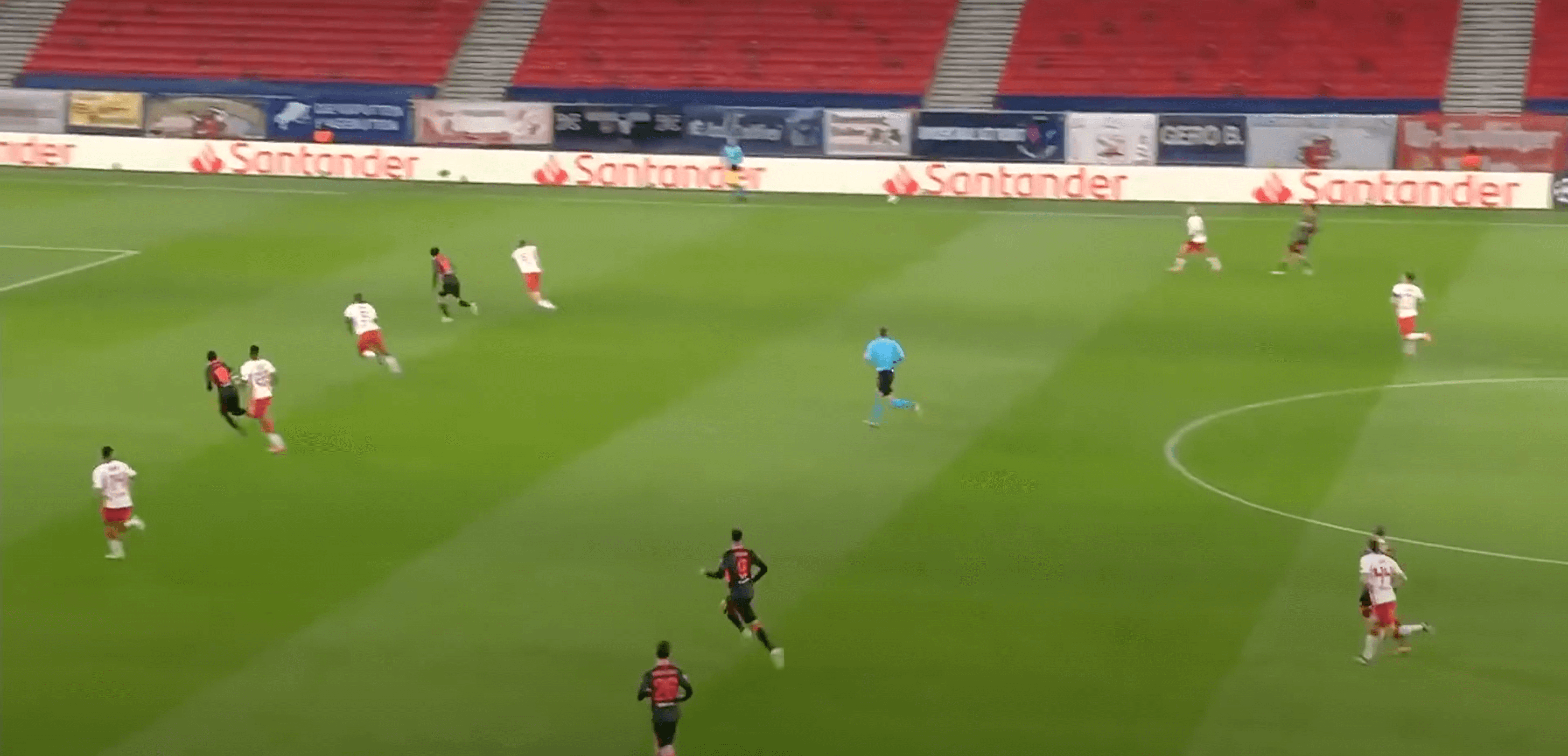 As Firmino took up a deeper position, it meant Upamecano was free in defence, but Firmino instead positioned himself between the defensive and midfield lines, allowing him to feed the forwards when he had the ball, and break beyond the back line freely through running from deep.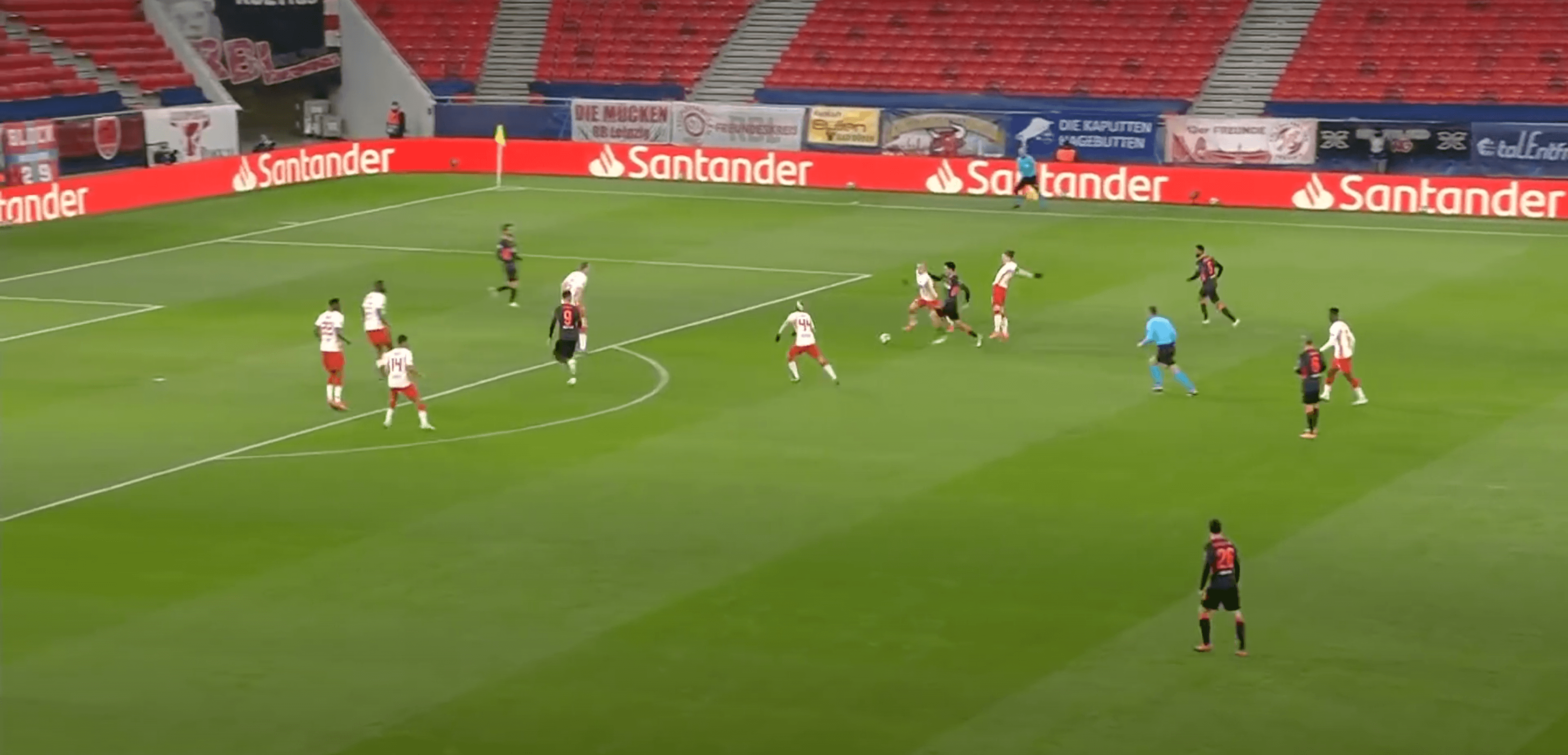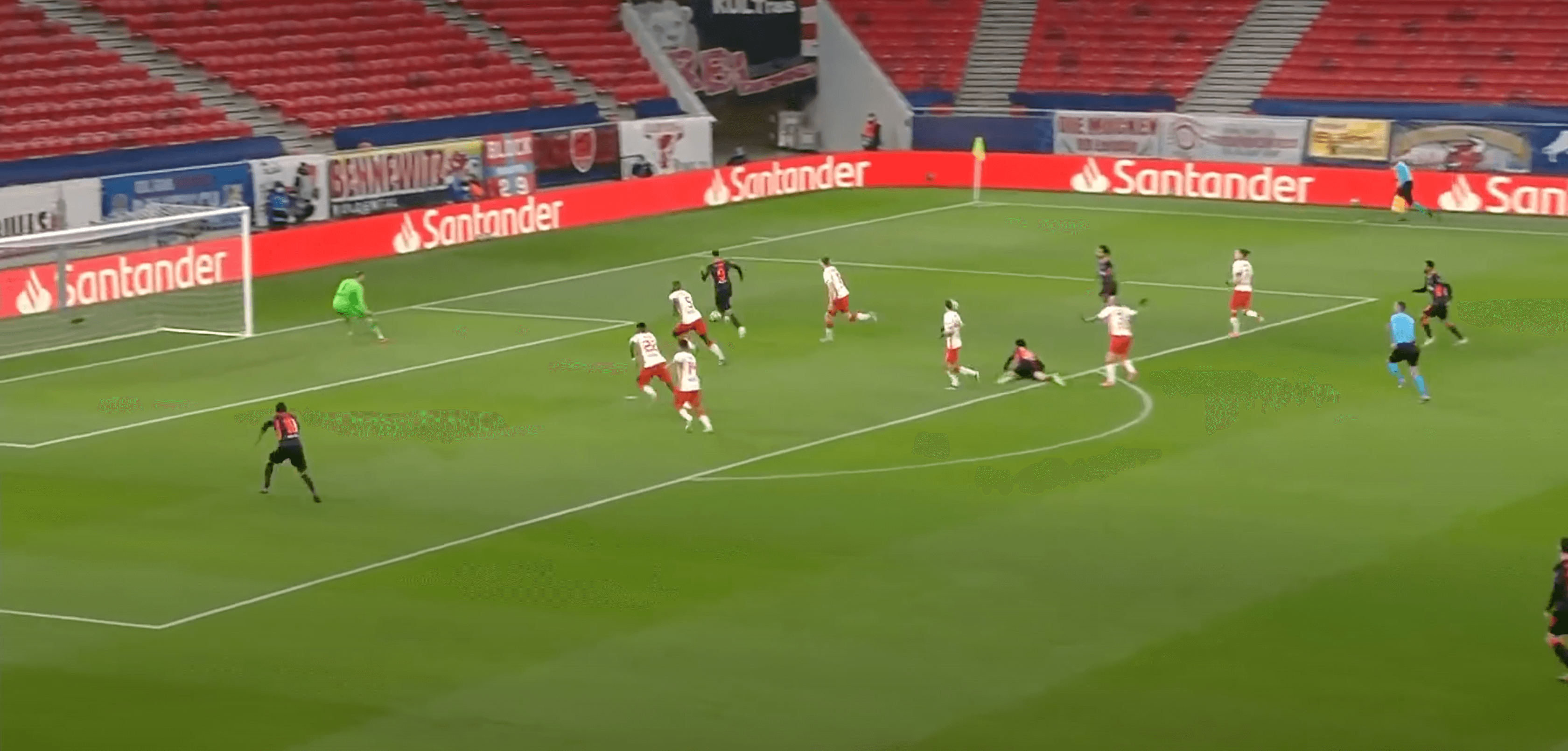 During the first half, Leipzig often left themselves with two defenders against the Liverpool fullbacks, which encouraged early passes in behind. Upamecano usually joins the no.6 when Leipzig are in possession, providing an extra ball playing option from midfield, but Jones' effectiveness necessitated Upamecano's presence on the ball even more. But this left Mané and Salah up against Klostermann and Mukiele.
Usually, if a team is to play man-to-man at the back, they need exceptionally talented centrebacks – Liverpool regularly did so when they had Van Dijk and Gomez/Matip available. However, even those defenders would struggle to contain Salah and Mané on the break for ninety minutes. The second goal demonstrates this very well.
At the start of the second half, Leipzig strung together a brilliant move, as Olmo dropped into a deep position, behind Wijnaldum, where he received a first time pass from Angeliño, before playing Nkunku through on goal, before Alisson made a crucial save.
Liverpool's first goal came as Henderson forced a ball forward from a deep left position, but both Jones and Firmino immediately counterpressed Sabitzer, forcing him into a mistake, with Salah running through from the wide position discussed earlier.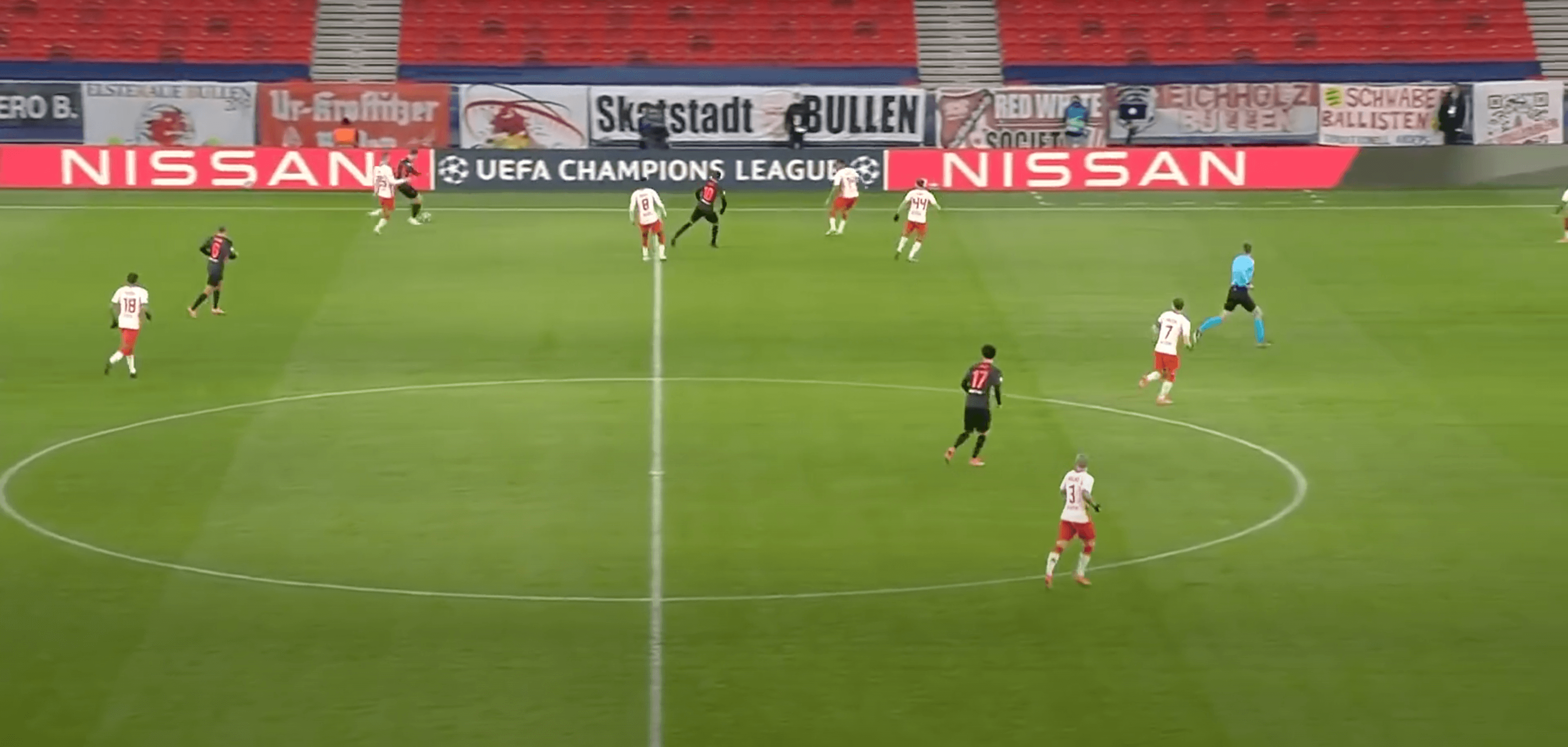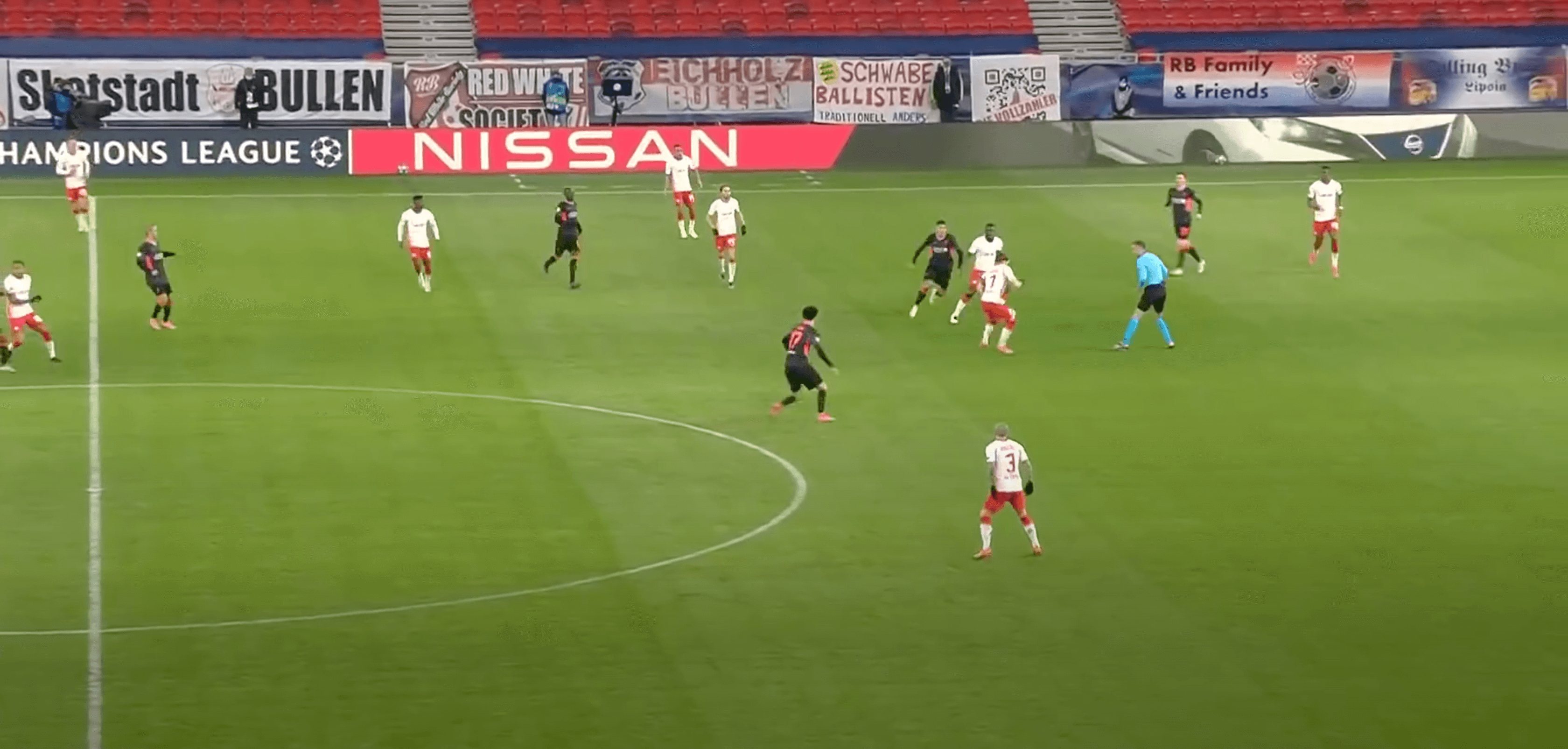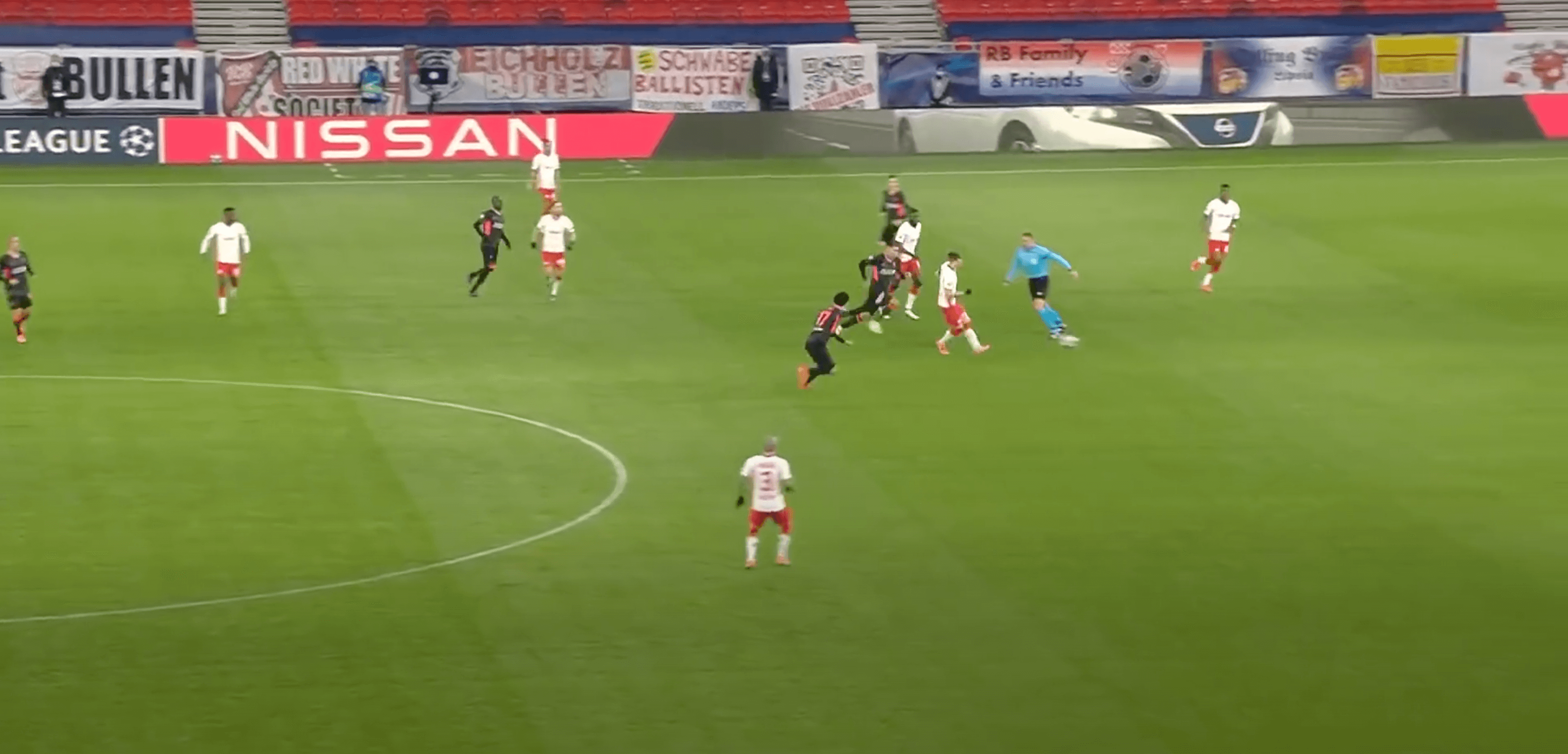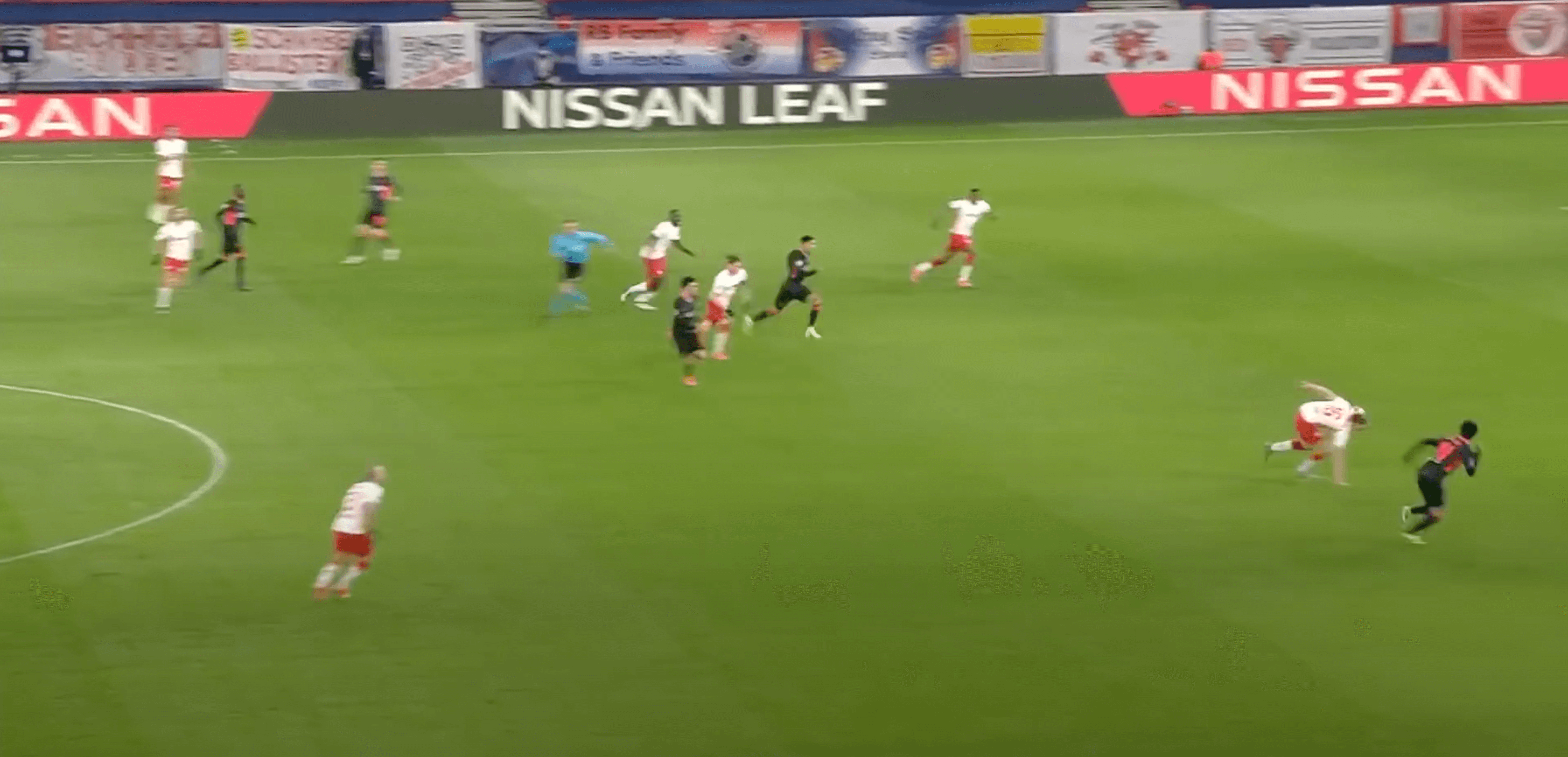 Liverpool's second goal followed shortly after. Leipzig were pushing up when the scores were level, but as they looked to equalise they pressed even more, which left their defenders covering a particularly large space. In this instance, Jones played a ball over the top, which Mukiele struggled to clear, however the situation itself in which a ball was played in behind with Mané chasing in a one-on-one, was one which Nagelsmann would have wanted to avoid.
For all of Liverpool's brilliant pressing and play with the ball, Leipzig's tactics created a number of good chances for them too. Given the quality of chances Leipzig created, they were certainly value for at least one goal.
After the 64th minute, Nagelsmann made a double change, which Klopp then mirrored, before Nagelsmann brought on Hwang for Kampl. From this period onwards, Leipzig really exerted control of the game and began to break through the Reds' defensive structures. The sheer number of forwards, combined with Liverpool's press dropping off, allowed Leipzig to establish control of the middle third, and use possession there to feed the forwards. Hwang found himself through on goal late on as he broke beyond Henderson, but he scooped his shot wide of the far post.
After the game, Jürgen Klopp said,
"It was the game we wanted. It was the game we needed.

"Tonight we controlled them, in an exceptional way"
Liverpool have played well in recent games without the results to match their performances, and whilst this result could have ended up much closer, they were the better team for a majority of the game. This performance was especially impressive because of the unique challenges Leipzig pose, but those challenges in many ways suit the Premier League champions and allowed the side to develop good situations in transition, attack space, press and play directly – things that are not always possible in the Premier League, especially when playing against a defensive side.
Yet Liverpool can definitely take heart from a game in which they generally defended well, despite giving away a couple of big opportunities. The overall performance was strong, but the most impressive aspect was how the effectiveness of their tactics forced Nagelsmann to change his system, and react to the flawless work of the midfield and fullbacks.
Tactically, this was a delight to watch. Leipzig will be upset with the result and may feel they have an opportunity to strike back at Anfield, especially as they made good chances, but the dominance of Liverpool in the first sixty minutes was very impressive and hints that this depleted side may still have a chance at a seventh European Cup if they can find consistency.
Have been blown away by Curtis Jones tonight. A brilliant off ball performance, pressing with the front 3. His work in possession has been fantastic too. He's dealt with the Leipzig press really well, breaking beyond it and freeing up the forwards.

— Hamzah (@HamzahKL97) February 16, 2021