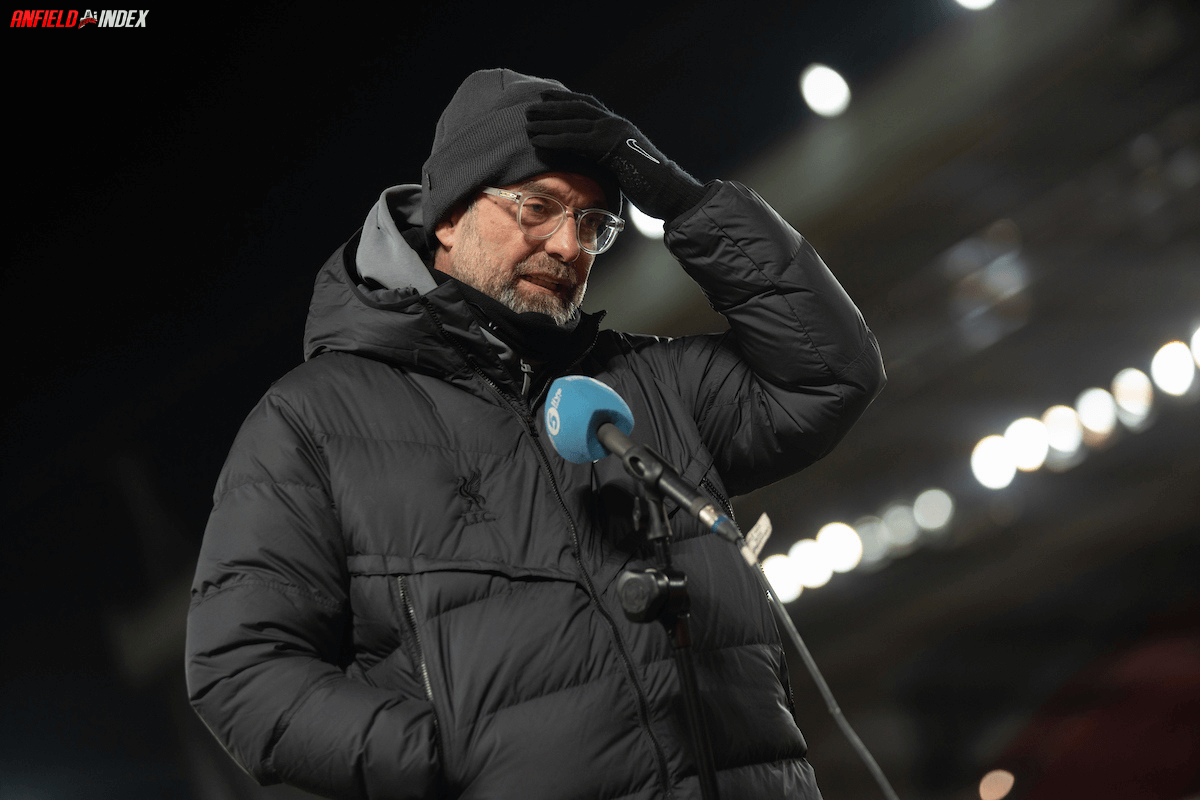 Liverpool's 'crisis' merits criticism but not an overreaction
So apparently football really does determine your mood.
After an awful run of results for Liverpool, they roared back on Tuesday night, making a formidable RB Leipzig side look as average as a mid-table Premier League side.
That weight was instantly lifted, whether it be for Jurgen Klopp, his players or the supporters, as the Reds produced a performance that suggests they are back.

Alisson responded well after a shocking couple of games; Trent Alexander-Arnold was influential; Ozan Kabak and Jordan Henderson dealt admirably with a dangerous attack; Curtis Jones swaggered through proceedings and both Mohamed Salah and Sadio Mane were ruthless in the final third.
In terms of morale, this was one of the important results of the season, coming off the back of a memorable press conference from Klopp, which itself seemed to lift everyone associated with the Reds.
There is no denying that since the 7-0 win at Crystal Palace before Christmas, this has been one of the most disappointing spells under Klopp's tenure.
The wheels have completely fallen off in their title charge – Man City will cruise to glory now – and between December 27th and January 28th, Liverpool scored just once in the league.
Three home defeats in a row against Burnley, Brighton and City have left that long unbeaten run feeling like a distant memory and Klopp and the players have cut jaded, unhappy figures worn down by a relentless campaign.
But for all the negativity, has this 'crisis' that has supposedly taken place been overblown?
On the face of it, it hasn't, with Liverpool going from top of the table to sixth in less than two months, also crashing out of the FA Cup at the hands of Man United.
While some of the negativity and criticism is justified, the truth is that Klopp's champions have never been too far away from clicking again, in a season where everything seems to be going wrong.
For starters, the injuries that Liverpool are suffering from counts as a genuine crisis, with Virgil van Dijk, Joe Gomez, Joel Matip and Fabinho all missing.
To have one centre-back out for the season is unlucky enough, but for that to be the case with the three best options, and for the fourth-choice to also be out, is scarcely believable.
Liverpool's defensive woes have had a knock-on effect with everything, with midfielders having to play at the back, full-backs less adventurous for fear of leaving a makeshift back-line exposed and the supply to the front-three sorely lacking.
Such an unprecedented injury situation is going to have a major impact on any team, so this has to be seen as a reasonable excuse to use for the lack of a title challenge, and the poor post-Christmas form.
The squad has rarely looked as threadbare and Klopp not being able to rotate his players has led to tired-looking performances all over the pitch, not to mention an increased chance of injury, as shown with the overplayed James Milner.
Individual errors have also been fatal for Liverpool, with the Reds finally profiting from a couple against Leipzig, showing how much they can define a game.
At 1-1 against City, the Merseysiders had equalised through Salah's penalty and were arguably the team in the ascendancy, prior to Alisson's calamitous couple of errors. They defined the game.
Similarly, Liverpool had put together a largely excellent display away to Leicester City, leading 1-0 after 70 minutes, away to one of the strongest sides in the country.
Then Thiago stuck out a needless leg, VAR proved as farcical as ever and Alisson and Kabak collided, leading to a meltdown of epic proportions.
Had Daniel Amartey actually been given offside, we could easily be talking about a superb ground-out victory against top class opponents, adding to those at Tottenham and West Ham, both of which have come during this 'awful' run.
Then there's luck. As much as some don't like to believe it is a thing, it can play big role in the success and failures of teams.
For all their outrageous brilliance in the last couple of seasons, Liverpool also had key moments work in their favour, aiding them in their pursuit of perfection.
Virgil van Dijk's miscued shot hitting the crossbar in the lead-up to Divock Origi's winner against Everton in 2018/19 was lucky, for example, as was Pedro Neto harshly being given offside at home to Wolves last season.
You make your own luck, of course, but moments of good fortune still shone on Liverpool more often than not.
This time around, the Reds have not only been crippled by a constant steams of injuries, but some of the most baffling VAR calls in history have gone against them. Have any tight decisions gone in their favour?
On Tuesday, though, Liverpool got the rub of the green and it made all the difference
Leipzig hit the post early on, which could have given the tie a very different complexion, and a few Henderson lapses went unpunished when they really should have been. They were also gifted goals in the same manner Alisson handed City theirs.
For much of the campaign, half-chances have been buried ruthlessly by opponents, only highlighting Liverpool's lack of personnel more painfully. The manner in which the ball just fell to Jamie Vardy after Alisson and Kabak's collision summed it up.
This isn't excusing some of the things that have gone wrong – Klopp has been below par, both in terms of his tactics and substitutions, and some of the performances have been unacceptable – but when you weigh everything up, the last six weeks or so haven't justified such an overreaction.
Throwing away the title hurts, without question, but the fact that Liverpool were top at Christmas, despite the endless problems coming Klopp's way, has almost worked against them. They raised expectations when deep down the manager was performing miracles in keeping the Reds at the summit.
When we look back on this season, it is unlikely to be one we recall fondly, unless Champions League glory is sealed between now and May.
It should be viewed as a campaign when Liverpool faced freak injuries and unrivalled levels of VAR ineptitude, simply finding it impossible to overcome it all in the end.
The Leipzig victory suggested that Klopp's side are over the worst of it, even if they do drop points in the Merseyside derby this weekend, and a happier period now awaits.
That hugely disappointing winter period will forever be viewed as a bleak spell for the club, but it also hasn't been the calamity it is painted as.