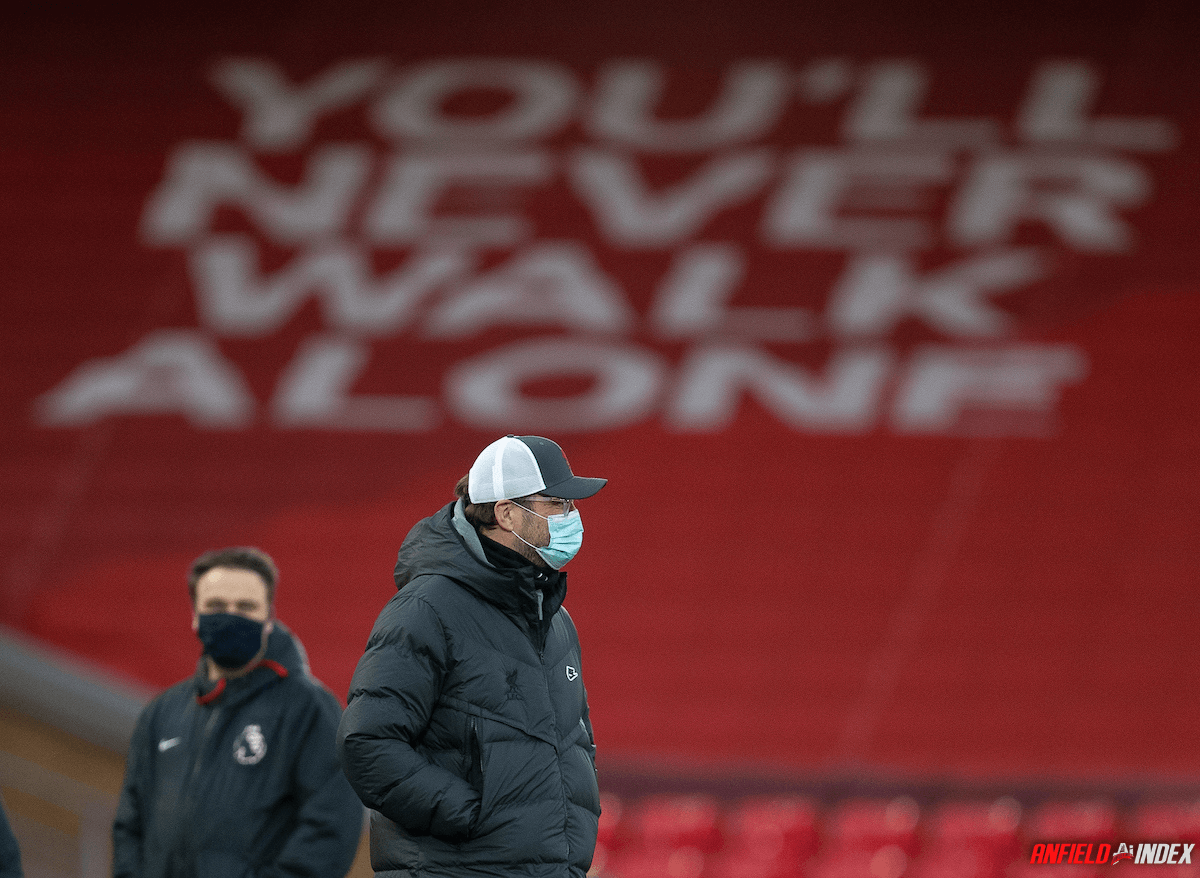 Tactical Breakdown: Liverpool 0-2 Everton
Carlo Ancelotti's Everton piled on more Merseyside misery for Liverpool, as they won by two goals at Anfield, their first away derby victory this century. The result displayed some of the impressive work Carlo Ancelotti has done with Everton, and drew upon aspects of the 0-0 draw following the restart, last season.
Systems
Liverpool utilised their normal 4-3-3 system in the first half. Alexander-Arnold and Robertson looked to move up into midfield and forward positions, whilst Salah, Firmino and Mané led the line.
Jones and Thiago featured ahead of Wijnaldum in the midfield three, whilst Ozak Kabak made his Anfield debut alongside Jordan Henderson.
Liverpool were instructed to press high, compact the field and play direct, but the nature of the early goal meant the Reds quickly found themselves pressing a team that did not really want the ball in deep positions, was avoiding progressing the ball centrally, and was compact.
Everton set up in a 5-3-2 formation. The back five included Seamus Coleman, who was instructed to pin Robertson in place and prevent him from offering an overload option for Mané. This meant Liverpool struggled to break behind the Everton defence, and force them to run backwards.
The Everton back line was compact too. This meant playing through them would be very hard, so the onus was on Liverpool to use the wide areas to draw players across, open up spaces between players and then exploit them.
Everton's front two meant they could theoretically go man-to-man, but James Rodriguez preferred to play slightly deeper, in the half space, so that he could receive the ball and then look to play in Richarlison – as he did for the opener.
Everton were also very direct and avoided building up in the middle of the pitch. This risk-averse approach minimised the threat of the Liverpool press in the most dangerous areas of the pitch but also gave them an effective out-ball.
Over the previous two seasons, teams playing long has been a strength for the Reds. It usually offered an opportunity for Van Dijk and either Matip/Gomez to win the ball, and then feed it forward, which would sustain the attacking pressure Liverpool would try to build. However, this season, without the aerial presence of those centrebacks and Fabinho, long balls offer an opportunity for teams with a strong aerial presence to move up the field. This stops them from being able to sustain pressure with the ball in the final third for extended periods of time, and this is useful when trying to break down a low block.
Similarly, this game also underscored the nonexistent threat on set-pieces, which was extremely important to the side when breaking down a low block last season. This (slightly old) thread covers Liverpool's issues against a low block, plus the importance of gamestate and set pieces in relation to it.
LFC tactics & stats thread: Crossing, the low block and set pieces

(Using FBref crossing data) https://t.co/vCcIK94CWa

— Hamzah (@HamzahKL97) January 1, 2021
In the ten minutes following Richarlison's goal, the champions struggled to control the game despite holding the ball. After this period Liverpool began to develop stronger buildup phases, as they moved the ball forward and into the final third, with some penetration. Underpinning this was a high press whenever Everton's defenders or midfielders held the ball, and a very good counterpress to recover the ball in the final third.
The counterpleas was extremely important for Liverpool as not only was it an opportunity to win the ball back in a dangerous area, it also protected the Liverpool defence from being caught in transition, thereby stamping out Everton's ability to counterattack.
A forced change for Liverpool in the 26th minute, after captain and makeshift centreback Jordan Henderson was substituted off preceded a stronger phase for Everton, as the Toffees progressed the ball through the wide areas and then back inside as they moved upfield. This phase of play saw the Blues create a headed opportunity for Coleman, as Digne crossed from out wide. Coleman and Doucoure on the right side for Everton were particularly important as they would contribute offensively when in possession, but would also work closely together to press against the touchline when out of possession.
Liverpool started the second half strongly. Through moving Salah more centrally, the Reds were able to involve him in the final third more, and begin to combine with him in more dangerous areas.
Liverpool also played with high ball speed and good movement in the second half, which made defending much harder. The home side looked to receive the ball on the move, and passed both laterally and vertically to move the Everton defensive block. This allowed them to play through the Everton press, and within the first few minutes of the second half, Mané found himself on the end of two chances inside the box.
Xherdan Shaqiri was brought on for Curtis Jones, signalling a change of system to a 4-2-3-1, something that Liverpool used to do frequently when positioned against a low block in recent seasons.
Shaqiri's introduction meant the home side now had an extra forward presence who could engage one of the Everton defenders, leaving one of the forwards able to lose their marker, drop deeper and run into the box. Shaqiri combined with Salah to create a great chance inside the six-yard box, but Pickford saved excellently by holding a barrier shape, rather than rushing to the ball.
Liverpool's strong start to the second half saw them move the ball into and around the box and create potential scoring opportunities, but beyond the Mané and Salah chances, the Reds did not really create much of note, and that was due to the tactical setup of Everton, and strong individual performances across the pitch.
Liverpool could have done more in a few areas. For example, the home side could have utilised a switch pass better, using it to shift the back five from one end of the pitch to the other, in order to exploit space.
Similarly, if Alexander-Arnold, Salah, Shaqiri and Firmino were able to consistently stay in the final third, with Alexander-Arnold out wide and high, and either Firmino or Shaqiri in a fixed position inside the box, Everton would have had two players constantly pinned in place, which creates more options for the two roaming players to attack. Alexander-Arnold's ability to stay high is dictated by his fellow defenders and midfielders though, and this negatively affects his ability to contribute offensively.
And if Alexander-Arnold isn't out wide in a high position, that means Salah is there. And if Salah is out wide, he isn't in the box.

This has been a common and problematic theme throughout the season.

Amazing how well Salah has done to score so many, without support. https://t.co/VIaXLnc7Xf

— Hamzah (@HamzahKL97) February 20, 2021
A late break by Everton saw Richarlison isolate Phillips on the counter attack and break beyond him, before passing to Calvert-Lewin who was awarded a penalty, after Alexander-Arnold was adjudged to have fouled him.
This second goal settled the game as a contest, but prior to the penalty, Liverpool were looking shorn of ideas and frustrated against a resolute and disciplined Everton defence, supported by brilliant performances, like that of Doucoure in midfield.
The nature of the early goal meant fans did not really get to see Everton's full tactical gameplan, as from the fourth minute onward, gamestate largely dictated that Liverpool held the ball and Everton would look to counter with direct football. Liverpool may once again point to a strong non-shot xG performance (2.7-0.6), but given the share of possession the Reds had, they will be disappointed they did not create more significant chances. Meanwhile, Ancelotti's side will be thrilled they restricted Liverpool to one big chance, defended extremely well, finished their most important chance and regularly disrupted Liverpool's capacity to establish control for long periods of time in the final third, through the work of James and Richarlison, and then Calvert-Lewin.
Both Liverpool and Everton have a few days of rest before their next round of fixtures, but with both sides on 40 points and Everton holding a game in hand, there is plenty still to play for.